The easiest way to get better sound in your headphones is to buy a headphone amplifier. Even affordable headphones can suddenly sound much better.
Exactly how much money to spend depends on how good sound you want, and of course what kind of headphones you have. The cheapest headphone amplifiers are not powerful enough to bring heavy-duty headphones to life, so check the sensitivity and resistance of the headphones before you buy.
Our standard answer for those asking for an all-round headphone amplifier is the Audioquest tiny Dragonfly, which is available in a couple of different versions. But it can be even better with a larger version that is connected to the outputs at the back of the system.
Schiit Audio has made a name for itself in a short time. Not just because they have a name that is, uh, easy to remember, but because they have made affordable and good DACs and headphone amplifiers. And then they have been lucky with the timing. The first Schiit products came when the headphone market really took off.
Today, they make many different amplifiers and DACs that can be used with headphones.
Among them are two fairly inexpensive, seemingly similar, headphone amplifiers. Magni 3+ and Heresy. They cost the same, can the same, and it is at first glance only the color that separates them.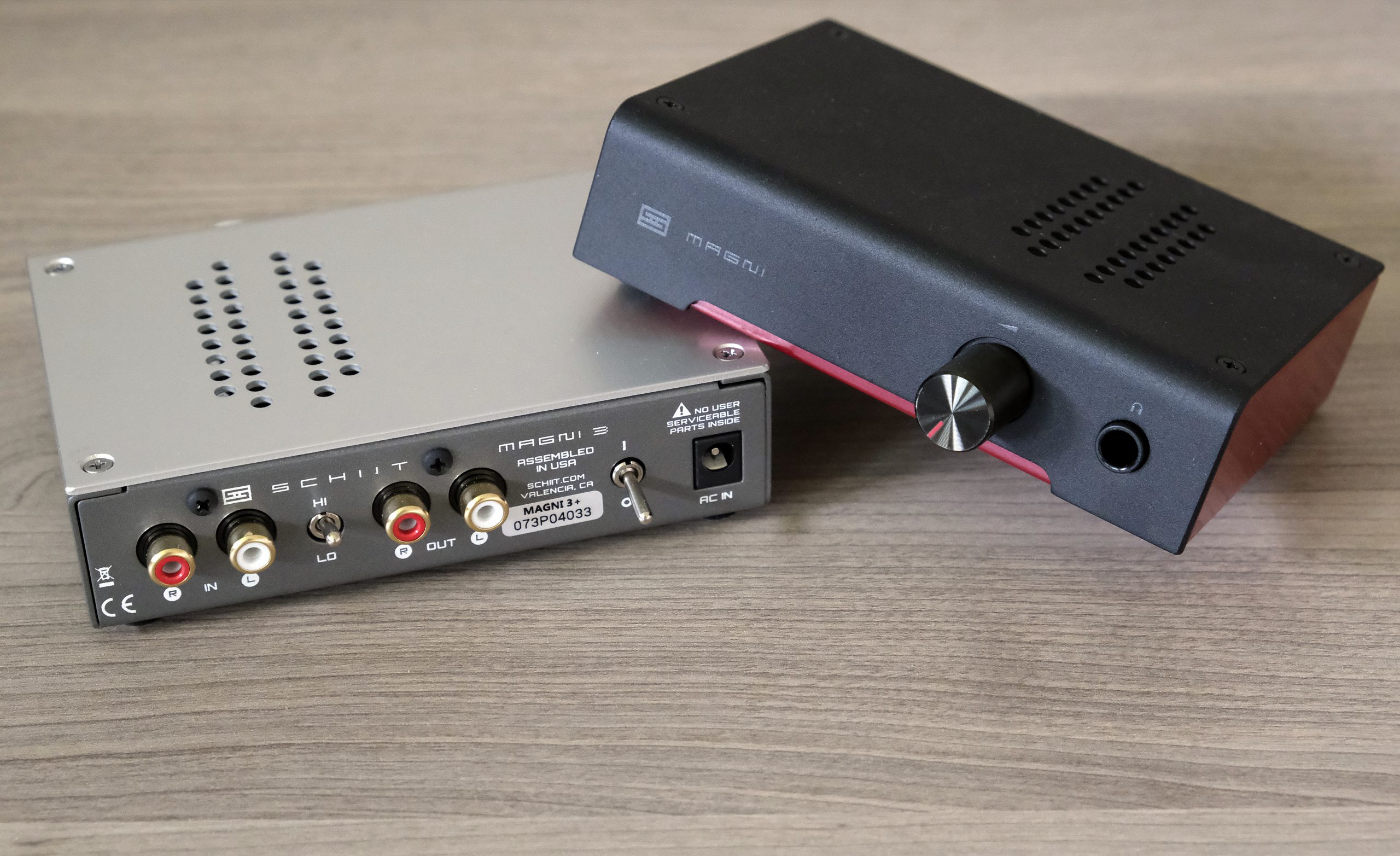 Technical differences
Beneath the compact exterior, there are two quite different paths to good sound. They are equally powerful and will be able to operate the same headphones just as easily, and most of the specifications are exactly the same.
But Schiit has chosen to use bipolar transistors in Magni 3+, with a discreetly constructed and symmetrical feedback, without capacitors in the signal path. Instead, they use DC connection. The principle is the same as that used in many amplifiers, and here they use an extra driver to attenuate distortion, and regulate the bias current with a Vbe multiplier.
If you look inside a Heresy, it looks quite different. Here it is the op-amp that rules. Integrated amplifier circuits in the left and right channels, which provide low output impedance and better measurements. Third harmonic distortion is stated 6-8 dB lower than on the Magni 3+, and Schiit Heresy also has slightly less measurable noise.
So then Heresy sounds best? Maybe. But let's tell you more about the differences.
Two of the same kind?
They are connected directly to an amplifier output, and have a gain switch on the back, for those times the output voltage is too low from the amplifier. Even if they get a little hot, they can stay on all day if you want. Give them at least a few minutes to reach working temperature, when they are turned on with the switch on the back. Then just plug in the headphones.
But in which of them?
The answer is that it depends on two things: Taste, and which headphones to use.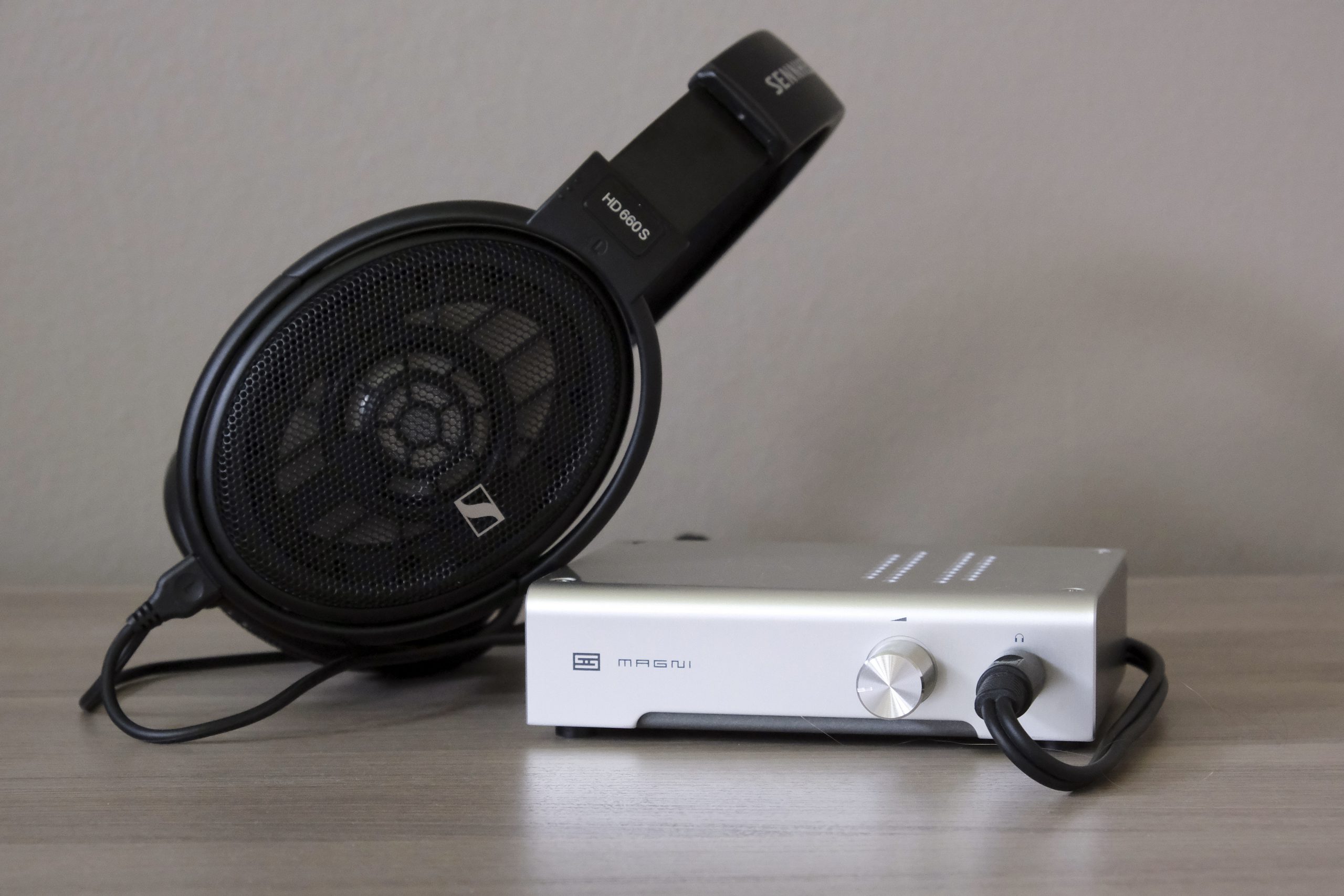 For the first few weeks, I only used Magni 3+. It was also used in the test of headphones for hi-fi in august 2020, and I was well used – and very happy with the sound. It sounds a bit like a refined tube amplifier. Fast dynamic, silky smooth midrange and treble, and well resolved with an airy sound image. Instruments and vocals sound well focused, and I enjoyed it very much. Especially on jazz and classical music.
On the Sennheiser HD660S, the sound in the headphones is not as dark as from e.g. the output of a Hegel H90, but it does not splash off the bass. Not in the same way as in Heresy.
It sounds more forward, even sharper focused, and there is noticeably more kicking in the bass. With the HD660S, the sound picture was a little darker than I prefer, but on the Hifiman Sundara it fit like a glove.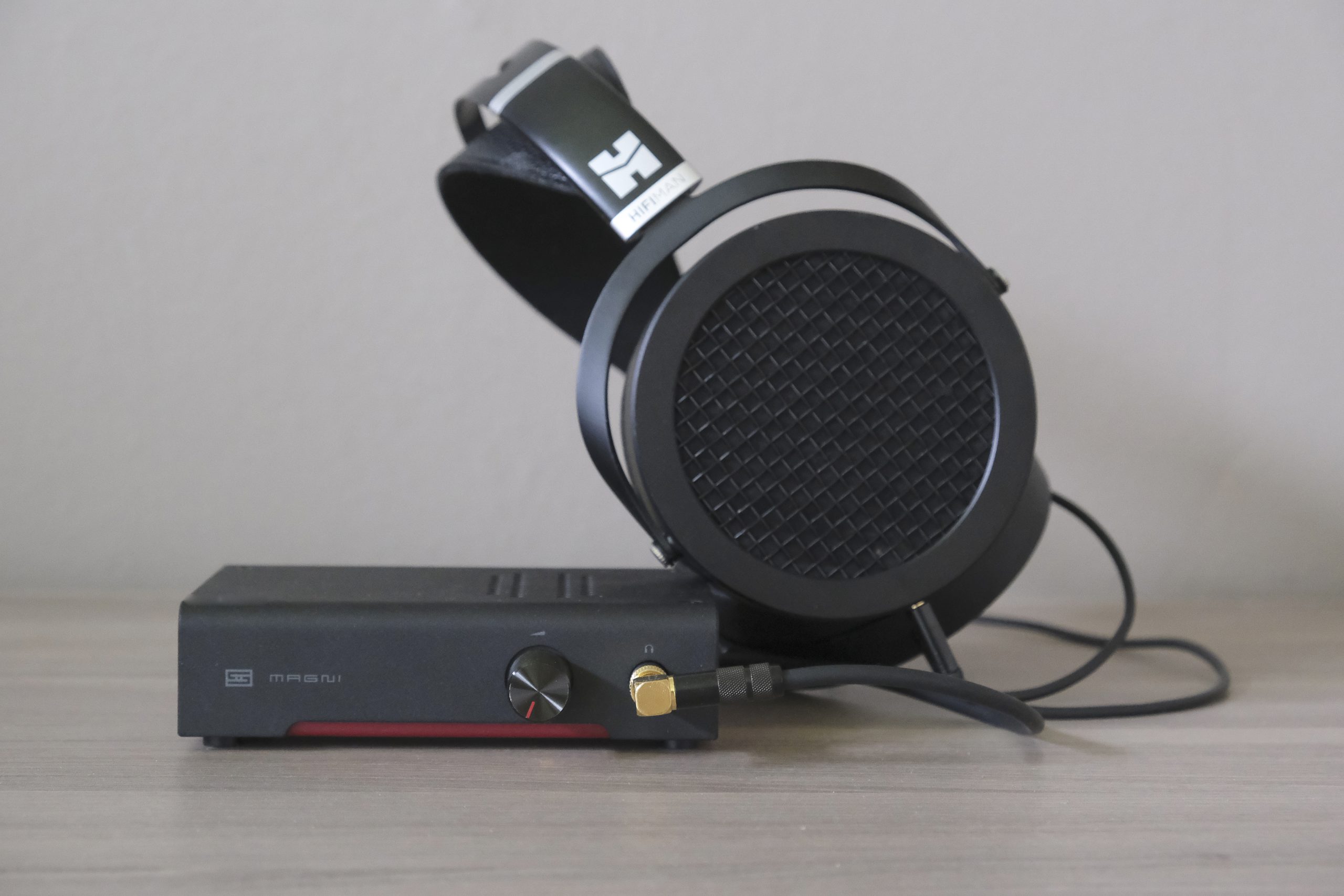 Piano sound and strings get a sharper edge, compared to Magni 3+, and vocals do not sound as soft and airy as in Magni 3+. But the dynamic contrast is better. On the HD660S, the bass tightened up compared to the Magni 3+, and the channel separation is clearer on the Heresy. Note that none of them had any problem operating the heavy-duty planar elements in Sundara.
For pop, rock, electronica and everything that has a highlighted bass rhythm and great dynamic contrast, I think Heresy is the best choice. For a long time listening to the opera collection, I would have preferred Magni 3+.
Conclusion
The choice between Schiit Heresy and Magni 3+ is not about which of them sounds best. They both play excellently, but have a slightly different sound character that makes them appeal to two different buyers. Those who like dynamics, especially in the bass, and listen primarily to rhythmic music, may fall for the tight control and the potent dynamics of Heresy. But if you like a slightly softer, smoother and more open sound image with a little more air and details, you may have to choose Magni 3+.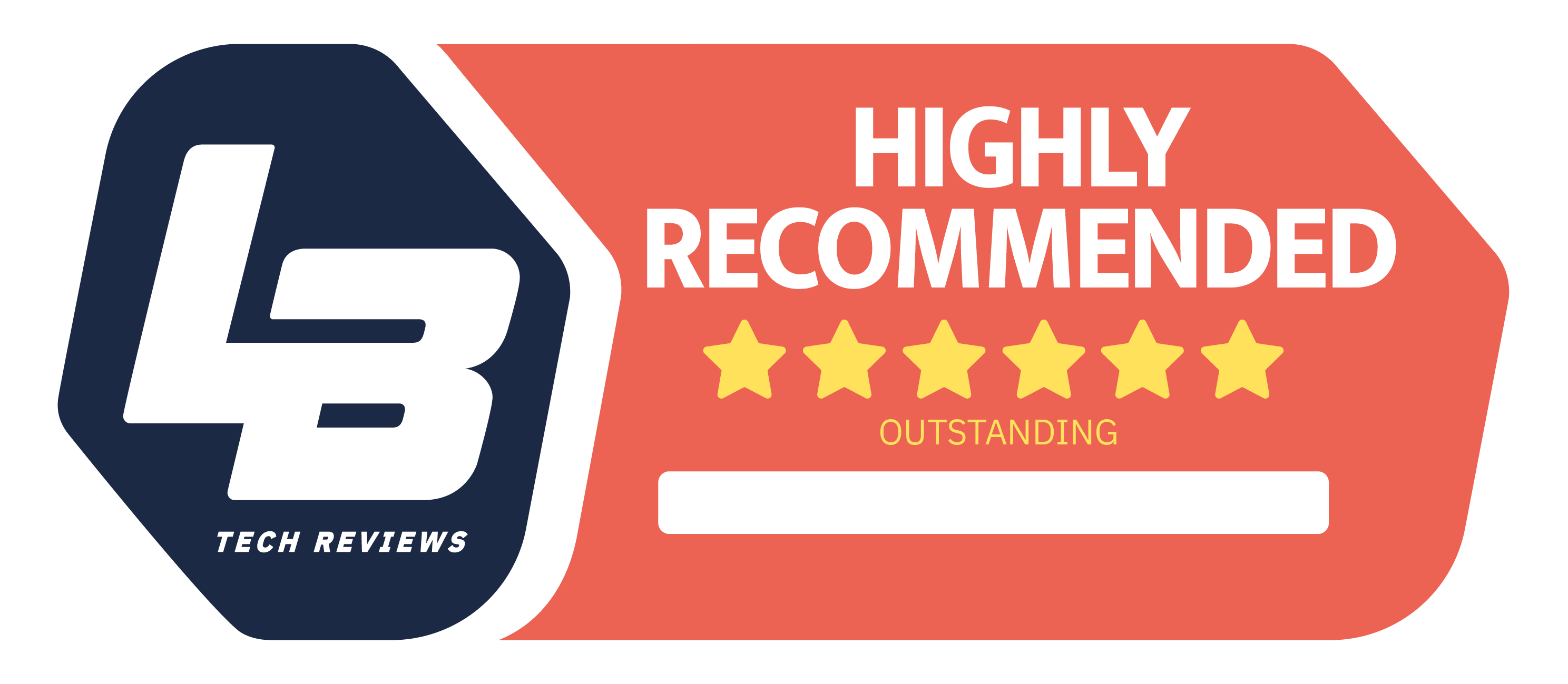 Schiit Audio Heresy and Magni 3+
Basic
We think
Breathe life into the headphones with conviction. Driver planar headphones, choose sound according to that - and taste.
The power switch is located on the back.