Lasse Svendsen
Published

2020-06-14 - 8:00 am
Superb definition of absolutely everything, great dynamic contrast, potent bass and neutral sound in a large and airy sound image. A class above most in the price range.
Just like on the P10, the dust cover is impractical and the pickup's location is very exposed, with minimal protection. Must be placed on a stable surface to perform at its best.
Specifications
Type: Belt driven turntable
Tone arm: Rega RB3000
Pickup: Apheta 3 MC
Plate: Ceramic
Connections: Analog RCA
RIAA / DAC: No / no
Other: P10 PSU external power supply, dust cover
Color: Black
Dimensions / weight: 42 x 31.5 x 12.5 cm / 4.7 kg
Web: mono.no
Rega has often received well-deserved tributes from both customers and the press, for its very good turntables in the budget and premium class. In the high-end class, on the other hand, one can get the impression that many choose much larger, heavier and more complex players.
If you spend 3600 on a turntable, it should be shown.
In that context, Rega Planar 10 does not have much to contend with. It is based on Rega's lightweight principle, where less is more, in extremis, and the whole thing weighs just under five kilos. It is smaller than many high-end class turntables.
Put the Planar 10 next to an Avid Volvere or a Yamaha GT-5000, and you will understand what I mean.
Planar 10 replaces the RP10 that we tested in 2014, and smoothly named a clock-high high-end coup. The new 10 may look like a minor upgrade, but even though the recipe is the same as before, Roy Gandy and his team have light with lights and lanterns for places to improve the P10.
It has hardly been easy, but there are three basic places to look for, which are obvious for a turntable construction.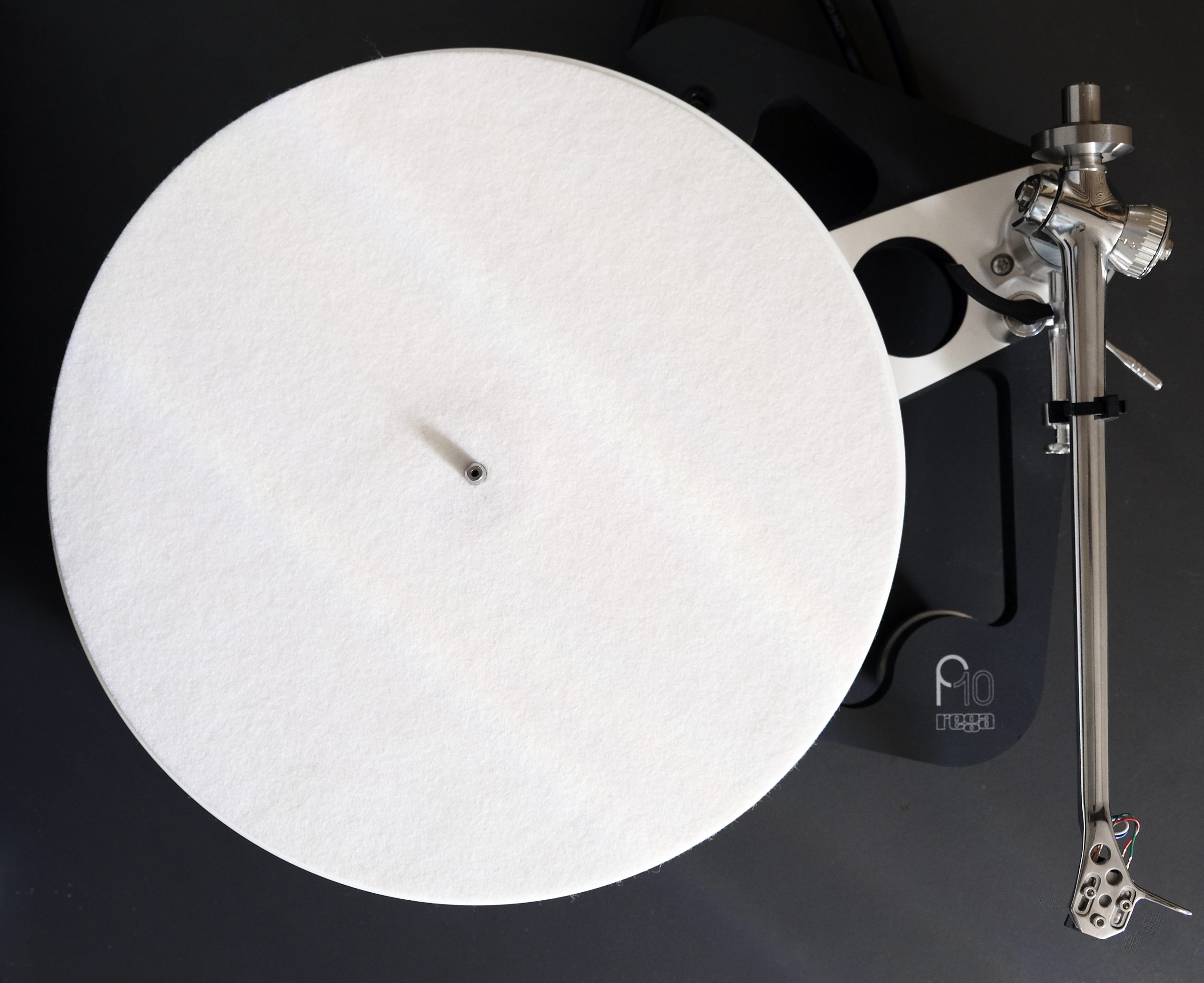 Rotational stability
On a belt-driven turntable like this, it is often a challenge. At least compared to the extreme precision of direct-driven players, such as Technics SL-1200G.
Rega's solution is a completely new power supply – P10 PSU, which uses a digital processor and a crystal as a monitor for better speed precision, where a square pulse is used to mirror the exact frequency needed for the ceramic plate to rotate at the exact speed.
Vibrations.
A new 24 Volt synchronous motor is mounted under the ultralight sandwich chassis, to dampen vibrations, and each motor is adapted to the power supply by hand at the factory.
Even the two rubber straps are new. It is called EBLT and is made of a new rubber composition (Ethylene Propylene Diene Monomer = EPDM), which will give the belt a predictable elasticity over the entire rotation cycle. The rubber compound is made on machines designed for the purpose by Rega itself, in collaboration with a manufacturer of parts for Formula 1 cars.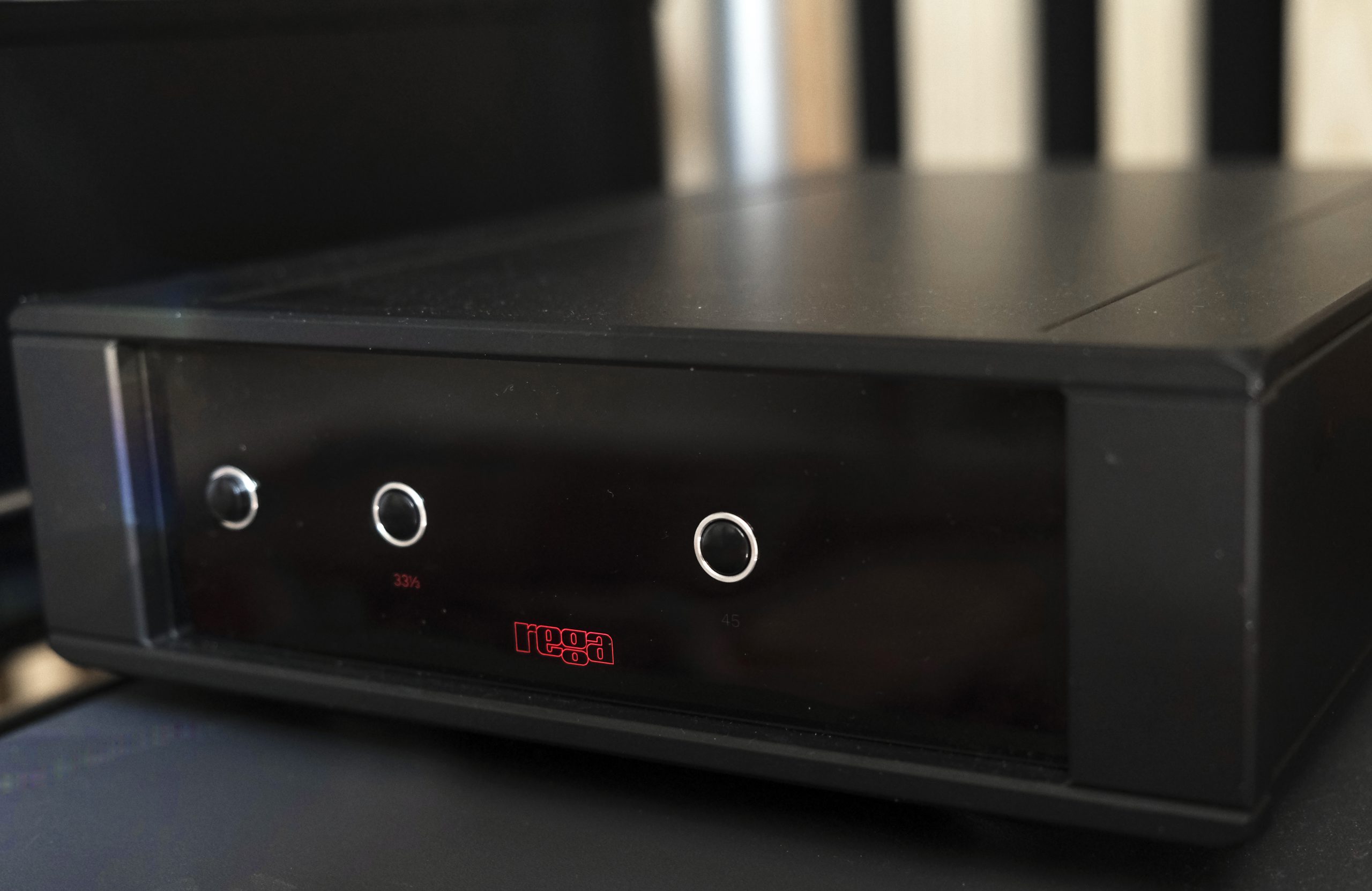 The player uses an improved lightweight chassis with a core in a polyretan material sourced from the aerospace industry, called Tancast 8. The chassis is made as a sandwich with two layers of HPL (High Pressure Laminate), and reinforced with two perforated brackets in phenol (below) and ceramic material (above), which is intended to dampen unwanted transfers of energy. Engine noise for example.
Even better precision.
The white plate in compressed ceramic oxide is compressed and burned to a dense mass, before it is cut with a diamond cutter to get the surface perfectly flat. It rests on a new inner plate in aluminum with a better connection to the plate, which in turn rests on a new CNC bearing made with a hardened steel shaft, in a brass sleeve.
Another vital part of a turntable is the arm. Here, few can reach Rega to his knees, especially on budget-friendly tone arms. An RB300 is perhaps the best arm ever for a budget-friendly turntable.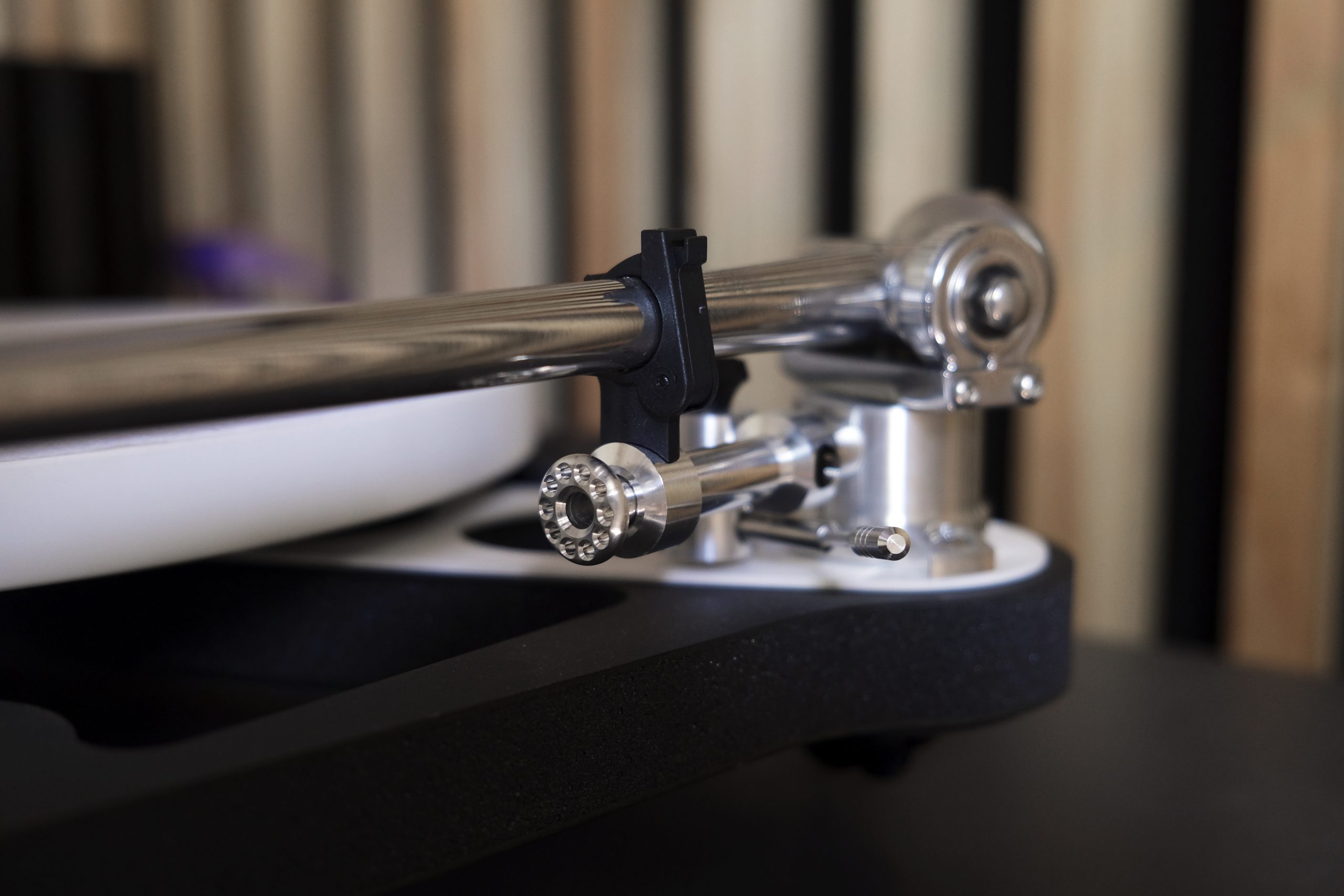 The new RB3000 is made with even narrower tolerances than before. The suspension is adapted by hand with selected bearings from Japanese ABEC, where the tolerances do not allow any play in the suspension, neither vertically nor horizontally. Rega states the tolerance to less than one thousandth of a millimeter.
Like all Rega arms, it is light and stiff. There are no vibration-inducing elements here. Like a detachable pickup housing, or anti-skating weight hanging on a string, and the arm does not have height adjustment. Not necessary, says Rega, who does not have it on any arms, because they believe it impairs mechanical stability.
The arm is mounted 222 mm from the spindle on the shaft, and the overhang is reduced from 17 mm on the predecessor RB2000, to 14.53 mm.
The pick-up
The player can be delivered without pickup, or with the new Rega Apheta 3 that we tested the player with, but also with the even more expensive Aphelion. Both are motorcycle pickups.
Apheta 3 is built up with a neodymium magnet, hand-wound coil on a cross-shaped iron core, and set up with a straight needle arm with a fine line-grinding. The suspension is undamped (low mass left) and mounted in an aluminum housing encased by a CAD-designed transparent plastic cover.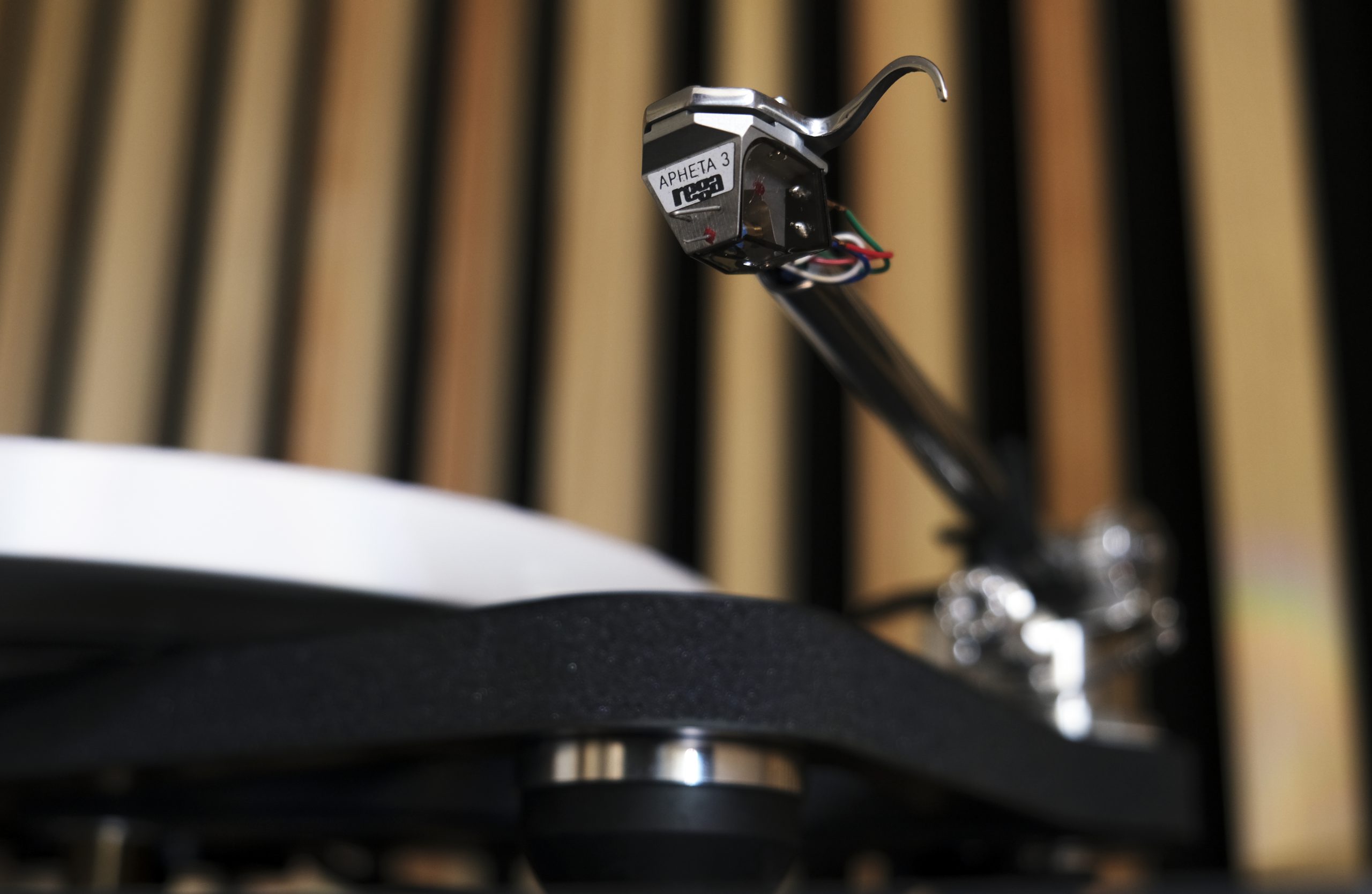 Rega states capacitance to 1000pF, impedance to 100 Ohm, and output voltage to 350μV. It should have a pin pressure between 1.9 and 2 grams.
As usual for Rega, the pickup is mounted with three screws placed so that you hardly need to adjust anything.
Powerful precision
Setting up the player is done in no time. At least if you buy it with a pre-assembled pickup. Just follow the informative instructions for use and it will work.
The player is so small and light and takes up little space, but the power supply requires almost as much space. It has electronic speed change, and you can calibrate the speed if necessary, from a screw on the back.
It was not necessary on our copy, which went well within the specifications.
It comes with a white felt mat, which you must not use if you prefer the sound you get when the plate is directly on the white plate. It is free to experiment with other mats as well.
Whether felt matte or not, this player delivers a spectacularly neutral and engaging soundscape. It's a touch of dynamism that you rarely experience from vinyl, and Planar 10 brings both more details and dynamics out of the records, than RP10 managed.
Where its predecessor fell a little short on deep bass compared to the Technics SL-1200G, here the newcomer is far fuller and more powerful bass reproduction.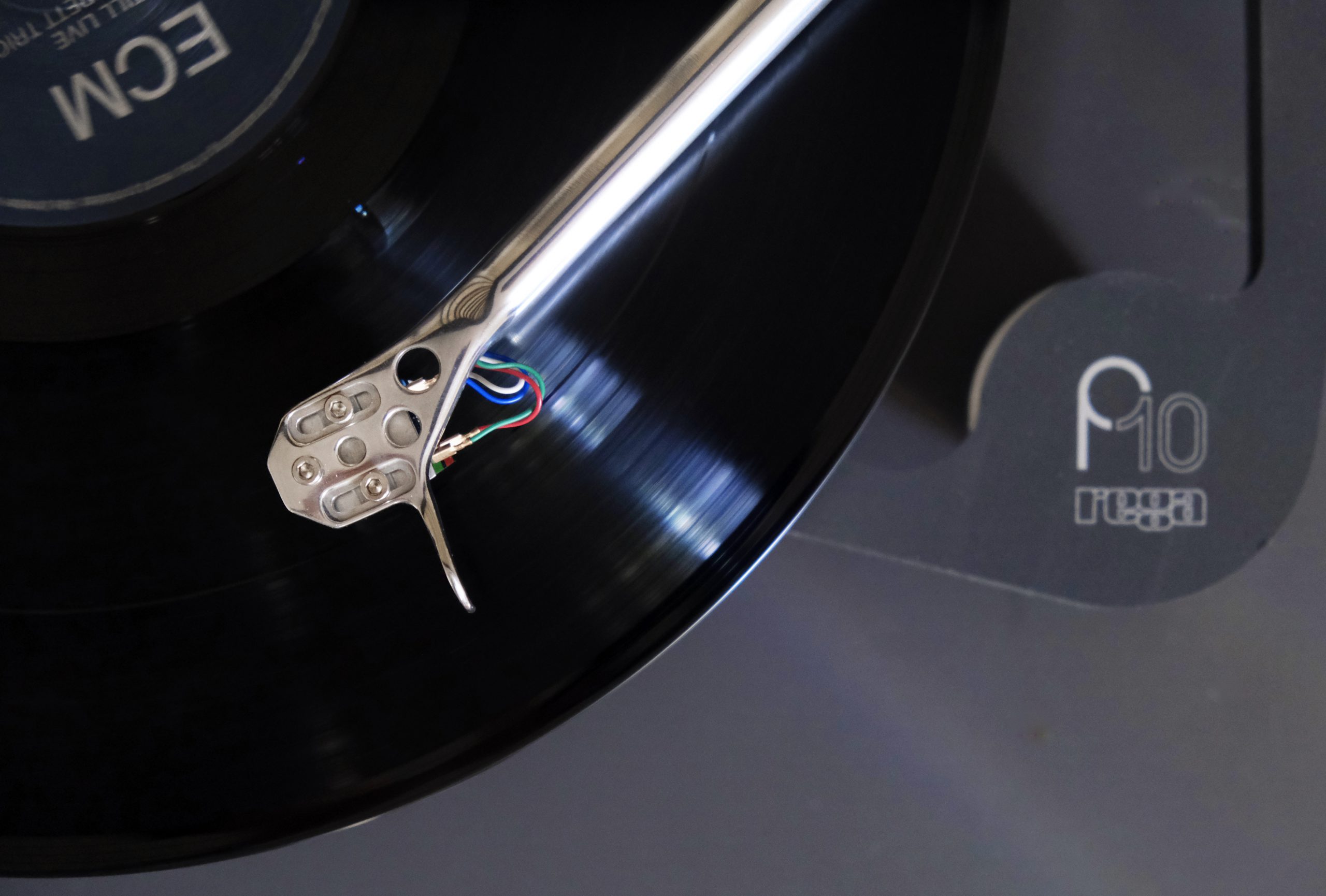 With Rega's excellent MC phono amplifier Aura, you get an open soundscape rich in refined timbres, where the music is presented on a scale I have never heard from a Rega turntable before.
On 2L's recording of Tchaikovsky's Serenade in C, with the Trondheim soloists, the strings are razor sharply focused. The dynamics are strikingly good. The soundscape is rock solid, deep and powerful, with timbres you usually associate with classical music live.
Another classic, albeit in a different genre, Dire Straits' classic Love Over Gold: Here again is the dynamics of a class of its own. The drums and bass thunder into the room with a power and precision I do not associate with an RP10 with the previous Apheta pickup, and Mark Knopfler's vocals are warmer and more believably reproduced.
The lightning-fast dynamics come into their own on Carla Bley's Big Band recording, where the organ sound fights for space in the grooves with the lightning-fast transients from the drums. Here the player distinguishes with perfection between the instruments.
The same thing happens on Keith Jarrett's Trio Still Live, where the opening track My Funny Valentine, really comes into its own on Planar 10. Here there are so many complex passages, so much micro and macro dynamics that easily drown, but here crystal clear presented in the big soundstage.
Edge beats on the drums, beats, the modulation of the pedal on the big drum, the light percussive nappings at the bottom of the strings of the double bass, perfectly defined with lots of air around the notes.
Compared to
Compared to the aforementioned Technics with Ortofon Cadenza Bronze, the sound is more airy from Planar 10, which although it does not have the same total control in the bass (very dependent on the surface), has beautiful sound depth and potent bass dynamics. More than from a P10.
However, there are a few things to keep in mind. The surface must be very stable. Preferably completely dead. The player itself does not create any audible resonances, but if you move it to a light surface that is not dead enough, resonances easily propagate up to the turntable.
The pickup is only protected by a small rubber sleeve that is threaded over the needle guard. Even with it on, the needle hangs exposed, so be careful.
The lid, which is actually a smoky Plexiglas, must be removed every time you play music. It is neither hinged nor tiltable in any way. But who cares, the player looks much better without.
Conclusion
Rega Planar 10 is an expensive turntable that at first glance hardly impresses anyone with its lightweight chassis and milky white plate. It does not look very expensive, I must admit, but drop the needle into the groove and be prepared to hold on to the chin. It plays far above its league and it is unlikely that it will be an easy task to find better analog sound than this, in this price range. At least for those who appreciate an airy, ultra-neutral, precise, open and dynamic sound image. It sounds more potent and dynamic than its predecessor RP10, and with the new Apheta 3, this is a package that can put an end to the search for a better turntable, for many vinyl lovers.