Lasse Svendsen
Published

2019-09-12 - 7:07 am
Very trustworthy built, large sound image and easy operation. Bluetooth HD and inputs for other audio sources.
Tame dynamics, the sound lacks finesse and sophistication. Costly.
Specifications
Type: Belt driven integrated turntable
Power: 2 x 50 W 8 ohms
Technology: Vacuum tube advantage, class D power stage
Pickup: Sumiko Olympia Moving Magnet
Plate: Aluminum, 3.18 kg
Connections: Analog RCA, optical and coaxial digital, Bluetooth, pre / sub outputs
RIAA / DAC: Yes / Yes
Other: Headphone output, remote control, 33 1/3, 45 rpm.
Color: Black
Dimensions / weight: 49 x 17 x 35 cm / 15.2 kg
You take a turntable, and add speakers, vips you have a fixed finished stereo system. But wait, where did the amplifier go?
Well, it could be in the speakers, but here the amplifier is integrated in the turntable.
The McIntosh MTI100 is thus an integrated turntable, but in the high-end class and not in the budget class. Where it is more common to find turntables with a built-in amplifier. Pro-ject is among those who make integrated turntables.
When McIntosh does the same thing, the result is different. The player, which weighs just over 15 kilos, is in itself a relatively expensive construction. With a well over three kilos heavy, belt-driven aluminum plate, a straight arm with aluminum arm tubes, and a steel chassis with a class D output amplifier integrated.
The amplifier delivers 50 W of power to each channel, 80 W in 4 ohms, and the preamplifier part uses two vacuum tubes – 12AX / 7 – to create the rich, warm sound many people associate with a McIntosh amplifier.
Bluetooth
Because it's not just a turntable with a built-in amplifier for a couple of speakers. The player also has analog and digital inputs for other signal sources. For example. a TV and a CD player, but it is also wireless.
You can stream from your phone via Bluetooth aptX HD, which in theory supports high-resolution streaming up to 24-bit / 96kHz, select and note if the phone also supports aptX HD.
There is no ethernet input or Wifi here that could make it possible to stream over the wireless network.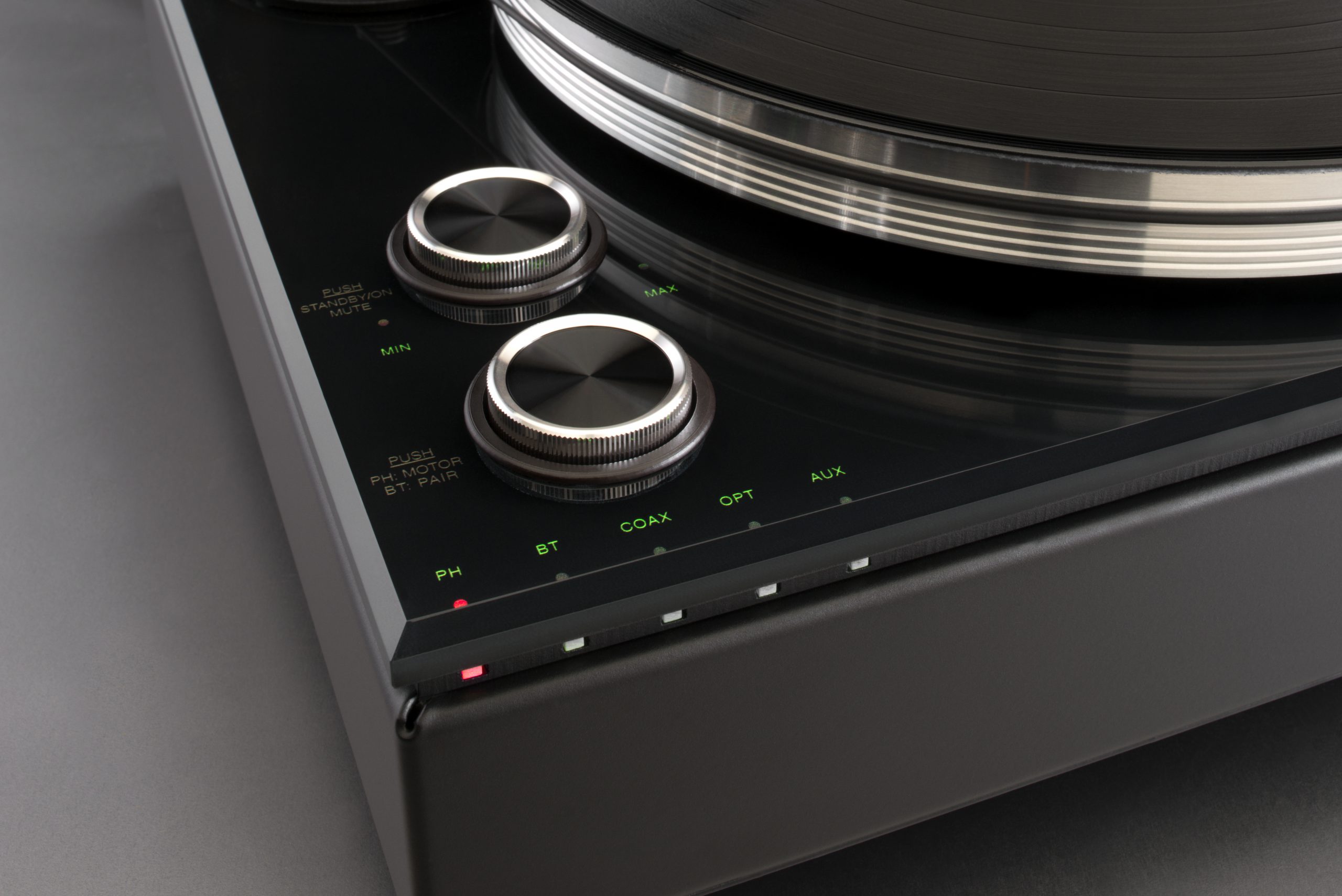 Sub out
On the other hand, it has an output for a subwoofer and a separate power amplifier, and the player can be connected to a home cinema system if desired.
The layout is playfully simple. The player comes with a Sumiko Olympia MM pickup, pre-assembled. All you have to do is put on the anti-skating weight, put on the plate, step on the rubber strap, put the two tubes in place, and screw on the Bluetooth antenna.
The operation can be done from the remote control, or from the two pot meters on the left side.
The bottom functions as an input selector, start / stop playback – and pairing button for the Bluetooth connection. The second is volume, mute and standby wheels.
Note that the player does not have a speed shifter, you have to move the rubber belt over to the wheel with the largest diameter on the motor spindle, to change from 33 1/3 to 45 rpm.
Otherwise, the staff is pretty straightforward to deal with. You also notice that the quality is in a completely different class, than what you get in the budget class. And it was just missing, the price taken into account.
Because even though the McIntosh player is innmari cool, and is guaranteed to find some enthusiastic owners, it is not to be assumed that the price is stiff.
Warm and full-bodied sound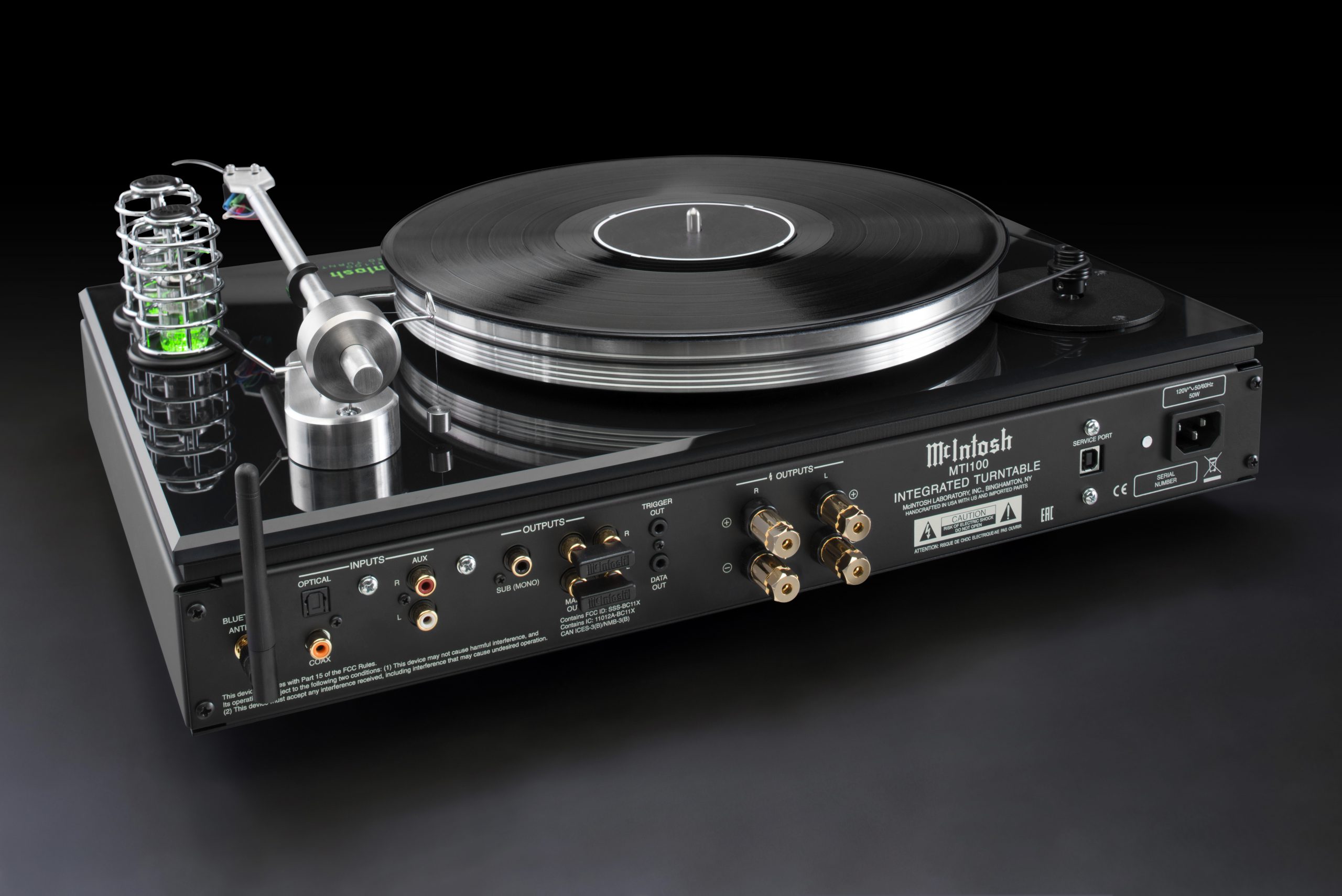 You can buy a Rega Planar 6 with an Ania MC pickup, connect it to a Rega Aria MM / MC stage, and add a power amplifier. For example. Naim Uniti Atom, which also has Wifi, ethernet and internet radio, and have plenty of money left over for LPs.
But it may not be as elegant a solution as the integrated McIntosh player is, it must be admitted.
At least it sounds nice when you spin vinyl. With one exception: The first two weeks I used it only as a turntable, connected analogously to a Hegel H190 and a pair of Dynaudio Special 40. Let it be said right away, you will be disappointed. It is not from the analog outputs the player comes to his right.
It should be connected to a pair of speakers, without any other amplifier in between. When I disconnected the Hegel amplifier, and connected the speakers directly to the player's speaker terminals, everything immediately sounded much better.
Bruce Springsteen's Goes My Miracle, sounded woolly and flat with too much focus on the lower octaves. The music became too tame from the analog outputs. From the speaker output, more details and nuances were added to the soundscape. The same thing happened with Dire Straits Love Over Gold, and Keith Jarrett's Still Live. Where the music flowed in syrup from the analog outputs, it sounded resilient and light from the speaker outputs.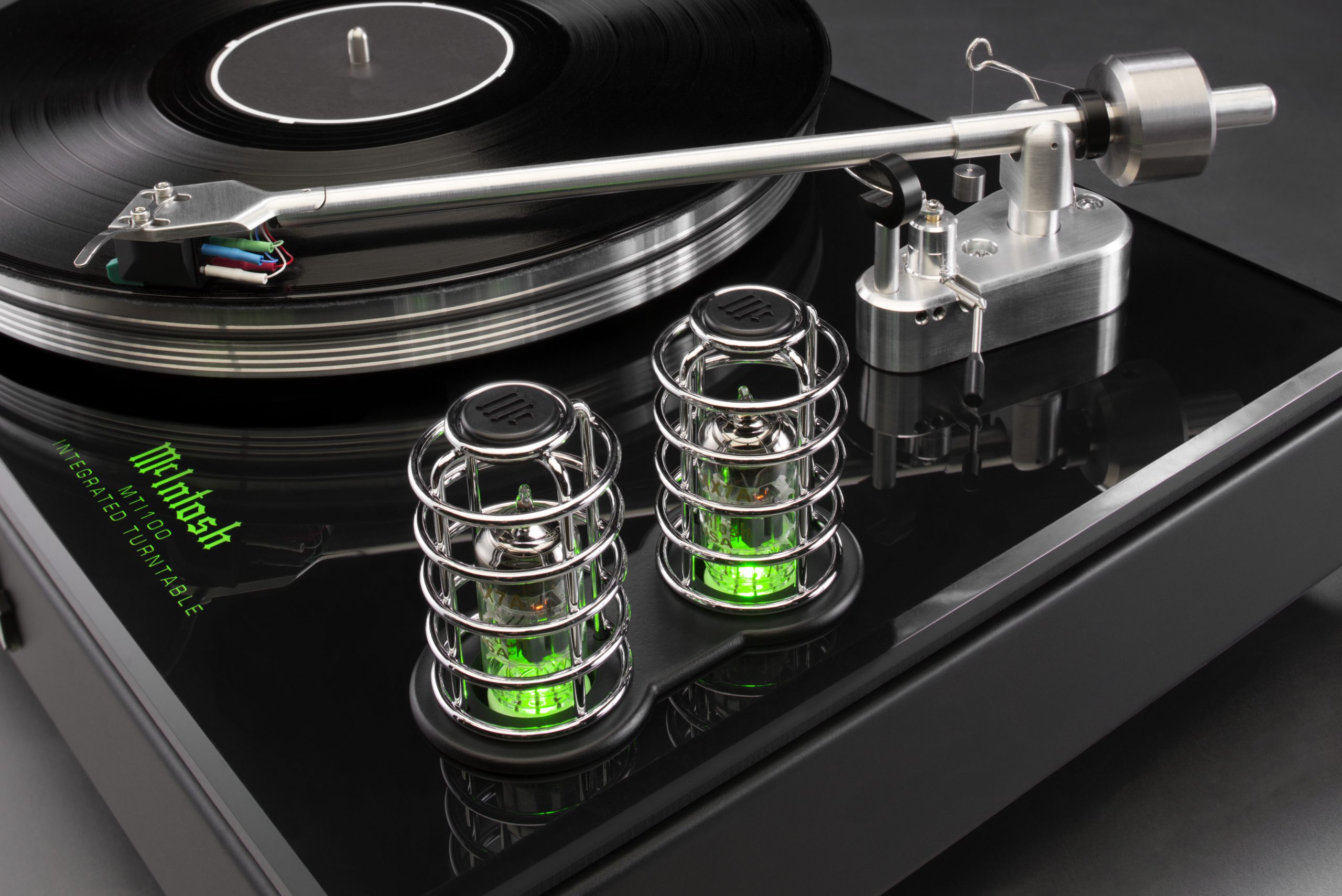 The same was true when other audio sources were connected to the player, including Bluetooth, although aptX HD can not be called high-end either.
I do not think it can be called MTI100 either. The price is high-end, but it comes with an otherwise excellent pickup (test winner in L&B), which would fit better in a player under NOK 10,000.
But the pleasant warmth of the soundscape masks much of the details of the music. The piano sound sounds hollow, and cymbals ring short and low in the speakers. Vocals get an appealing sound with beautiful fullness, but sound a little too defocused to get engaged.
The player gets more of his right to music that benefits from the extra tonality, and where it is not as important with 'correct' reproduction, or hi-fi sound as some call it.
Conclusion
The amplifiers from McIntosh deliver music experiences from the top shelf. Unfortunately, the McIntosh MTI100 does not do the same. At its best, it sounds warm, rich and comfortable, but even with both Bluetooth, DAC and built-in amplifier, it should also give the music more refined detail, greater dynamic contrast and more precise focus. A better pickup will of course lift the sound more, but also the price. Which is stiff enough as it is. For those who value convenience higher than the price tag, the MTI100 may well be perceived as a good buy.