Lasse Svendsen
Published

2019-11-26 - 12:27 pm
Fantastic engaging sound in a successful all-round package of an amplifier, which is built to; play on anything, and forever.
It is big, heavy and lacks streaming
Specifications
Type: Integrated amplifier
Power: 2 x 200 W 2/4/8 ohm
Technology: Transistor balanced dual mono circuit
Connections: 6 unbalanced, one balanced input
Turntable input: MM and MC input
Headphone output: Yes
DAC: 32-bit / 384 kHz, 2x optical, 2x coaxial, USB and MCT input
Network: No.
Frequency response: +0, -3dB, 10Hz – 100,000Hz
Dynamics: 2 dB headroom
THD: 0.005%
Signal / noise: 113 dB
Other: Illuminated Vu meter, remote control
Dimensions and weight: 44.45 x 19.37 x 55.58 cm / 34.1 kg
Strap yourself in the armrest, because this amplifier happily blows you out of the sofa, and it does so in style. As McIntosh amplifiers are used to doing.
The MA7200 is a bit overshadowed by the powerful flagship amplifier MA9000, which with its 300 W power can revive the dead, and kickstart a 747 at any time. But after hearing little brother with 'only' 200 W power, we are inclined to think that it is an even better buy than big brother.
It may have less power, but is constructed in the same way: With McIntosh massive autoformers and a balanced circuit, it uses the same 32-bit DAC module, it has phono input for both MM and MC pickups, a total of 14 audio inputs, and it has a very well-sounding headphone output.
The larger MA9000 has more inputs, a slightly more expensive phono stage, eight-band equalizer, even more inputs and more power, but it costs almost 50 percent more.
This makes the MA7200 a better buy, because it sounds exactly the same as the big amplifier does, and I think very few people will notice any difference in power between the two. Unless they have some very inefficient speakers, which can benefit from an amplifier with a lot of muscle.
But the joy of playing also springs from little brother, who has bass and treble control instead of eq, and lacks the large handles that the over 10 kilos heavier and even larger MA9000 is equipped with.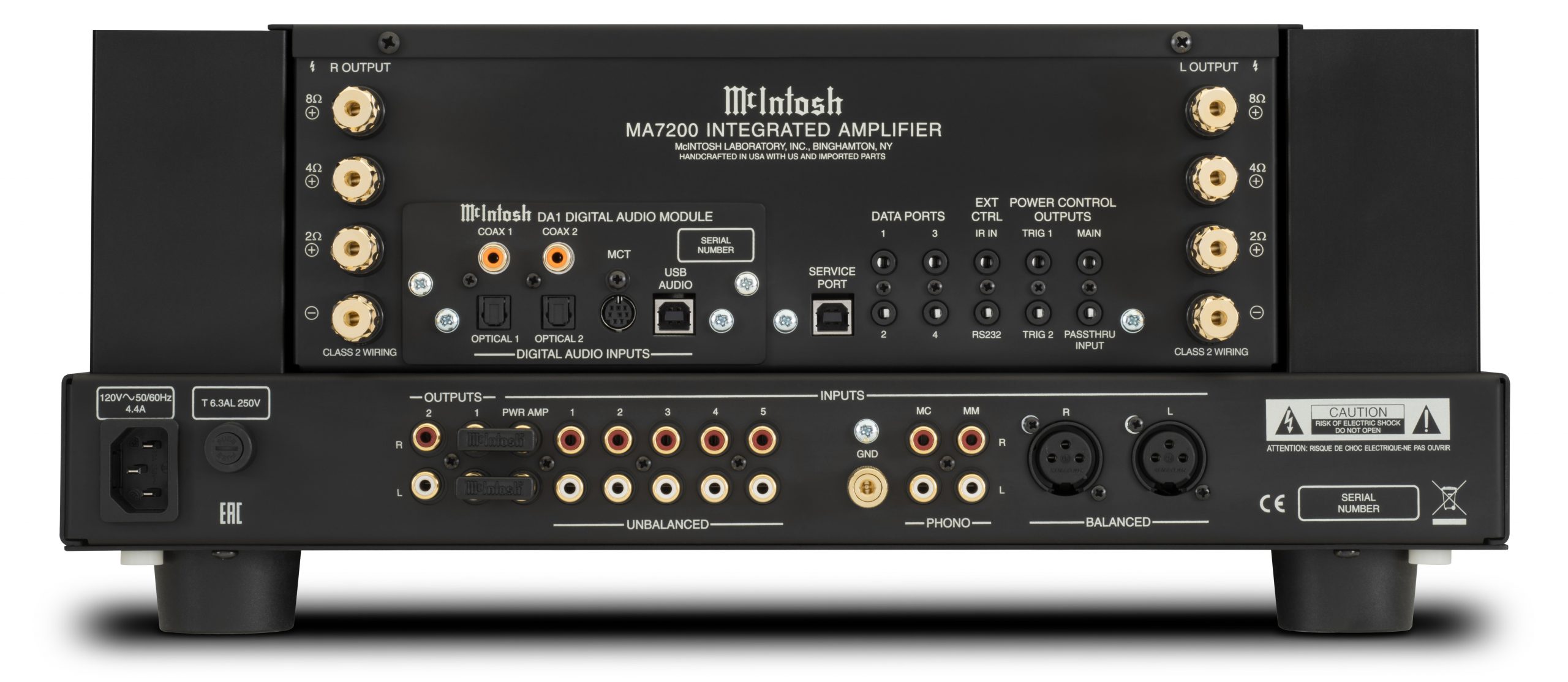 Everything but streaming
The two McIntosh amplifiers are definitely in the heavyweight class, where the competition is tough. If you get a Devialet Expert 220 Pro for the same price as an MA7200, the excellent Ayre EX-8 – also with DAC – is in the same price range, and there are Naim combinations that can challenge it in terms of sound quality. Although not on the number of connections.
The McIntosh amplifier meets the needs of many. However, it does not have streaming, but four digital inputs, one USB and one input for McIntosh CD transports with MCT output (SACD / DSD input), one balanced input, five unbalanced inputs, and one input each for Moving Coil and Moving Magnet pickups.
While the MM input is set to 47 kOhm load, the MC input load impedance can be set to 50, 100, 200, 400 or 1000 Ohm. Very flexible and great for anyone with a turntable, especially with a motorcycle pickup.
Since the MA7200 arrived in 2017, McIntosh has launched an upgraded DAC module, DA2 with a newer processor, HDMI and upgraded circuitry. It can replace DA1 which is in newer integrated McIntosh amplifiers, also this one, but it must be done at a dealer.
The module housed in the MA7200 is built around an eight-channel 32-bit / 384 kHz that supports audio files up to 32/384, DSD256 and DXD384, while the optical and coaxial digital inputs support up to 23-bit / 192 kHz. Which in practice means that the DAC handles all commercially available audio formats.
It is also ready for Roon, should you wish to use it with a power client that acts as a server for your power subscriptions. Whether you choose PC / Mac, or a Nucleus server with Roon.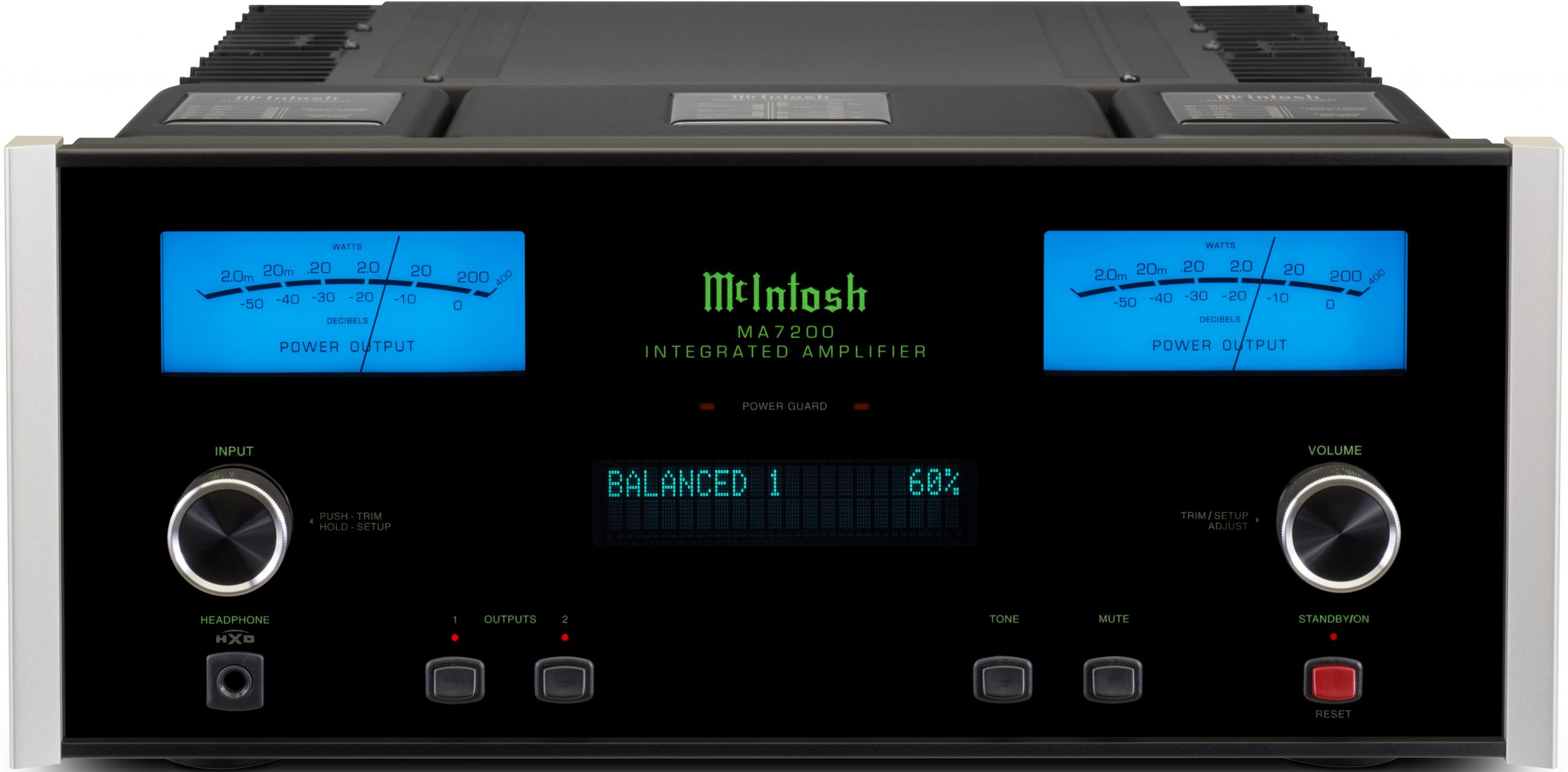 Fully balanced
Like most McIntosh amplifiers, it also has so-called autoformers (transformers), which in practice make the amplifier more stable, and relatively insensitive to varying loads. The circuit is of course fully balanced, or Quad Balanced as it is called, to reduce noise and distortion.
The amplifier is monitored by a microprocessor, the Power Guard attenuates the clipping of the signal, and the Sentry Monitor sits on the outputs to prevent short circuits.
It also has something you only see on tube amplifiers: Speaker terminals with 2, 4 and 8 ohm outputs. They are connected to windings in the autoforms and so you can 'tell' the amplifier how low the speakers are. It works very well in practice, and our test pair with Dynaudio Confidence 20, also sounded best on the 4-ohm outputs.
Refined muscle
You save tens of thousands, but lose some connections, the rest is as mentioned so similar that it is scary. The phono stage is a bit better on the more expensive amplifier, but you have to have a very expensive turntable rig to hear the differences. And then it is perhaps most interesting to go for a separate phono step.
They may be small, but the fantastic tripod speakers R1 Arreté from Audiovector, sounded as expected heavenly with the McIntosh amplifier. Audiovector usually does that, but here the speaker sounded bigger, the bass became more physical and the sound image grew when I switched from Hegel H190 to MA7200.
Like many other McIntosh amplifiers, the sound is warm and comfortable, but the sound is not without its dynamic touch. It never sounds boring, the sound is never woolly, but not sharp either.
Ayre EX-8 is a little more fine-meshed, analytical and sharper focused, but here you get more sound base in large instruments. Like double basses, piano and timpani. But also in trumpets and vocals. An old recording with Sarah Vaughn on vocals and Clifford Brown on trumpet, sounded enormously alive through another favorite, Dynaudio Confidence 20. Which also thrived very well with the MA7200. The amplifier pulls up a huge soundscape, it may not be so infinitely deep, but the width and scales are able to make small rooms look like concert halls.
Even with 'only' 200 W, there is plenty of muscle to hold the speakers in tight reins, even when playing loud. For this amplifier really goes two 11, and a little more. It delivers a string sound that makes the hairs rise on the arms, and you can literally feel the strings vibrate the air in front of the speakers.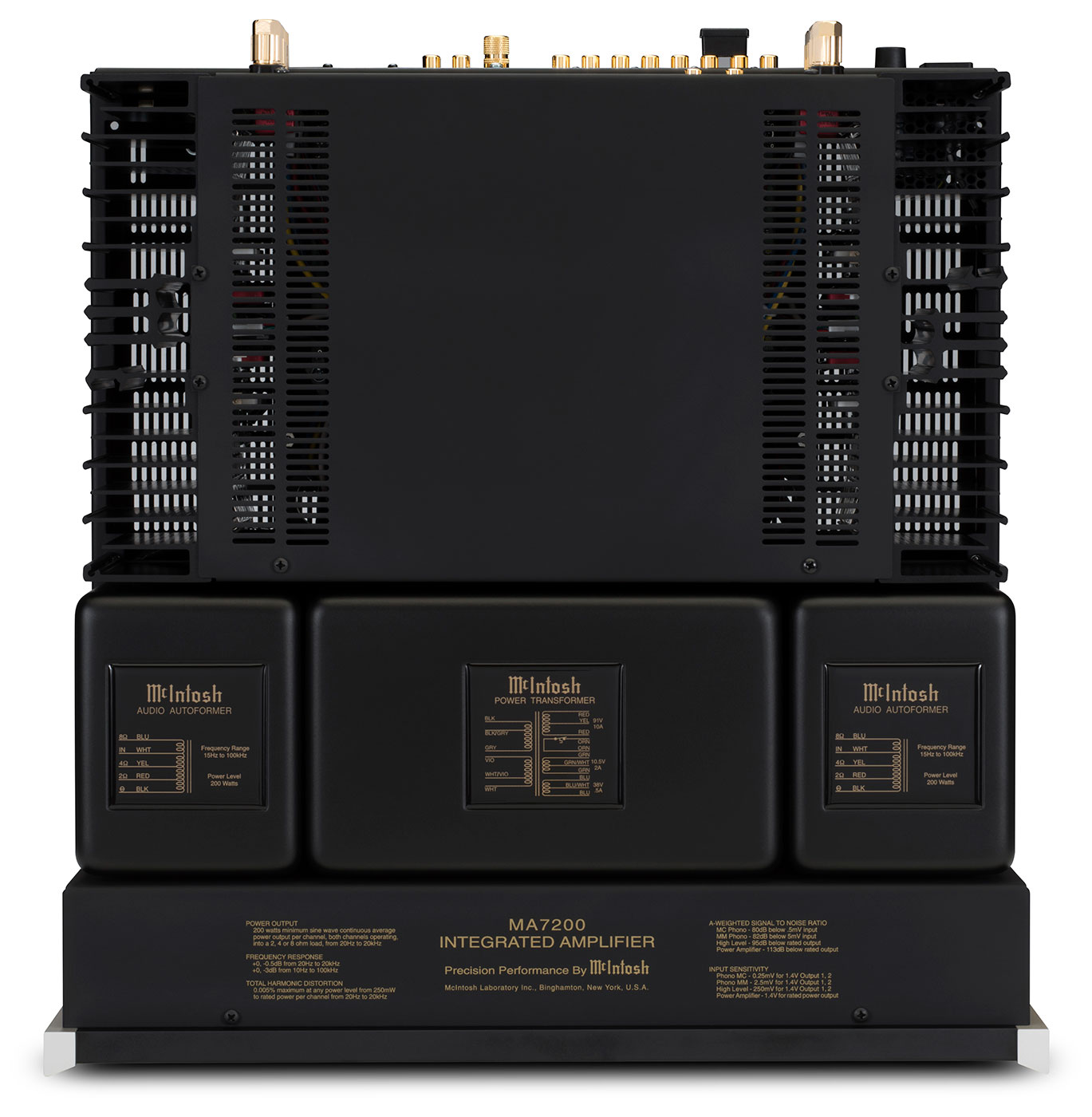 Conclusion
The McIntosh amplifier is a superb all-rounder. It drives most of the speakers, it kicks off the bass so it cracks its bones, and it has buckets of refined sound to offer. It can simply play anything on anything, better than most. It certainly lacks streaming, but that's all. For the price, it is hardly possible to find a more fun, more sonorous and usable integrated amplifier.