Lasse Svendsen
Published

2020-10-25 - 2:00 am
Beautiful quality in all aspects and appealing design. Complete player with all possibilities for connections, wonderfully open, warm and rich sound with good detail. Easy to use.
Slow button responses to CD playback do not support the MQA format.
Specifications
Type: SACD / CD player
DAC: 32-bit / 3945 kHz PCM via USB, 24-bit / 192 kHz DSD / FLAC, 24-bit / 96 kHz ALAC
Outputs: Variable and fixed unbalanced, optical / coaxial digital
Inputs: 2 x optical, one coaxial digital, USB, Ethernet
Headphone output: Yes
Wireless: Wi-fi, Bluetooth, Airplay 2, Heos multiroom
Streaming services: Spotify Connect, Tidal, Deezer, TuneIn
Other: Remote control, Roon tested, HEOS app
Color: Champagne, black
Dimensions / weight: 44.3 x 42.4 x 13 cm / 13.5 kg
CD players are not what they once were. Once upon a time there was something everyone should have, then came iPod, iTunes and Spotify and changed the way we consume music.
Tons of CDs disappeared on the mound, CD players for electricity and the old facility was perhaps stowed away, in favor of a soundboard. It may sound like a nightmare to a music enthusiast, but it is unfortunately a reality.
Music streaming has long taken over as the dominant way to consume music, but since not everyone has dumped their CD collection, there is still a need for CD players. The selection of players is not as large as before, but for the enthusiasts there are many goodies out there, which can give new life to the CD collection.
Denon, Rotel, Esoteric, McIntosh and Marantz, for example, have players on the top shelf, which are guaranteed to sound better than the old Sony player from 1999. But what if you want to combine CD with streaming? Then the selection of quality players is far more limited.
It's always the Technics SL-G700, one of the best we've tested. Which is both a SACD and CD player, a network player with wireless streaming, internet radio and digital inputs for other audio sources.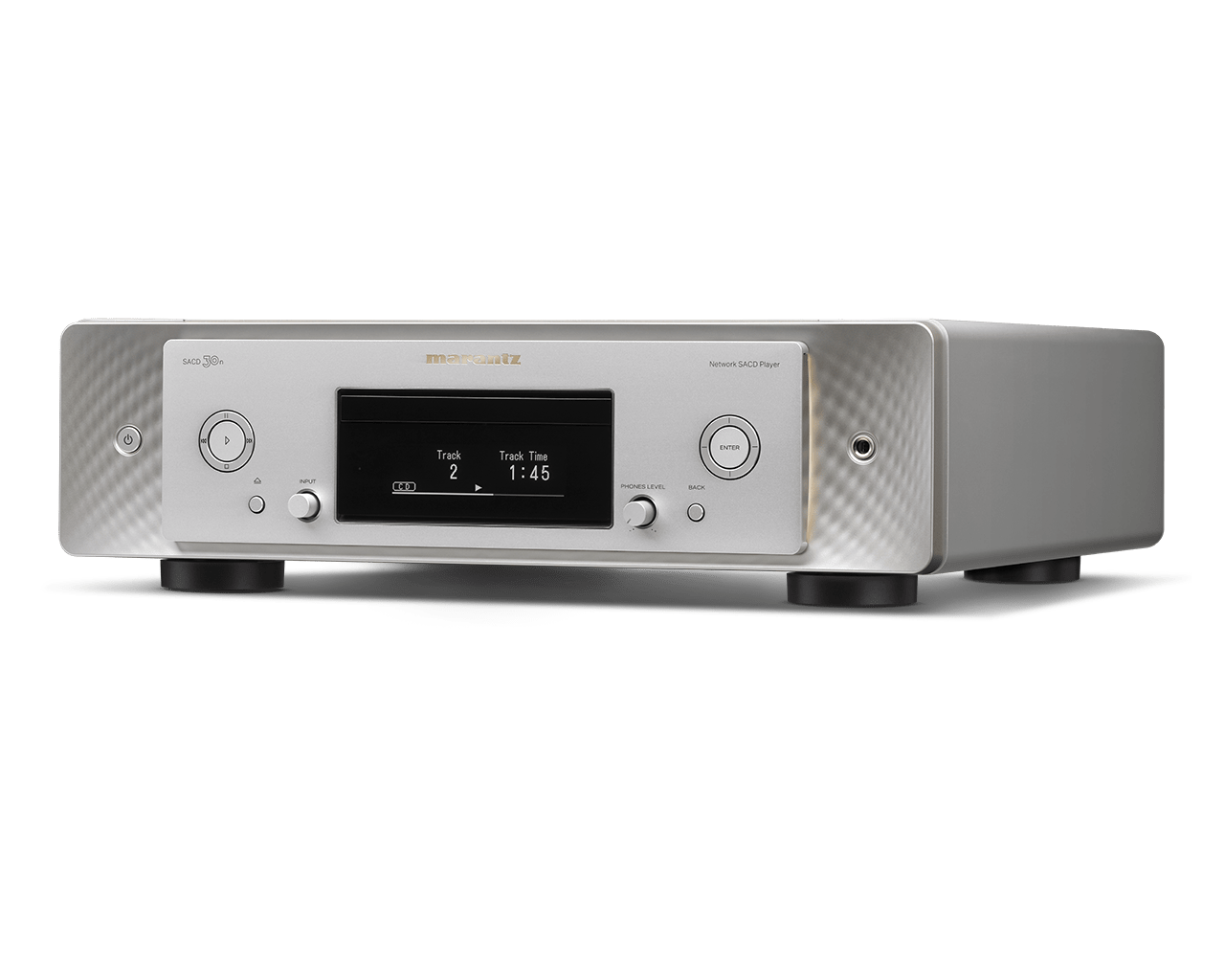 Now we can add the Marantz SACD 30n to the list of the best combined CD and power players in the market. The very attractive player is one of two new products in Marantz's new 30 series. The integrated amplifier Model 30 is the other. By the way, it has only analog inputs, no streaming, and as such, the SACD 30n complements the system with CD playback and streaming.
In other words, a CD player that has a leg in both ages: the CD age and the streaming age.
Full-fledged streaming machine
It has built-in Bluetooth that democratizes streaming so that everyone can connect and stream from their mobile. With Wi-fi and AirPlay 2 you can stream in even better quality over the house's wireless network, and with Ethernet you can connect to the router and stream over Wi-fi for playback of audio files in full studio resolution.
The best sound quality is obtained either with Ehernet, or USB from a laptop with high-resolution music files, and the player's digital converter supports music in PCM up to 32-bit / 384 kHz via USB, and FLAC in 24-bit / 192 kHz.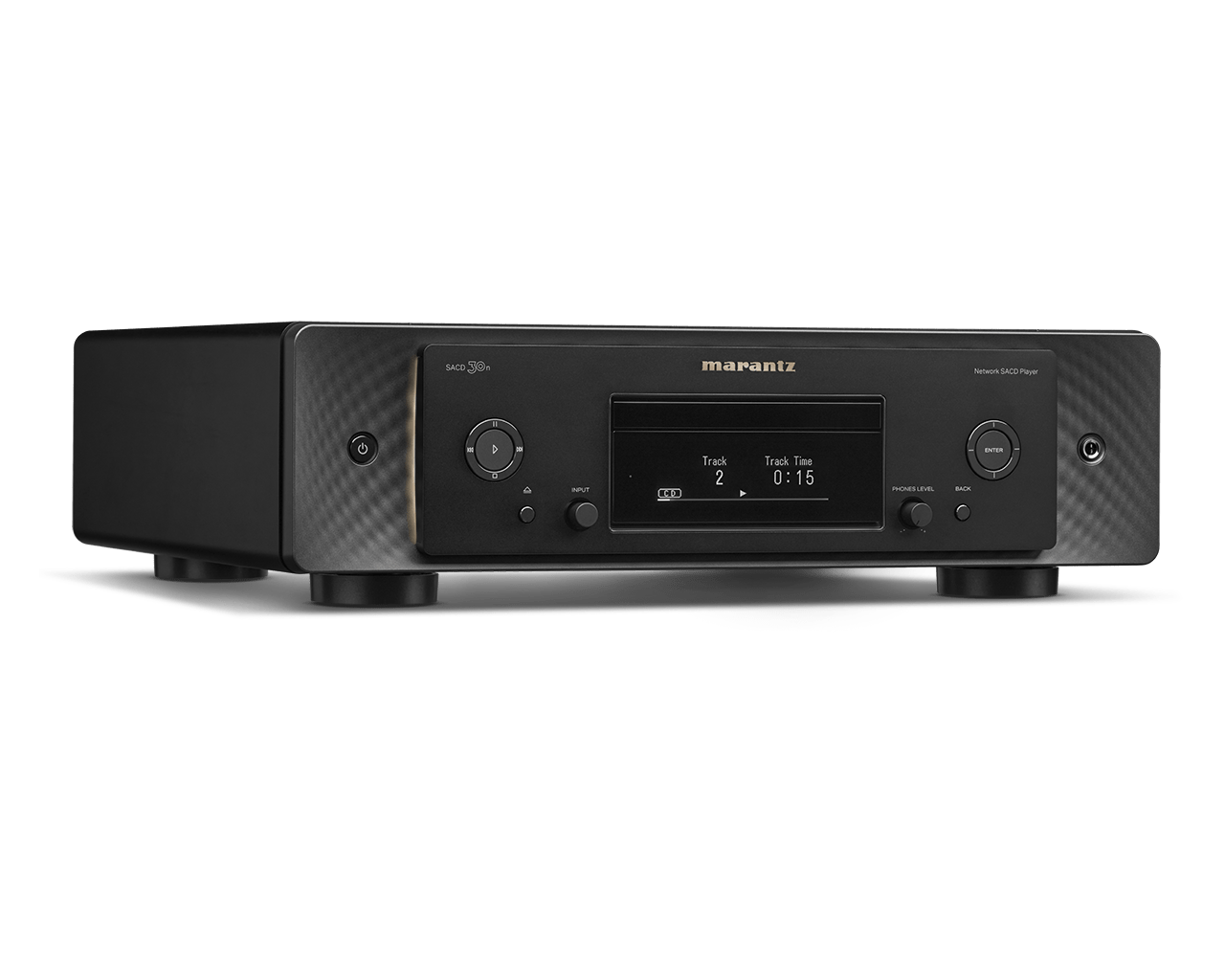 The player also has Marantz and Denon's HEOS client for multi-room streaming built-in, with app management of music services among others, which supports Spotify, Deezer and Tidal, but there is no support for MQA files in the DAC on the SACD 30n. It does, however, support playback from Roon, which has a music player for all music platforms in one device.
But HEOS also comes with the option of voice control with Alexa or Google Assistant.
It sounds complicated, but is really very easy to use. Once you have connected the player and gone through the setup menu with connection to network, Heos and selected light source with selectors on the side of the display, or with the remote control, just play.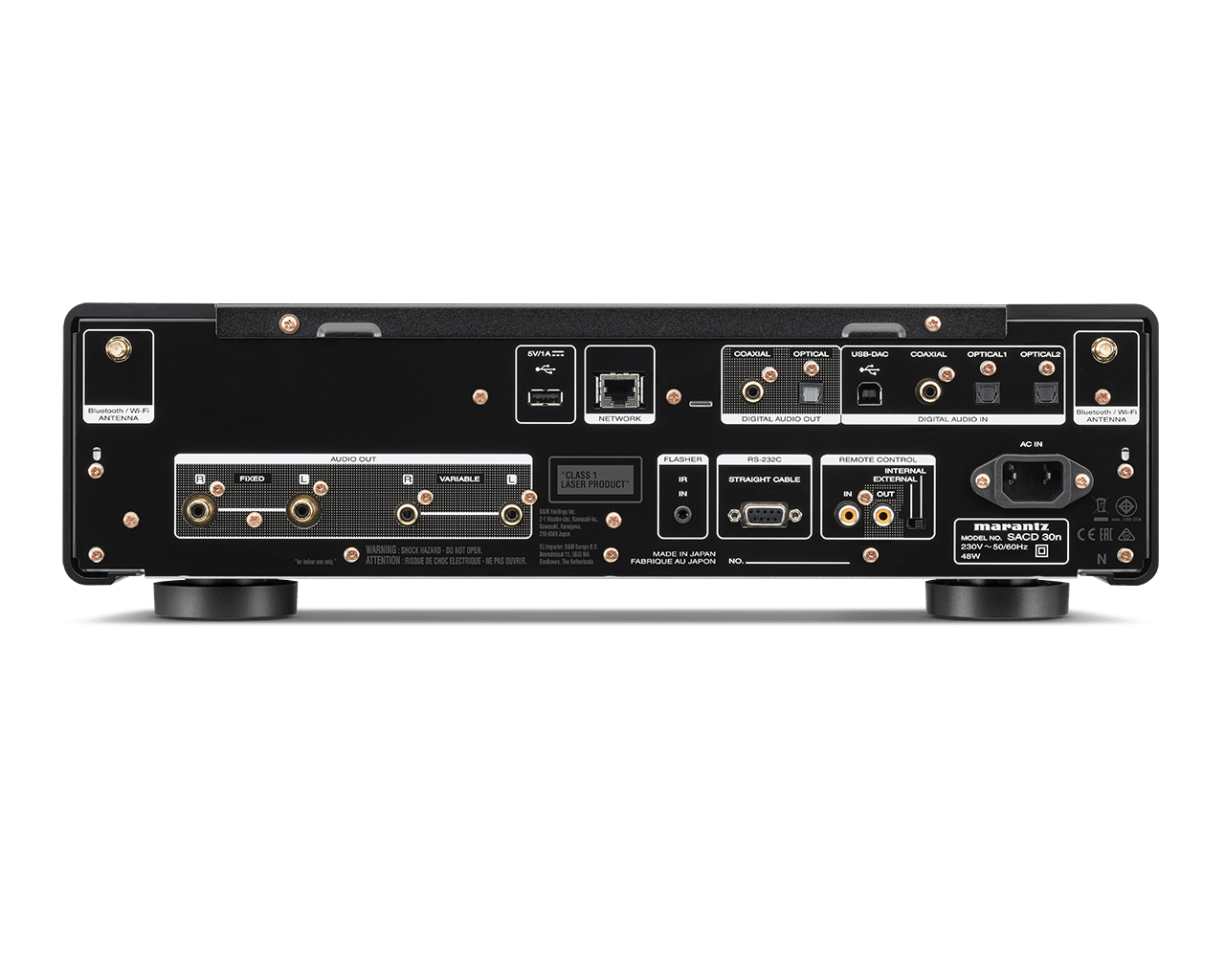 Inside, things happen with the signal processing that is not so common in a CD player. The SACD30n has something they call Marantz Musical Mastering (MMM) instead of a conventional DAC. It is also available in SA-10 and SA-12SE, and now also in SACD 30n.
The MMM circuit converts PCM (CD 44.1 kHz) to DSD 11.2 MHz and uses two system clocks to provide the most accurate sampling possible, up to 384 kHz. The conversion of the digital DSD signal to analog takes place with analog HDAM modules on the outputs of the player.
Which also has a built-in, self-developed headphone output with a separate HDAM SA2 amplifier module, with the ability to adjust the gain on the output of the headphone you want to use.
You can also choose between a sharp and slow filter (sharp roll-off, slow roll-off), which gives either a very short impulse response, or a slow unrolling of impulses. Here you can push yourself back and forth before you decide what you prefer.
The player's silent CD mechanism – SACDM-3L, is designed for SACD playback, and also supports DVD-ROM with PCM files up to 192 kHz and DSD 5.6 MHz.
The analog outputs are not balanced, but are discreetly and symmetrically constructed as two mono channels, with two sets of RCA outputs. One for connection directly to an amplifier, and one for volume control (variable) on the player, which can then be connected in e.g. an active speaker or power amplifier, other than a pre- or integrated amplifier.
This is how you can do well with a SACD 30n and a pair of speakers.
Classic Marantz sound
It is important to be aware that Marantz, at least for the past 30 years, has had a recognizable sound signature. It can also be heard on the SACD 30n, but it is more refined, more open and balanced, not very warm and almost woolly as older Marantz players have – somewhat incorrectly – been accused of.
The basic sound signature still leans towards warm fullness, but the sound is never woolly, the music never sounds withdrawn or the dynamics anemic. No, the sound image is transparent, rich in details and on CD it shows that Marantz is better at tuning digital sound than most others.
It sounds soft and nice when it should, but has bites and snarls when needed. The dynamic contrast is noticeably better than from a Cambridge Blu-ray player I have standing, and the large soundscape the player presents is more reminiscent of the McIntosh MCD600 at three times the price, than a lower price range CD player.
It does not bounce off the dynamics in the same way as in a Hegel Mohican, which otherwise has neither digital inputs nor streaming, but it clearly matches the sound quality from the Technics SL-G700.
Streaming? As a network player, you can control it from your mobile or remote control, and with a good signal source such as Tidal HiFi over AirPlay can be, or via the USB-DAC, Marantzen plays fresh, engaging and with appealing warmth and glow.
Streaming via Bluetooth does not give the same touch, dynamics and depth in the sound, so for critical listening it is lossless or better over network, or SACD / CD, which applies.
Conclusion
The new 30 series from Marantz with the integrated amplifier Model 30, and SACD 30n, is a wonderful combination that offers everything you need from connections to signal sources, and a very good combination for music enthusiasts who want to indulge a little extra. They stand on their own two feet separately, but one must praise how successful the SACD 30n has become as a combined CD and network player. With this, good sound is ensured in the system for a long time to come.