Geir Nordby
Published

2020-08-17 - 9:19 am
Many connection and power options. Large, razor-sharp sound image with a slew of details. The bass is kept in a tight line.
There are more powerful amplifiers in the same price range. No turntable input.
Specifications
Output power: 2 x 60 W in 8 Ohm
Damping factor: More than 2000
Inputs: 3 optical, 1 coaxial, USB, network, 2 RCA
Outputs: 6.3 mm headphone, variable line (RCA)
Digital resolution: 192 kHz (96 kHz USB)
Network: AirPlay, Spotify Connect, IP management
Dimensions: 10 x 43 x 31 cm (H x W x D)
Weight: 8.6 kg
Color: black
Web: hegel.com
You will never get goosebumps from music played through a soundboard. On the other hand, you can easily bring out the popcorn when you play the movie sound through a good stereo system! But then you depend on a good amplifier.
It's not just easy to make an amplifier that appeals to everyone. A modern amplifier should be able to do almost anything, play everything, and even have enough muscle to power all types of speakers. For the same reason, I would recommend putting a few bucks in a proper amplifier. Few things are worse than regretting a purchase!
The brand new Hegel H95 is in a very reasonable price range. It is a serious sum of money where you have the budget to put in proper components, at the same time it is nothing more than that someone who realizes that he will not be happy with a soundboard can stretch a little more and make his dreams come true. Then you do not have to have a soundboard for movies and some good wireless speakers for music. Pair instead the H95 with a pair of good speakers, and get ready for a top experience no matter what is on the menu. A little more expensive, but much better!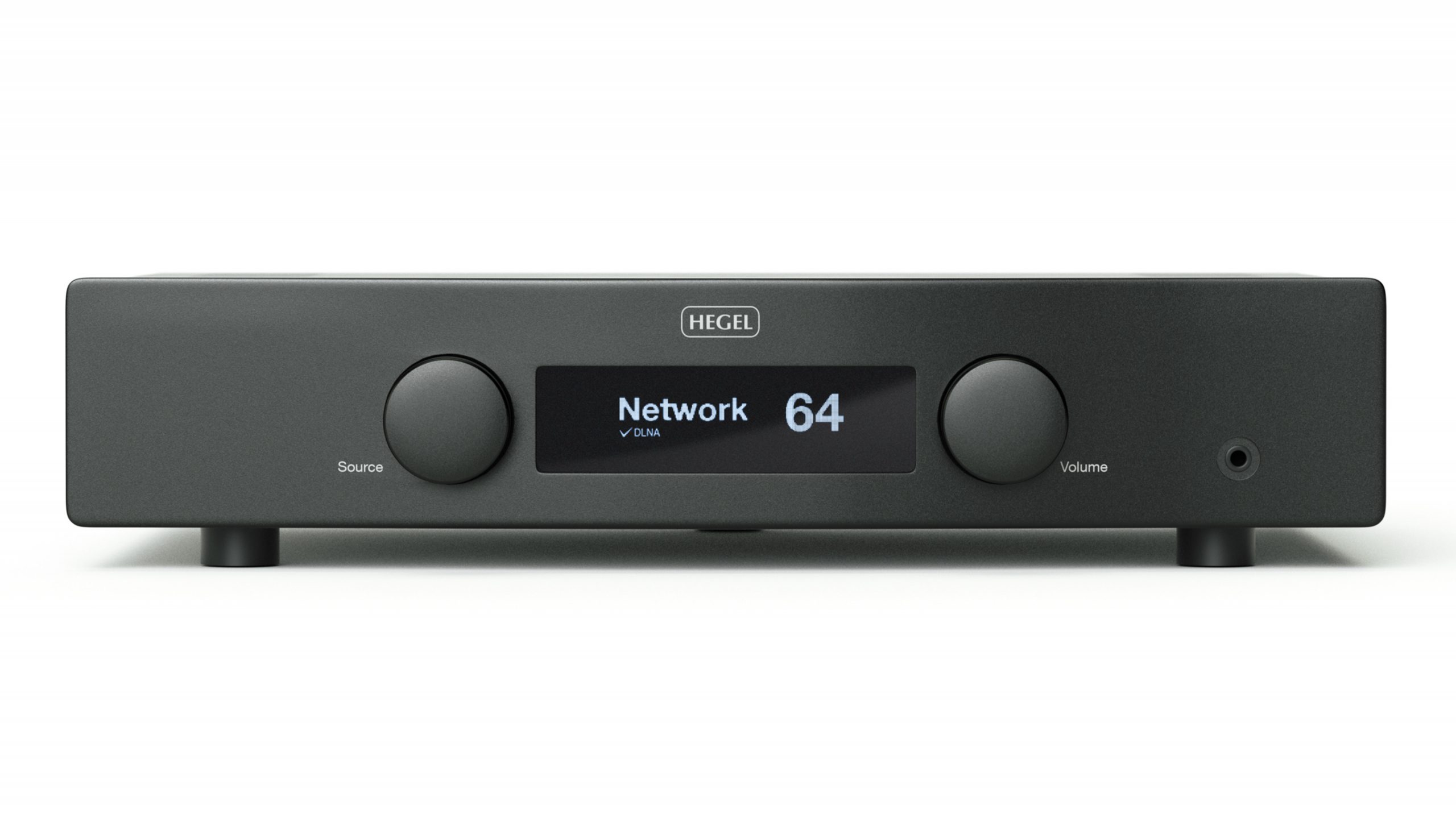 Equipment
The H95 has most of what you will need: iPhone users can stream music over the network via AirPlay (AirPlay 2 is expected to come later), while Android fans can download Mplayer, Bubble UPnP or other apps that support DLNA / UPnP, and play music that way. Then you are admittedly at the mercy of the app's interface and may not use e.g. Tidal's or Deezer's original app. Spotify users find it much easier: just open the Spotify app and find the amplifier in the list of audio sources. It could hardly have been easier.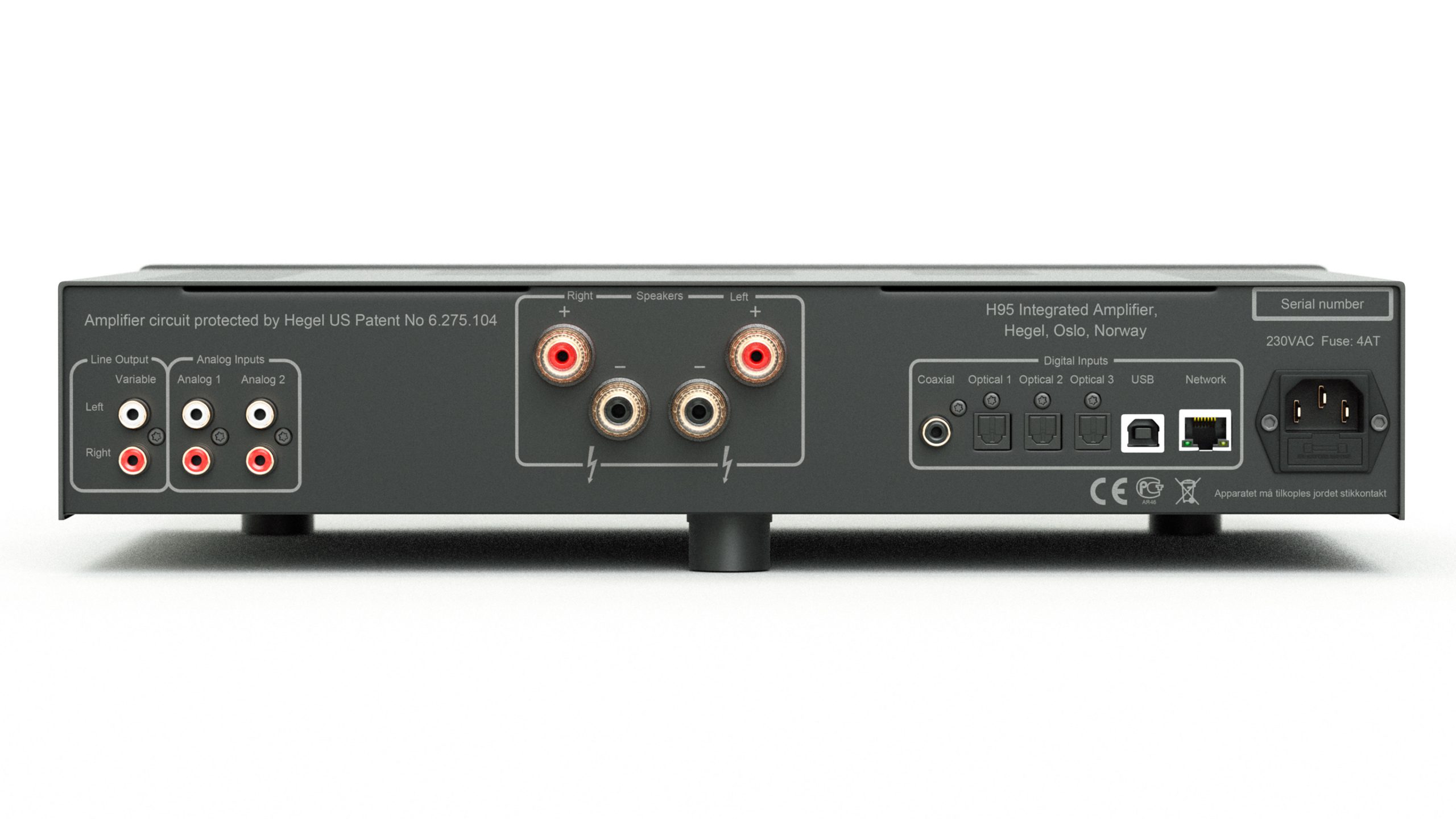 You can connect other digital players with one of the digital or analogue inputs, for example, plug the TV into one of the optical inputs. And if you want to use the H95 with a PC instead, then just connect a USB cable. And, yes, a PC can definitely be a full-fledged hi-fi component, with a good enough DAC. Like the one in H95.
The most obvious shortcomings to satisfy absolutely all needs are Bluetooth, turntable input and built-in internet radio. Trifles.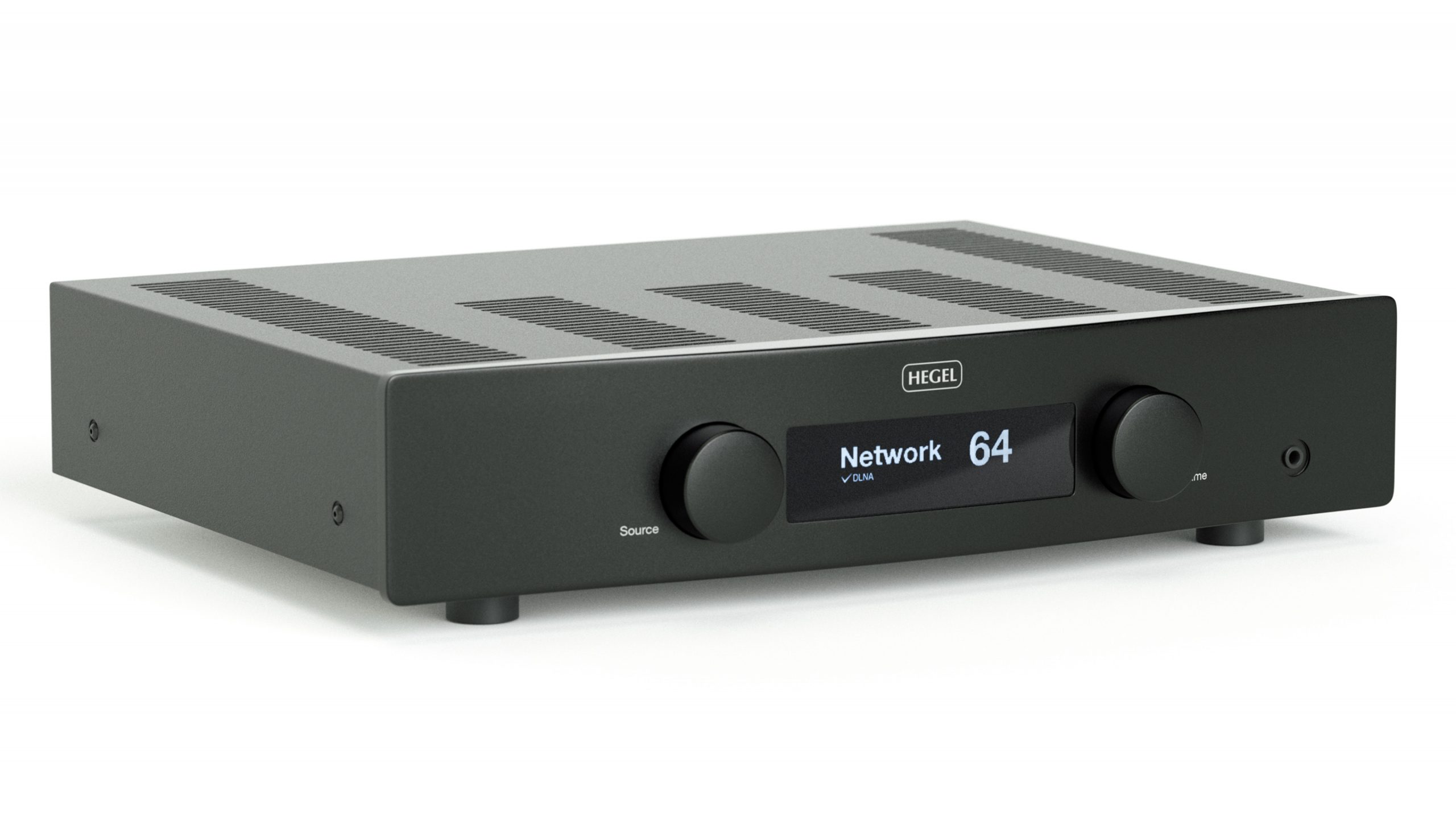 Takes over after H90
Hegel H95 takes over from the previous entry-level model H90. It has been our reference booster in its price range, really until now, but it's time for an upgrade.
The new H95 has a completely new digital part, including a better DAC. This should show in the form of better resolution and more transparent sound than the H90. But there have also been upgrades in the analog part, not least in the preamplifier stage. To again provide even cleaner sound and better channel separation. But the upgraded sound quality comes with a price.
Like its predecessor, the H95 has the latest version of Hegel's proprietary SoundEngine 2 technology, which acts as a kind of active noise attenuation of the electrical signal – ie SoundEngine constantly monitors the music signal and removes unwanted noise in real time. The amplifier also has a high attenuation factor of 2000: 1. Which should give better control than other amplifiers, especially in the bass.
Hegel has always said that they will not come up with their own interface for streaming music. On the other hand, they would rather be an endpoint where you can build in support for other people's streaming services, and decode the sound in the best possible way.
With the H95, this philosophy is preserved. First, it has built-in support for Spotify. You just open the Spotify app on your mobile or PC and find the amplifier, which must be connected to the home network with cable. It could hardly have been easier. Airplay is also built-in, so iPhone and iPad users can easily stream audio from any app to the amplifier, via the network.
If you use Android, it gets a little more convoluted, but not much. Download Bubble UPnP or Mconnect, or another similar app, to your mobile phone. If your mobile phone and amplifier are on the same network, you can easily find it. But you are locked into the app interface and cannot play directly from the Tidal or Deezer app.
The computer users have not been forgotten either. Connect the amplifier with a USB cable, and it has now taken over as the audio source. Much better than the PC's built-in sound card.
The amplifier can be software-upgraded directly over the internet in the future.
Headphones
Finally, it is worth mentioning that the H95 has an upgraded headphone output, of far higher quality than the H90. Here you get both more power, and a far more lively sound through even twisted headphones like the Sennheiser HD 800S. I've tried!
Fantastic with compact speakers
When I first connected the H95, it was to run the Dynaudio Evoke 20 in my 8 sqm home office. And it did so with great conviction. Here I do not need a lot of power surplus to play loud and powerful, and there are other requirements that come up instead. As an ability to draw a large room, and reproduce the music with beautiful tone structures and lots of air. Just check all the boxes here. The soundscape of James Blake's You're Too Precious is large and airy, while the slightly strange rhythm of the clapping is marked with a speed that many will envy.
Though, to bring out the strengths in terms of speed and sensitive tones, the Bowers & Wilkins 705 S2 Signature will do an even better job. That the sound is another notch above the standard version, I will reveal in more detail in an upcoming test, but the way the speakers evoke details in the treble, while the holography in the soundscape is enormously impressive, enables the speakers to even better distinguish between different amplifiers.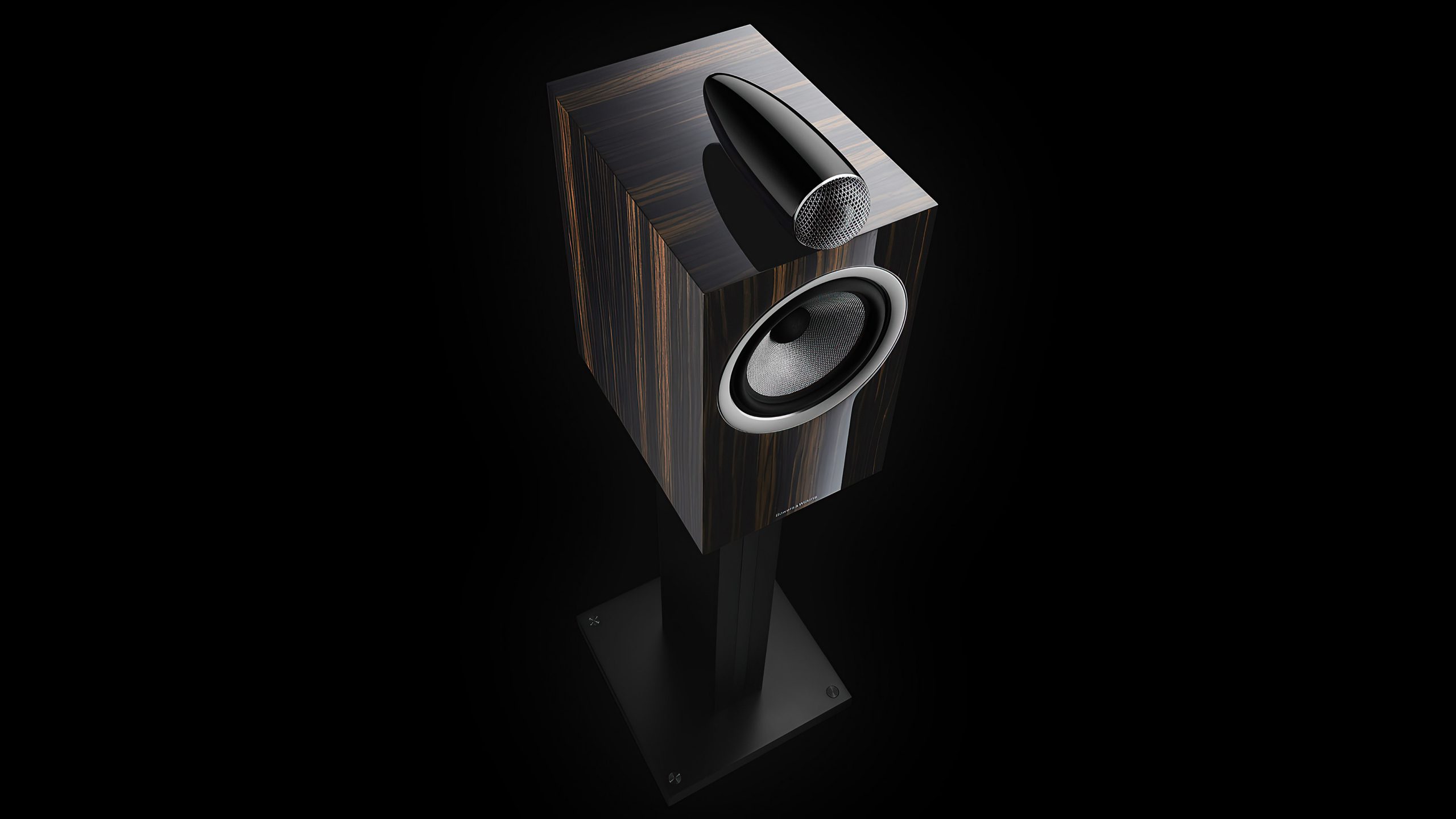 Faster than Electrocompaniet
Connected to the PC with USB and Roon as player, the Hegel H95 has a superb ability to start and stop the audio signal at lightning speed. The H95 reproduces the bass drum beats tighter than both its predecessor, and the significantly more expensive Electrocompaniet ECI 80D (test coming). Hegel is faster, although Electrocompaniet is somewhat more powerful and will quickly charm its audience with a rosy and rich soundscape.
But the H95 is faster, you can hear it not least on the edge beats on the snare drum, which is reproduced with a snap that is few and far between. A great example is Dominic Fike's eminent Politics & Violence, where in my opinion he mixes rap with RnB song in a far more successful way than Drake. Hegel H95 is sharper and more distinct than the others, without getting sharper and rancid.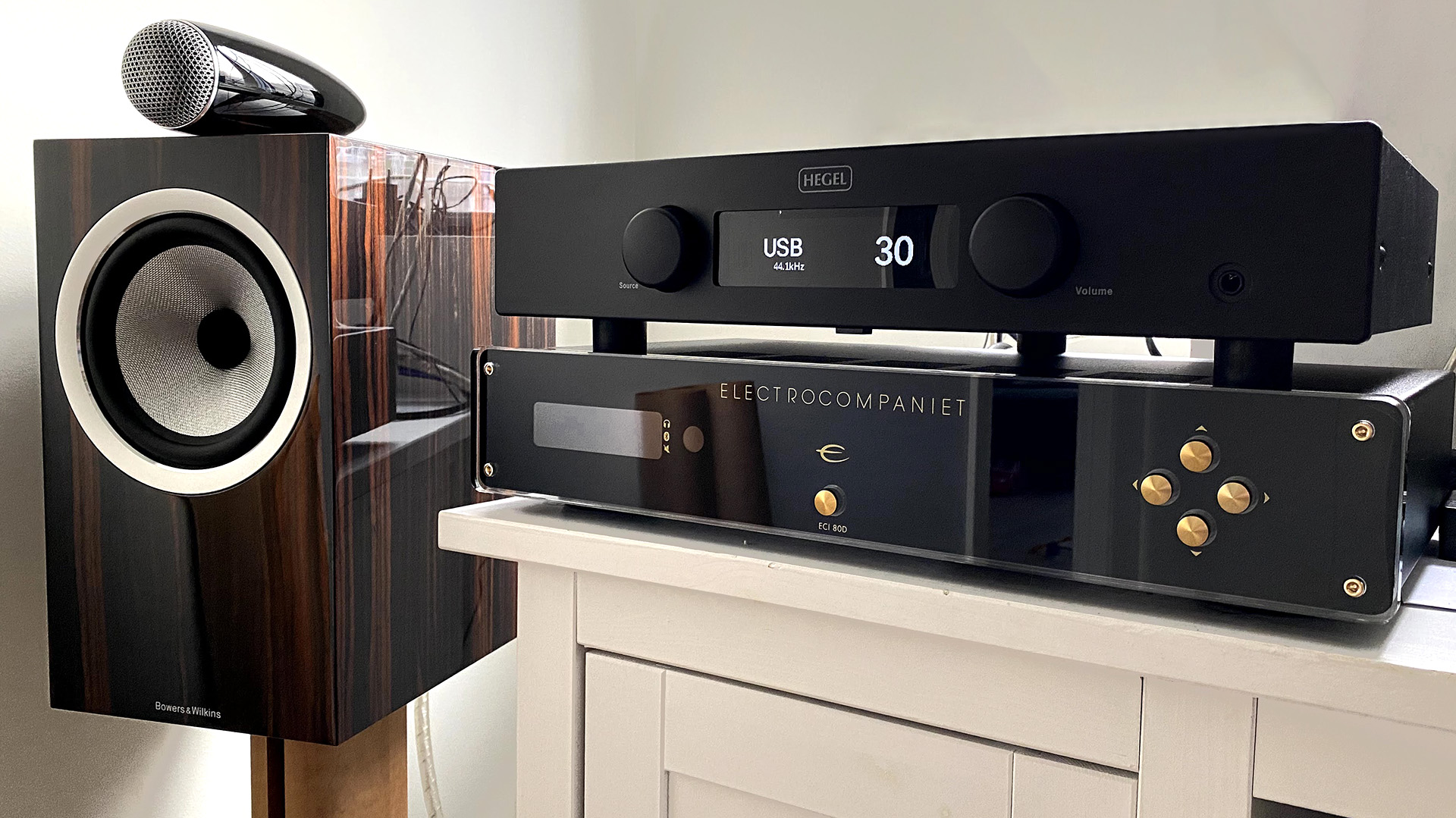 Better than Marantz
The Marantz PM7000N is another amplifier to consider. In terms of equipment, it is in line with the Hegel H95, and has both turntable input and Bluetooth. In other words, everything that Hegelen lacks. Well, except the USB DAC input is missing on the Marantz. And that is a problem, because in this country there is only one way to stream high-resolution music and that is through Tidal. The HEOS streaming platform in Marantz does not support the MQA format used by Tidal, and is thus the only way to high-resolution audio through purchase and digital download. Something that is definitely not for most people.
In terms of sound, Hegelen is also better than Marantz. The dynamics are better, with a more solid and rock-solid soundscape. The stereo perspective is somewhat more diffuse in Marantz, I would actually say that the Hegel amplifier beats it in all disciplines. Regardless of music style and speakers. And that says it all, because the Marantz amplifier is by no means a bad amplifier.

Classical
Of course, this also benefits classical music. Mezzo-soprano Cecilia Bartoli needs good equipment to flourish with all her fast coloratura. And she does that for the benefit of the Hegel H95 and B&W 702 S2 Signature. A great example is La Clemenza di Tito: De 'miei figli, under conductor Diego Fasolis and accompanied by I Barocchisti baroque orchestra. The placement of the instruments is mightily impressive from something that is not in the high-end class, and the amplifier is only revealed when I directly compare it to something even better. Like Naim Supernait 3, which is even more tactful.
You hear it not least on the castanets of Petricia Petibon's Vendado es amor, no es ciego: En amor, pastorcillos. Yes, classical music always has long names. It does not overshadow the fact that this piece, which also includes flamenco guitar and strings, sounds fantastic. But even if Hegelen does not reach the more than twice as expensive Naimen, it brings out the musical aspect in an excellent way.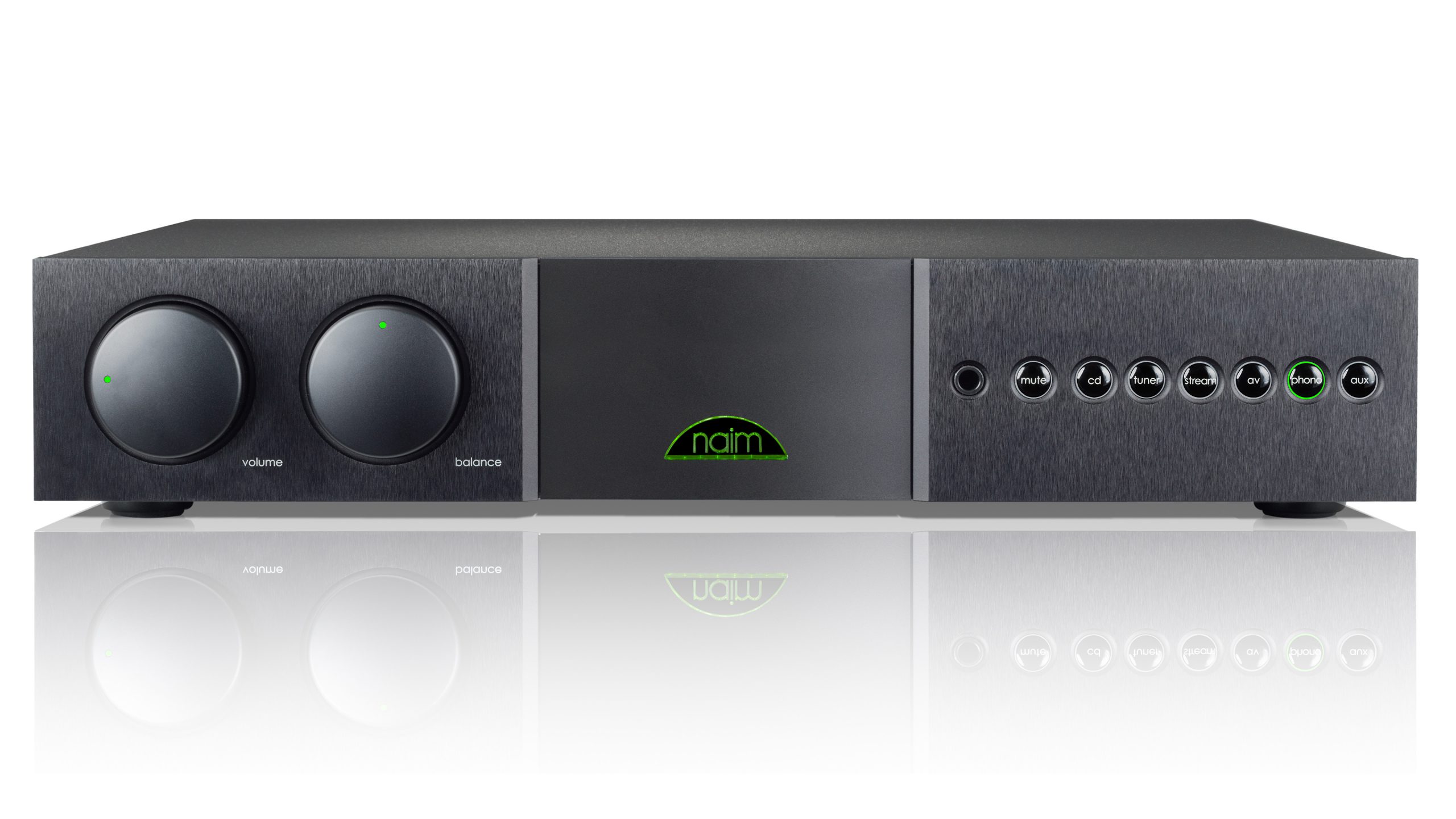 Large speakers
The weaknesses show up when the H95 is set to power large speakers, more specifically the floor-standing Sonus faber Olympica III in the 30 sqm large test room at work. Here I always play a lot higher than at home, and here the power of the H95 falls a little short.
Big brother H120 has significantly better control of the bass elements when you turn up the volume, and the same I actually think about Primare I15 Prisma, which also has 2 x 60 watts in stock but where the rhythms come out better and I imagine that it can play a little more higher than Hegel H95. But the Class D amplifier in Primaren also has a more diffuse and shallow stereo sound image than Hegelens Klasse AB amplifier. Play a little lower, and Hegelen sounds better.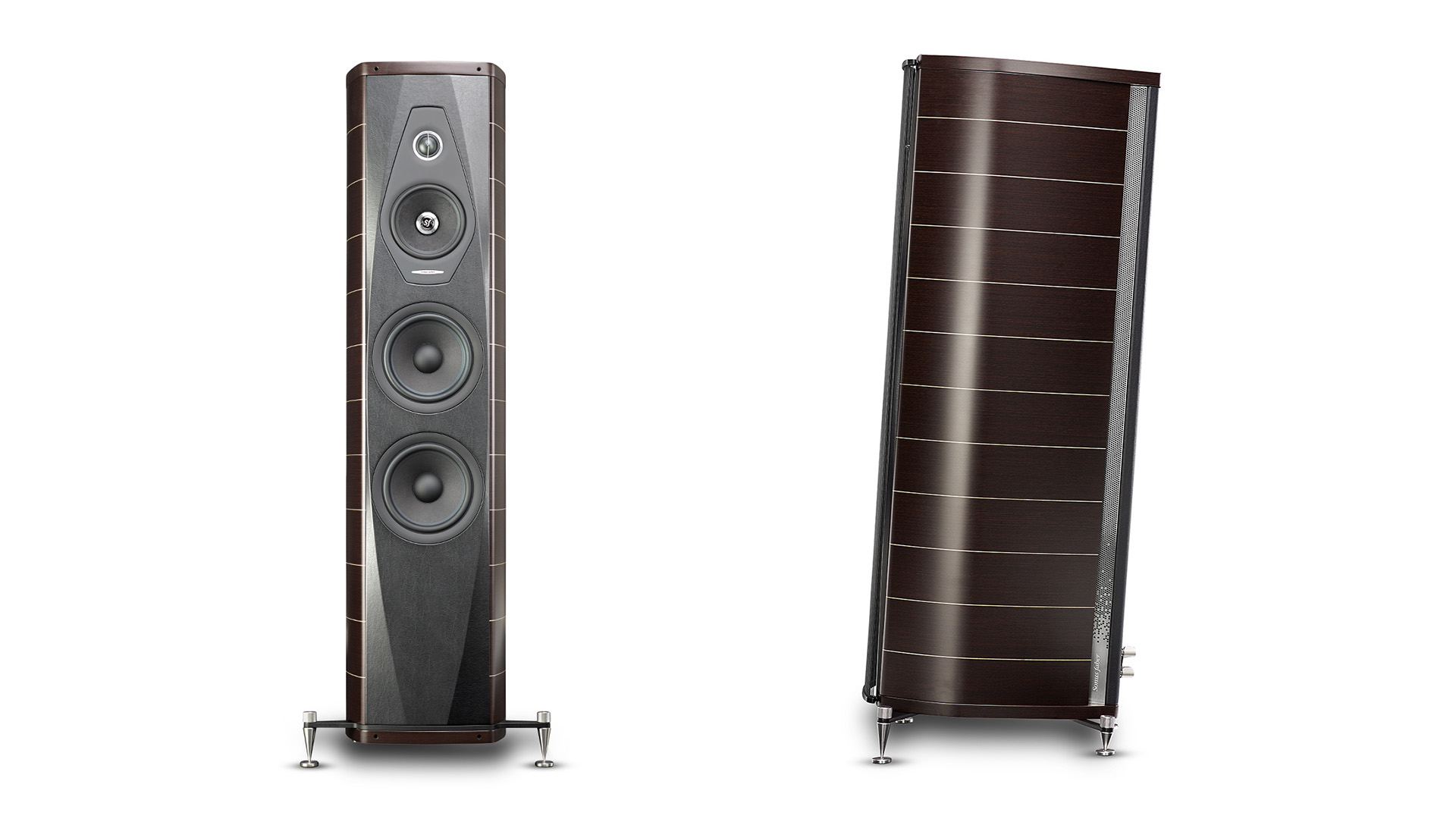 TV
Since I mentioned the soundboard, I tried to connect the H95 in the living room with a pair of affordable and long-out speakers of the type Dynaudio Audience 42. Connected to the Samsung 75 "Q90R, the sound was not only a little better – but much better – than with the soundboard Sonos Arc The music track on film sounds much more powerful and with a much better tone structure, the Sonos soundboard has a kind of "digital sound", and sounds both sharper and less complex in the tones.
With Hegelen – and other stereo setups – you have to give up simulated surround sound, you have to live with pure stereo. The dialogues also sound a little wider and less punctually centered in relation to the soundboard. This is because with two stereo speakers you use psychoacoustics to give the illusion of sound in the middle. Regardless of the quality of the speakers and amplifier, the sound will then be smeared a little on the sides, to varying degrees. This in relation to a soundboard with an actual speaker in the middle. However, I would have preferred this way of watching movies and TV. Rather quality than quantity, if one has to choose.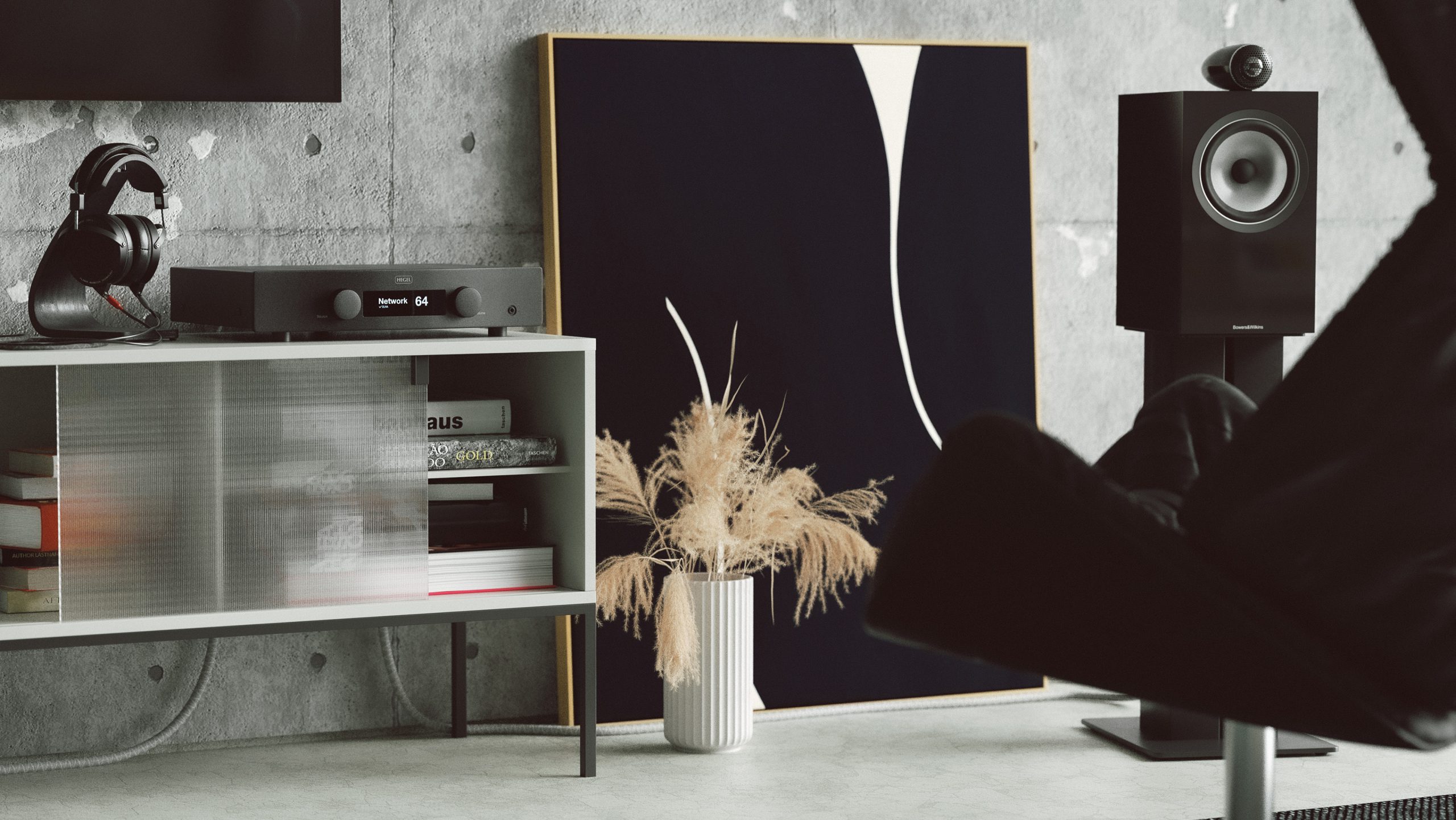 Conclusion
If your room is not too big, and you do not play with sound levels that bother the neighbors, then Hegel H95 will satisfy almost all requirements such as the hub of a stereo system. Whether you play music from PC or mobile. Or if you have a CD player. If, on the other hand, you have a turntable, you need an RIAA step in between, and the amplifier does not have built-in internet radio or Bluetooth. You will still easily find a good way to get the music out.
And what a sound! At moderate sound levels and slightly above, a beautiful and tidy sound image comes out. Faster and more distinct than many others, including some more expensive competitors. Admittedly with less power than some of them. But the H95 has plenty of muscle in most situations, what it does does it so well that we find nothing to draw for.
Yes, it could have been even more powerful and had an even tighter reproduction of the bass. But then it would be called H120 and cost 2300.