John Hvidlykke
Published

2018-10-30 - 10:22 am
Charming and dynamic sound at a very affordable price. Good digital inputs and built-in tuner.
The design is a bit square, in a way that some will love - and others think is too masculine. No built-in streaming.
Specifications
Output power: 2 x 50 W in 8 ohms / 90 W in 4 ohms
Inputs: turntable (stereo RCA), 2 x analog input (stereo RCA), 3 x digital (RCA, Toslink, USB), FM antenna, BT adapter
Digital resolution: 24-bit / 192 kHz (optical / coaxial), 24-bit / 96 kHz (USB)
Outputs: speakers (screw / banana terminals), power amplifier, headphone, subwoofer, 12V trigger
Dimensions / weight: 43.2 x 6.7 x 31.8 cm (WxHxD) / 6.8 kg
American Emotiva is known for its often very large and massive amplifiers at surprisingly affordable prices. Here we have embarked on the Emotiva BasX TA-100, which in terms of weight and power is in the lighter layer of the company's product line. This is something as rare as a stereo receiver – ie amplifier and radio receiver in the same cabinet.
Receivers were once the most common center in the hi-fi system, while today they are almost only seen in home theaters. The benefits of building a tuner and amplifier together are otherwise obvious, as you save the cost of extra cabinet, power supply and shipping.
Built like a jeep
Although we are in the cheaper layer of the range, the BasX TA-100 seems solid and complete: The case is made of steel plates, and the front in black aluminum is a full eight millimeters thick! I have seen thicker faceplates before, but never in this price range. The side plates are twice as thick, thanks to symbolic "handles" that are screwed on with visible Allen screws. The volume button and the power button, which are the only buttons on the front, are surrounded by a blue light ring. In its brutal solidity, the BasX TA-100 resembles something a blacksmith might have enjoyed building for himself
The back reveals a rich selection of connections: Phono (also for motorcycle pickups), two analog inputs and three digital inputs, including USB. You can also play via Bluetooth, but it requires a special adapter that costs extra. The speaker connections are made of plastic, but large and trustworthy. As the receiver has a built-in tuner, there is also the option of connecting an FM antenna.
The amplifier part provides 50 W in 8 Ohms and almost double at 4 Ohms load. It testifies to a well-dimensioned power supply, and it is confirmed by the sound.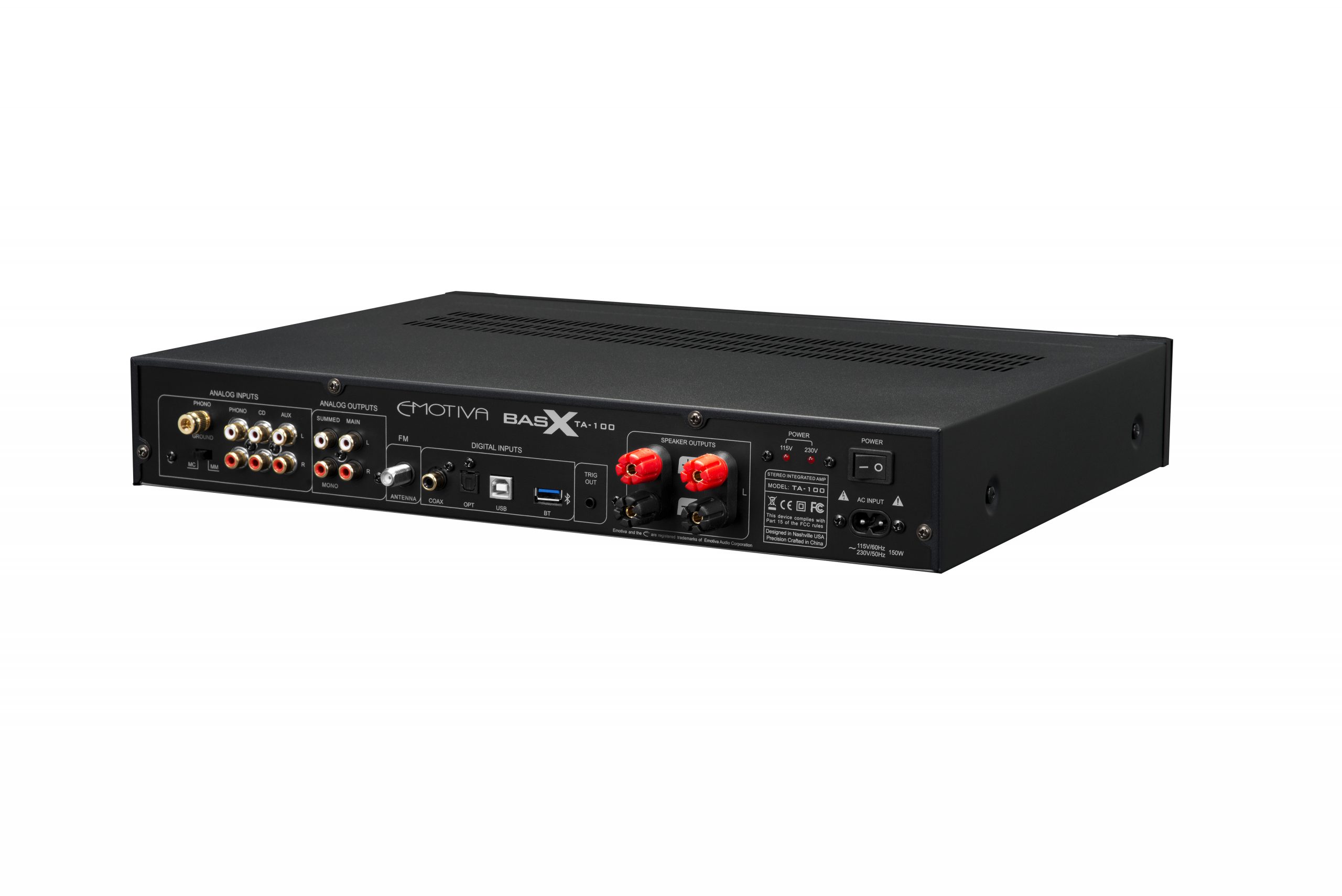 The sound of Emotiva BasX TA-100
We have often tested products that have surprised with good sound for little money. But honestly – how cheap can it be done, and how much can you expect to get when you can also afford both DAC, tuner and M amplifier in a budget amplifier? A lot shows up for you.
Small amplifiers often have a hard time giving life to large speakers. This is not the case with the Emotiva BasX TA-100. It plays dynamically and fearlessly. Drum drone and pistol shots in Johan Strauss' Bandit-Gallop in Telarc edition slam into the room with a force that would have been a far more powerful amplifier worthy.
The sound image is comfortable and with good heat, without tipping over into the dark. Emotiva BasX TA-100 paints a close and intimate picture of the stage, where you get an experience of having the orchestra inside the living room in front of and past the speakers. The depth is also excellent, without it for that reason tearing far more expensive amplifiers down from the pedestal.
The treble is light, without being exaggerated. Over the strap trebles in the Piega TMicro 60 AMT you can enjoy micro details and air, but it is the warm impression that remains.
However, the Emotiva BasX TA-100 is and will be a 50 watt. When it is turned up loud enough, while playing on inefficient speakers, when it reaches its limit and the sound becomes loud. But it sounds good until then, and does not lose its breath halfway.
There is a rich selection of digital inputs on the BasX TA-100. And the resolution is high. If you have an older CD player or DAC, the sound will probably be greatly improved by using the digital input instead of the analog one. The same applies to playback from a computer via the USB input, even if the resolution is slightly lower. After all, it's a good rule of thumb to never use your computer's built-in sound card for music playback!
To check how far the trees grow into the sky, we connected an external DAC which in itself cost more than double the Emotiva BasX TA-100. It gave an improvement in the form of a slightly better resolution in the peaks, and a slightly more well-defined acoustic scene. But the difference was small.
Emotiva has successfully taken the no-nonsense concept, which we know from, for example, NAD and Rotel, and created a product series where the inner values ​​count more than the otherwise solid outer. Due to the low price, there are few direct competitors to the BasX TA-100, but also the very successful NAD C338 offers a similar number of features. Here the choice will be between class AB heater and FM tuner or class D overview and Chromecast Audio.
Conclusion
Emotiva BasX TA-100 is the cheapest stereo amplifier we have tested in many years, but it can not be heard on it. It plays with the same energy and charm as a far more expensive and powerful amplifier. It is an extra plus that you do not have to think about an external digital converter, as here are three excellent digital inputs. And in addition also an FM tuner. The only thing you could be ungrateful enough to miss is streaming, but it can be partly solved by buying an extra Bluetooth adapter.
There are all the inputs and outputs you could want. Including three nice HD digital inputs. (Photo: Emotiva)