Lasse Svendsen
Published

2020-08-08 - 6:00 am
Well-sounding stereo system with elegant multi-room solution, support for multiple power services. Internet radio, DAB + and CD playback. Easy to use.
Lacks deep bass, and thats about it.
Specifications
FM / DAB / DAB + radio, Wifi and Bluetooth streaming, Internet radio, CD player, multi-room,
USB, 2x analog audio inputs, optical audio input,
Ethernet network connection,
headphone output,
8 presets,
Spotify Connect, Tidal, Napster, Deezer streaming services,
color screen,
Como Control app management,
remote control,
walnut, hickory, black or white.
Probably not many people have heard of Como Audio. It's no wonder. They do not belong to the established brands, which can be found in every store shelf. But that can change quickly. At least if Como Audio Musica is as well received by the audience as by us.
Behind the Italian-sounding name is Tom DeVesto, the man behind the radio success Tivoli Audio.
Now DeVesto is working on a new brand, and we have previously tested a table radio from Como Audio, called Duetto, with good results.
But a swallow does not make a summer, as Tom DeVesto also knows. You have to deliver on the other products as well. In the new Musica, they have placed emphasis on satisfying the general public, and here one has to look long to find something that is missing. Great wood veneer and trustworthy quality promise well.
DAB, internet radio and multiroom
Como Audio Musica is much more than just a table radio with a CD player and stereo speakers. It is of course wireless, and with Bluetooth it works as a power speaker, for the mobile. It has streaming services such as Spotify Connect, Tidal, Napster, Deezer available from the remote control, and you can control it with an app.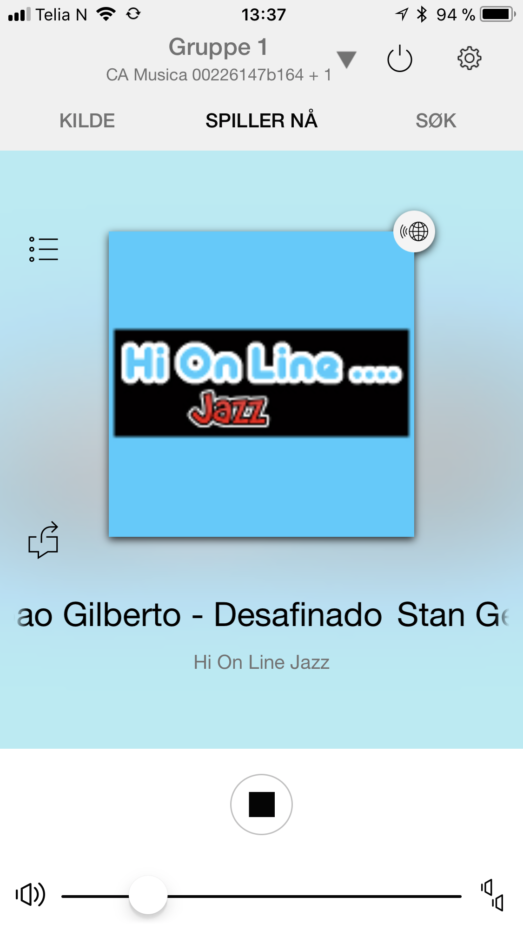 It can also be used with Google Chromecast connected to the rear USB connector, and it connects to your Wifi network at home, giving you access to over 30,000 online radio stations. In addition, it has FM and DAB + radio.
The sound from the TV can be played over Musica from the optical input on the back, and it can be connected to other Como Audio products that also support Wifi.
Then you get multi-room. For example, put a Como Audio Musica in the living room, a Duetto in the kitchen, and the Amico laptop on the patio. Then one of them can act as the main source in a network, and then you can, for example, play CDs in Musica, and stream the sound to the other Como products you have.
Ease of use
It's been a long time since we tested the Duetto stereo model, but it was surprisingly easy to get started with Musica. It was connected to the network and favorite stations were stored on the quick buttons on the front, before five minutes had elapsed after unpacking.
Just remember to follow the simple wizard that is in the box.
As with the Duetto, you can also store radio stations here regardless of source – FM, DAB + or Internet radio – and select the favorites from the app, the remote control or the eight buttons on the front of the system.
The color screen is not pressure sensitive, but displays a lot of information about the sound source. Like what you listen to, album covers, photos, video, and signal quality.
The first time you set it up as part of a multi-room setup, you must use the app to add other devices to the network. It took me another five minutes. So in 10 minutes I had pre-programmed Musica, connected to an Amico, and added my favorites, and was ready to play music.
Powerful sound
Musica is Como Audio's largest facility, but 40 cm wide. Inside is a 30 w amplifier that powers four speaker elements, for two-way audio in stereo. It works really well.
It is the first onboard system that is actually capable of challenging the larger and more expensive Revo SuperSystem, and like the Duetto before it, Musica plays clearer, tougher and more refined than the Tivoli Audio Music System Three. Not only is it well done, it leads Musica to the very top of the radio systems we have tested.
The challenge on radio is to find a radio station that does not compress the signal too much, but on internet radio the selection of radio stations with good sound is larger. Such as Hi On Line jazz, which streams at 320 kbps, compared to 64 to 128 kbps which is normal for DAB +.
Insert a CD or stream music from Tidal over the network, and the sound is much cleaner, far better balanced and the sound image opens up and the music sounds fresher. More inviting and engaging.
The Musica system also plays really loud, and easily fills a normally large living room with a party atmosphere, at the same time as it sounds nice on background music.
Conclusion
The compact Como system covers most people's needs for a system, and does it well. With support for the most used power services, internet radio and DAB + integrated, not to forget CD player, it is a system that lacks very little. That it also supports multi-rooms is a welcome bonus for many, but it is the powerful sound and the simple operation that makes us get excited so much about Musica ending up with six stars.