Hi-fi has a (not entirely undeserved) reputation for being an expensive hobby for middle aged males to squander insane sums on gear in an obsessive quest to perfect the final, miniscule details. This demographic is hardly the one Argon Audio is aiming for with this integrated SA1 amplifier. Rather, their aim is to attract new and younger users into the customer group.
Argon the brand came into existence as a cheap label for Hi-Fi Klubben, where they are still sold. But now Argon is standing on its own two feet. While the product range has become a little more hi-fi toned, prices remain accessible. We recently tested the Forte A4 speakers, with some pleasant surprises.
Argon Audio SA1 is a compact and discreet unit (it's half as wide and tall as a traditional amplifier). The cabinet is encased in silk-matte white metal with rounded corners. The front only has a power button and a large volume control as well as LEDs to indicate which input has been selected. Pressing the volume button switches between the inputs. Neat! The remote control is a small plastic widget that's unlikely to have added much to the price.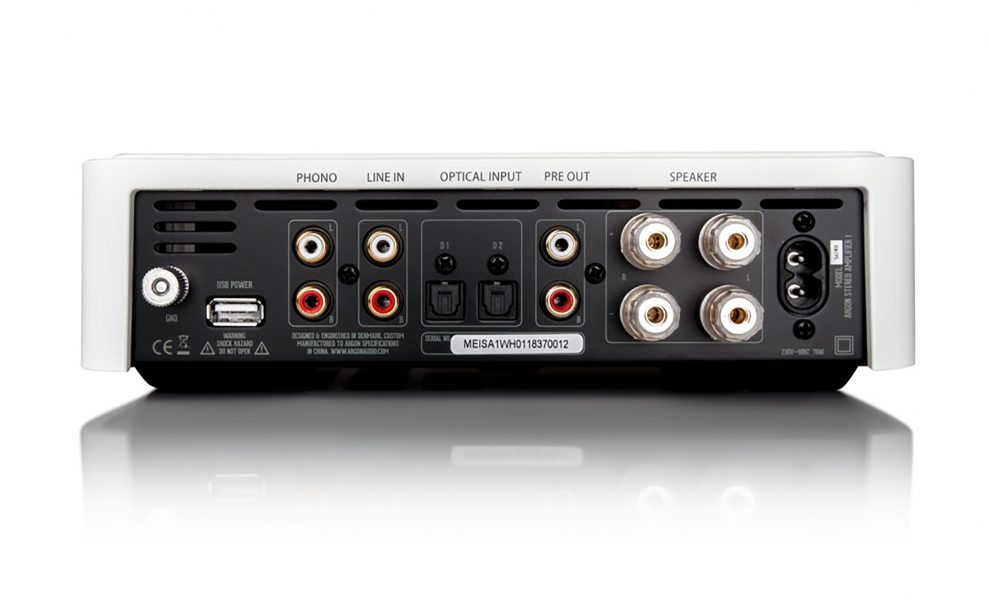 The back has inputs for a turntable, line input (e.g. a CD player) and two optical inputs. The speaker terminals seem solid and reliable, and there's an output for an external power amplifier, active speakers or a subwoofer with built-in low-pass filter (LPF). A USB port makes it easy to connect to Chromecast.
The power output is 2 x 40W. Like many other D class amplifiers, the same power is delivered in 4 and 8 ohms. This is modest by today's standards, but more than the 15-30 watts many of us started out with on our first receivers in the 1970s. It also brings a smile to the lips that the DAC is a Sabre from ESS and that the Bluetooth connection supports the aptX HD protocol, providing a sound quality that's a little closer to CD quality than has so far been possible with Bluetooth.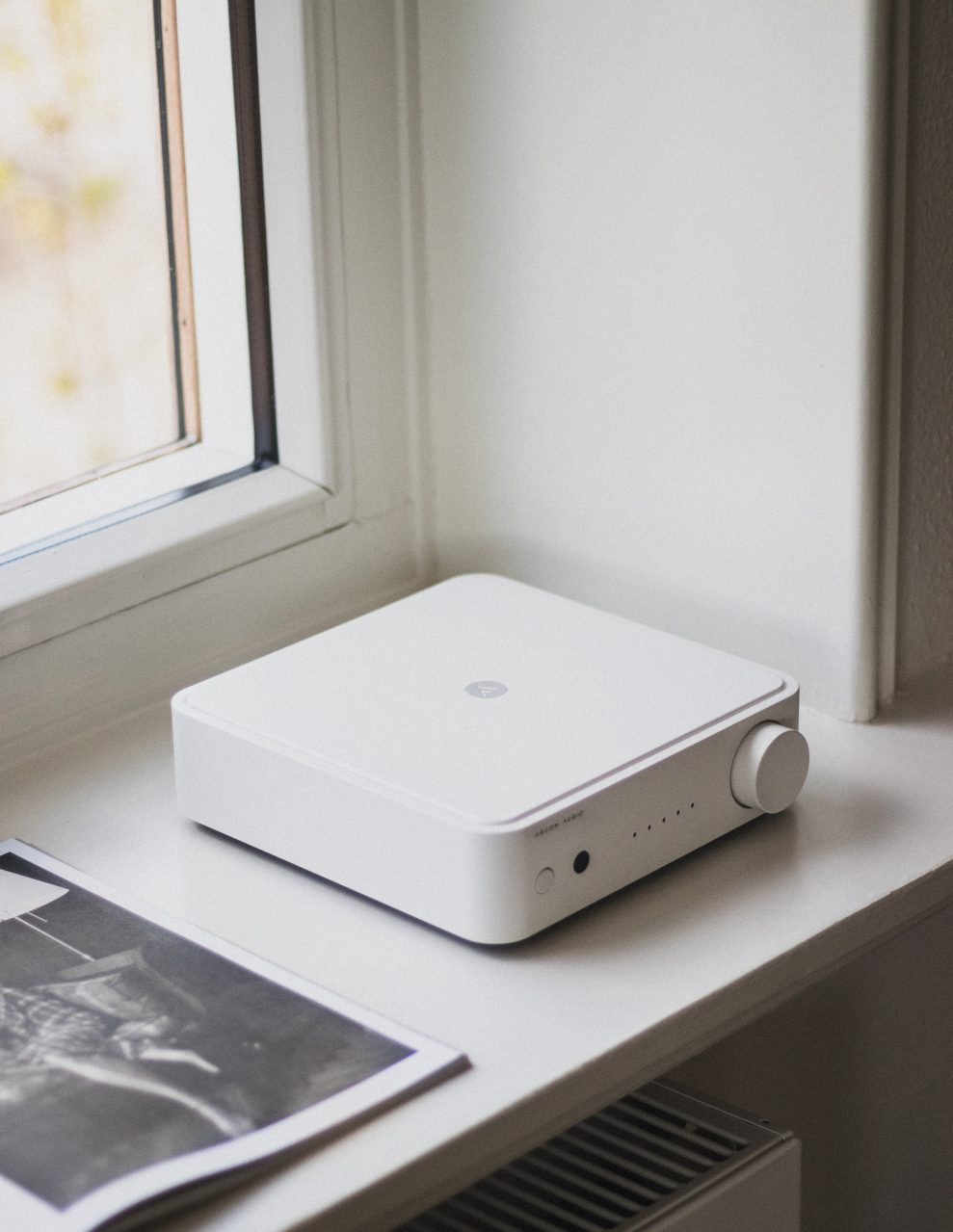 Sound quality
All tests by L&B are based on the price range in which the product is located. And, to make the evaluation even more precise, we've divided the tests into three "weight classes". And the Argon Audio SA1 finds itself on the very cheapest level of the Basic class.
You won't immediately hear that when listening to it. Because beautiful music flows from the speakers. There's good transparency, the instruments stand where they should in the soundscape, and the sound is neither thin nor whining.
As we've grown used to with D class amplifiers, the soundscape is balanced and without focus on specific areas.
The bass is pretty well controlled for a forty-watter, and the SA1 doesn't shy away from a solid dose of rock. Such as the recently deceased Ginger Baker's Time Be Time with bass evangelist Jonas Hellborg.
Midrange reproduction is really good, and this little white box can handle a bit more than just providing background music for a warmed-over pizza evening.
Most of the test was conducted via the digital input to the SA1, which does a great job. Sabre DACs from ESS are actually used in equipment in far higher price ranges. However, a more expensive DAC connected via the analog line input coaxed a little extra detail and roominess from the amplifier. Which testifies to the output quality being really good.
Though this doesn't mean we'll be using the Argon Audio SA1 as a benchmark. Because, naturally, there are some jobs the little guy can't tackle. Complex music at high volume is not quite his cup of tea. It loses power in the bass and glides too easily over details. Whether this is classical music with a full symphony orchestra or wall-to-wall metal. And even though it gives a good sense of the space around the acoustic stage, there are many amplifiers who manage that task more precisely and opulently. But definitely not at this price!
The Argon Audio SA1 is not only very cheap. In fact, it's one of the cheapest amplifiers we have ever tested at L&B. And of course our evaluation must be read in that light. It's difficult to find alternatives in this price range, unless you're looking in the local supermarket. The closest relevant competitor is probably the NAD C338 – whose built-in Chromecast is an ace up its sleeve – but at double the price. Even compared to equipment for twice the price or more, the SA1 is unfazed. As long as you don't burden it with unreasonable demands — like playing loudly on ineffective speakers in a large room.
Conclusion
The Argon Audio SA1 is a true stereo amplifier with all the classic virtues of an integrated amplifier – as well as some digital virtues as well. It handles everything from vinyl records to wireless streaming. And it almost cries out to be placed next to your TV alongside a pair of decent speakers. The sound is formidable for this price, and its appearance is so discreet that surely even the most critical gaze will look kindly upon it. The only thing missing is multi-room functionality. But then the entire amplifier costs less than most multi-room speakers.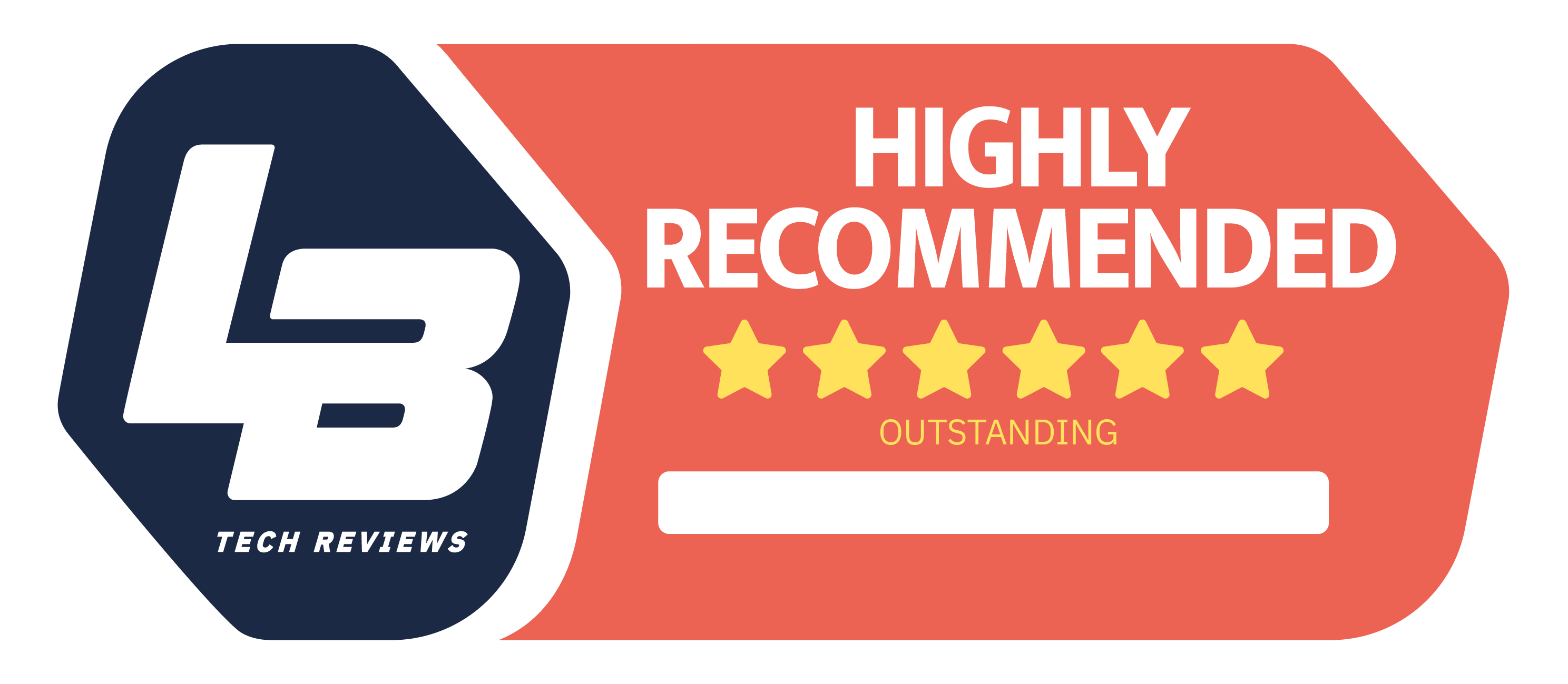 Basic
We think
It occupies little space and weighs and costs almost nothing. Nevertheless, it is a proper amplifier that sounds good and can power large speakers.
No network functions and apps. But at this price that doesn't really count as a weak point. No.