Geir Nordby
Published

2020-04-29 - 10:00 am
Excellent sound quality, improved operation, great fit and – finally – extended playing time! Active noise cancellation comes in handy in some situations.
Outgoing call sounds are a little more constrained than with the predecessor. Slightly too much audio delay on action games and movies.
Specifications
Type: Fully wireless earbuds
Bluetooth: 1
Waterproof: IPX4
Codecs: aptX, AAC, SBC
Battery: 7 h + 21 h in the charging case
Weight: 12 g
Charging cable:USB-C
Web: sennheiser.com
Sennheiser is among our all-time favourites for completely wireless earbuds. Momentum True Wireless 1 was brilliant with a beautiful sound and a good fit and a real premium feel.
There aren't many wireless earbuds on the market that can match Momentum True Wireless in terms of sound quality.
Perhaps none, because if I were to buy a pair of earbuds solely for sound quality on music, I'd buy them despite other drawbacks.
There are still a couple of complaints, though.
That the earbuds lacked active noise reduction wasn't especially important for me, although both Sony with their WF-1000XM3 and Apple with their AirPods Pro have shown that it's nice to have.
Predecessor with mediocre battery
The biggest reason not to buy Sennheiser Momentum True Wireless 1 is battery life. They boast a declared 4 hours for the earbuds themselves, but I think they constantly run out of juice and much more often than competing earbuds with a corresponding declared battery life. And the 8 extra hours in the charging case is another matter. Just leave the charging case in a drawer for a few days and you'll see the battery has drained a good deal.
This stands in stark contrast to, for example, Beats Powerbeats Pro, where the charging case has a declared 15 hours of battery life and which hold much better on a charged battery over time. That the earbuds themselves can last for a full 9 hours of music playing makes them a clear front-runner for me.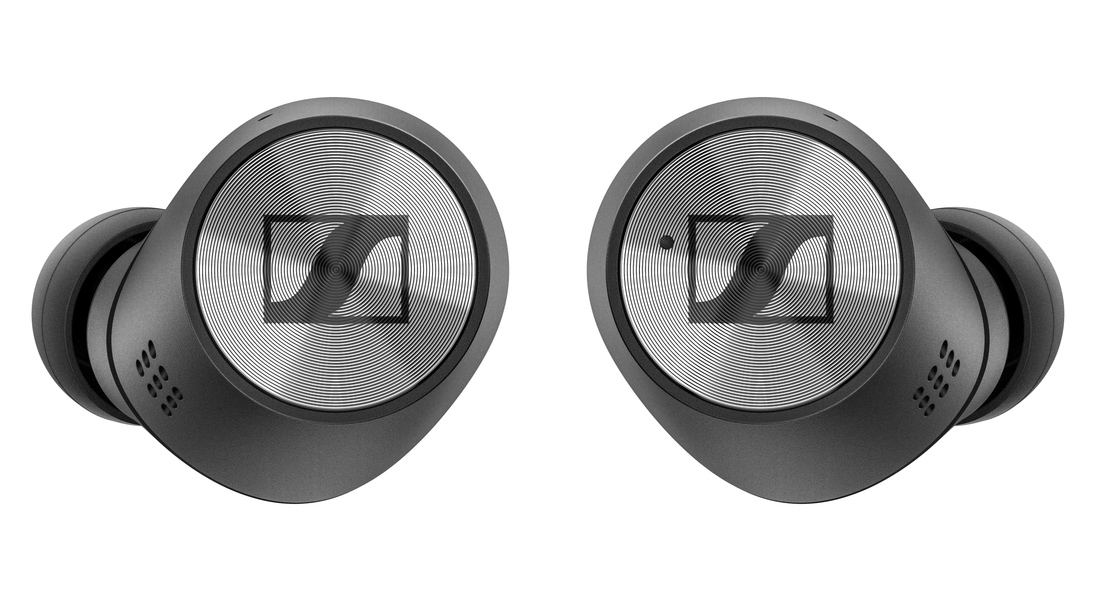 28 hours
So it's very welcome that Sennheiser has now increased battery capacity to 7 hours in the earbuds themselves, with another 21 hours in the charging case. A total of 28 hours of playing time more than doubles the overall capacity of its predecessor.
More streamlined
While the True Wireless 1 had a very comfortable fit, some would say they were a bit large and bulky. True Wireless 2 has become slightly smaller, with a more trimmed down shape. You almost can't see it, but take a closer look and you'll see that both the outer plate and the rim around the house have shrunk somewhat.
The differences between True Wireless 1 and 2 are more apparent when you take a look at the charging case. The fabric is now a darker grey colour, while the Sennheiser logo is white instead of black.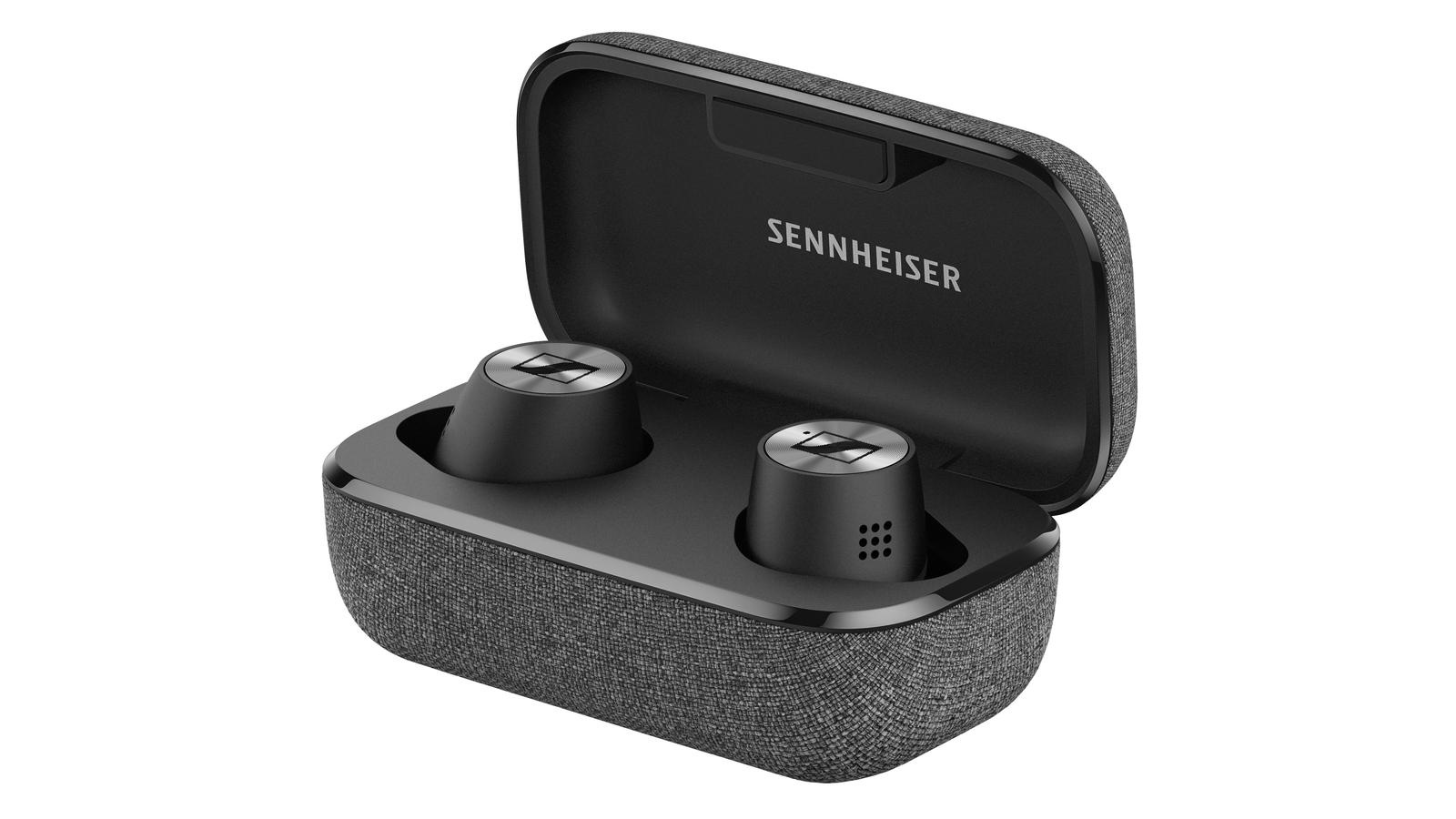 Call quality
Despite the reduced size, Sennheiser has managed to fit active noise cancellation inside, requiring more microphones than its predecessor. This also benefits speech quality when you are in noisy environments. Like a café, for example.
But while the newcomer probably offers better conversation quality in demanding environments, the overall rendering of my voice in the recipient's phone is more constrained with True Wireless 2. It remains clear enough, but the overtones are more muted. When my wife calls me (both of us using iPhones), the consonants are clearer on the first True Wireless. Even though they sound false and very compressed, the words are easier to pick out. This isn't a problem with True Wireless 2, but it's certainly not unequivocally better.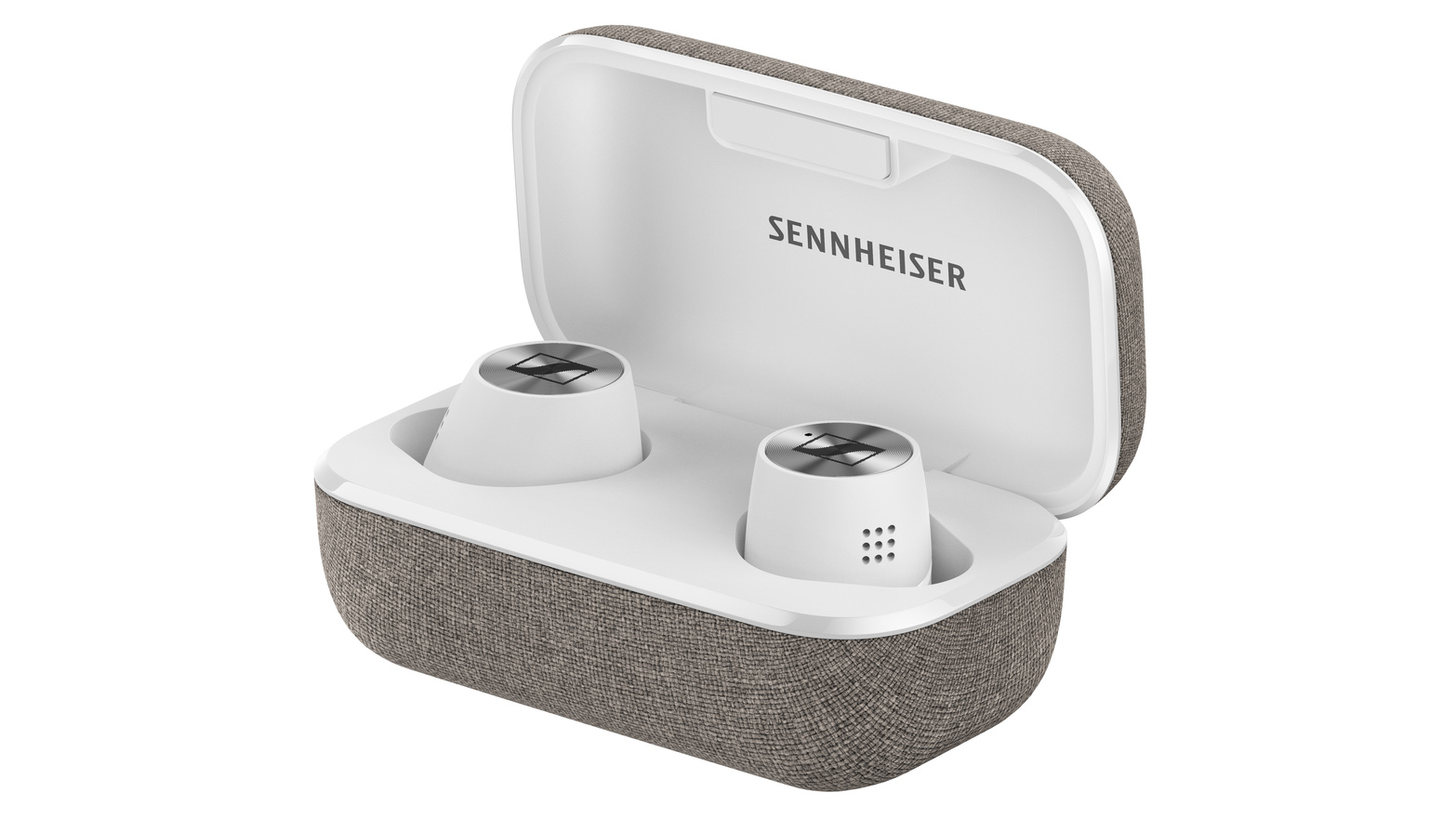 Active noise cancelling
As for the noise cancelling itself, this only works in the low frequency register. This makes sense, as the earbuds themselves dampen the high frequencies. Get on a plane (yeah, right!), and regular earbuds won't be able to suppress the low-frequency cabin noise. Therefore, it's a welcome addition that Sennheiser with True Wireless 2 has included active attenuation of the low frequencies (below about 1250 Hz, my result after testing with sine tones).
After running some simulations with low-frequency brown noise from my speakers (of course I didn't board a plane), you couldn't argue that the noise cancellation is hugely significant, but a little helps.
Momentum True Wireless 2 isn't quite as efficient as the Sony WF-1000XM2 or Apple AirPods Pro, but they do the job just fine.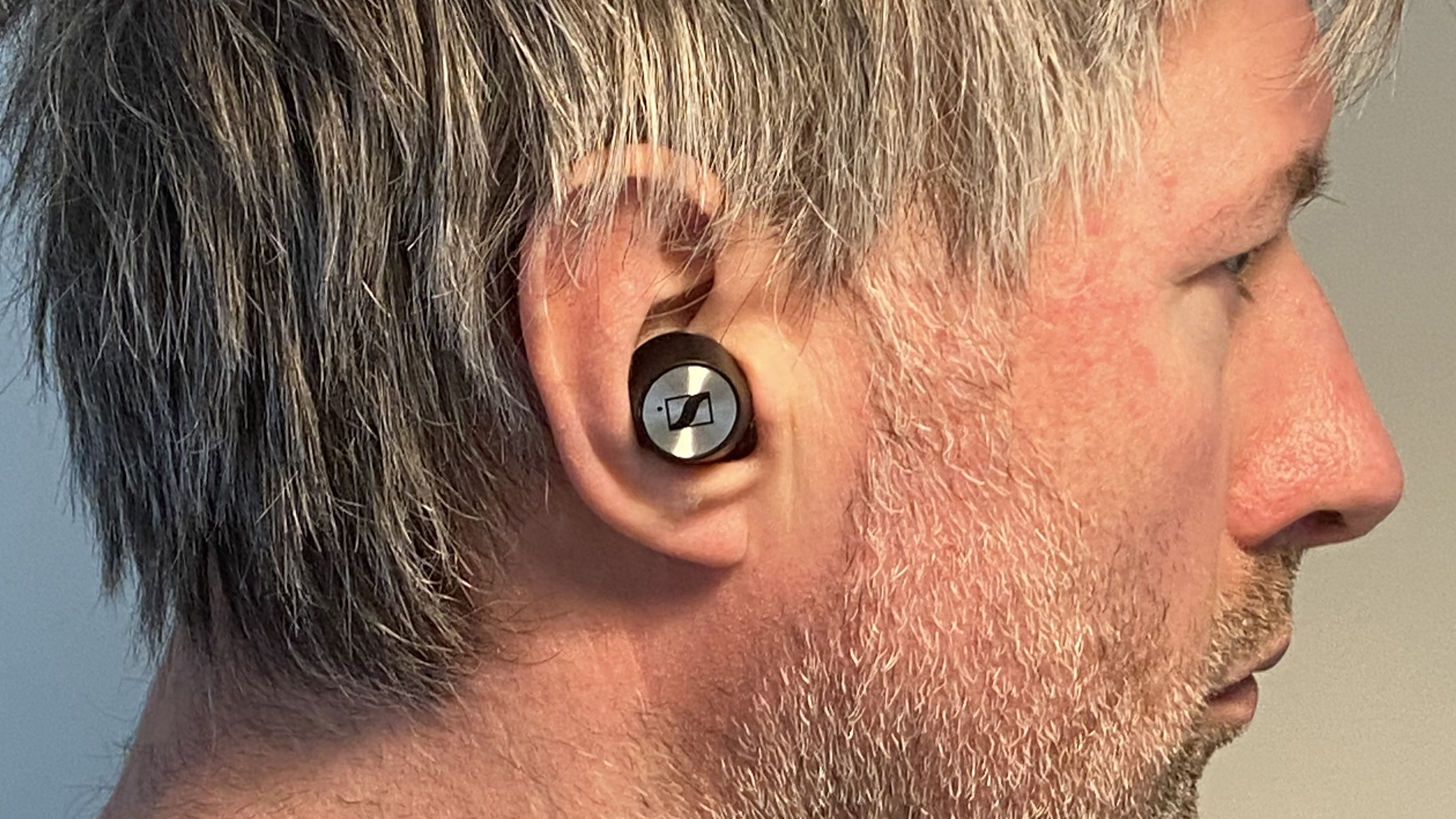 Connection
The first time you connect your earbuds, remove them from the charging case and hold your index fingers on the outside of the earbuds. You will then find them in your telephone or PC's list of Bluetooth devices. In the Smart Control app, you can choose whether to auto-answer calls by inserting the right earbud into your ear, whether to activate Transparent Hearing (permits ambient sound to penetrate) and much more. By the way, I use this feature much more than noise cancellation. It turns on automatically when answering calls and online conferences, and I like that.
The app works fine, but I don't quite get the EQ function. You need to drag your finger across the screen until the sound has switched to the desired setting. But because the sound changes differently for the left or right ear depending whether you drag right or left, it all becomes very confusing. Luckily, it sounds great in neutral mode!
Usability
The earbuds can be operated directly with finger tapping. You have different functions on the right and left. For example, the left finger controls switching forward and back between songs, as well as pausing and answering calls.
The right finger activates voice control with one tap, while two taps enables Transparent Hearing and allows ambient sound to seep in. Three taps enable or disable noise cancelling. This can be overwhelming at first, but you get used to it. And you can use the app to customize the controls to suit your preferences.
Sound delay
After trying True Wireless 2 with games and movies, I have to note, sadly, that the delay of 2-300 ms is too much to enjoy complete immersion in the experience. It's quite irritating to play a racing game and hear every gear shift and crash arriving late. Sennheiser isn't the only sinner in this regard, but they could learn something from Powerbeats Pro, for example.
Sound quality
The sound quality itself is completely identical to True Wireless 1, so if you already have the predecessor there may not be much to tempt you to replace it with the latest offering. That is, if you're not enticed by the improved battery life.
The bass is rich and solid, which makes it fun to listen to both pop and hip-hop. However, it doesn't dominate, as it tends to do in, for example, RHA TrueConnect and Supra Nero-TX. Singing voices sound lovely, there's ample airiness and plenty of body in guitars and piano. At the same time, there's better resolution than the Powerbeats Pro, and the midrange reproduction is fuller and more natural in the Sennheiser.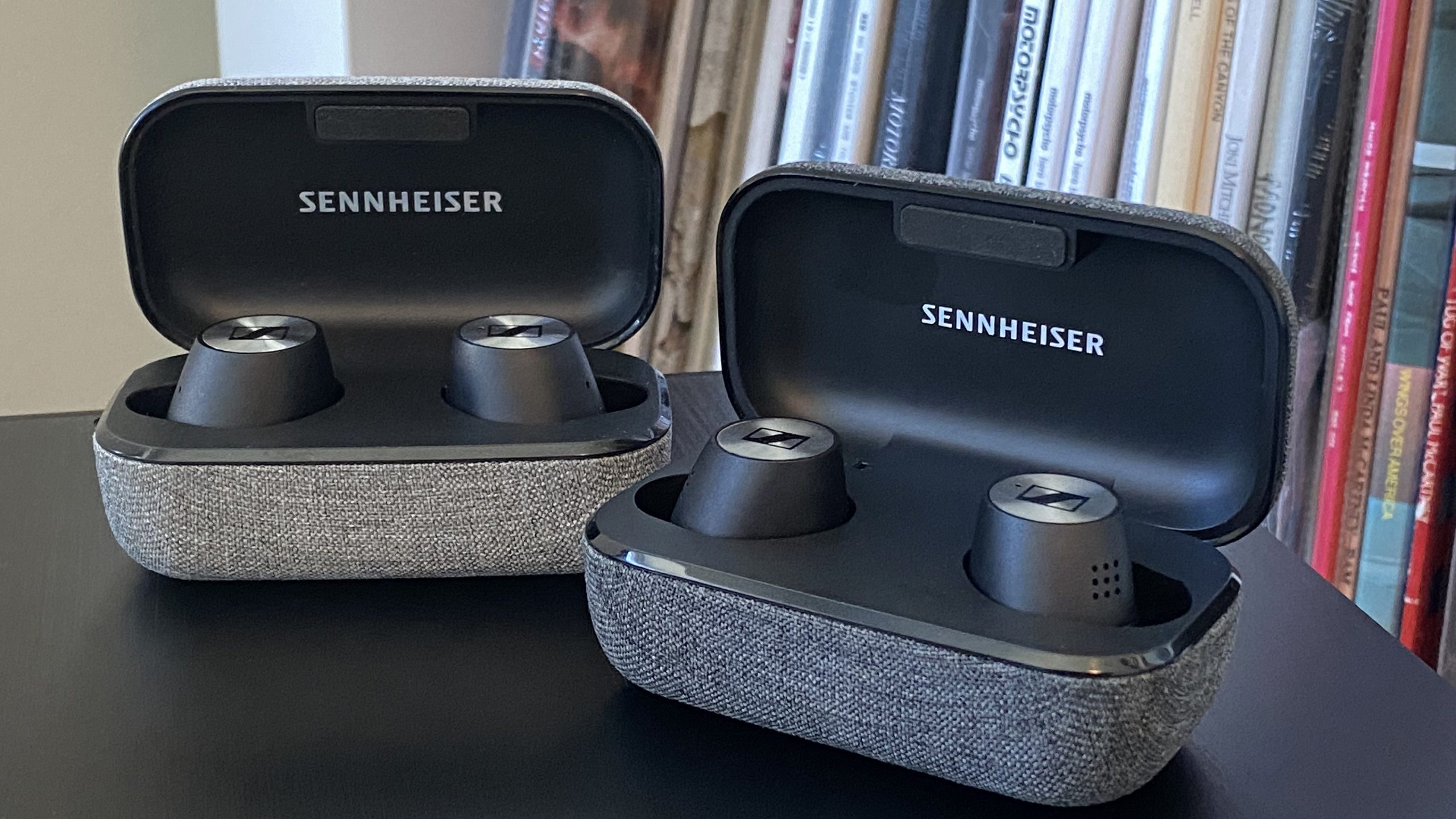 Details
Female vocals have the necessary airiness, while there is a good grip on the power of the modal register. Susanne Sundfør has a challenging voice. At its best, it is as beautiful as it is powerful, but with bad headphones or earbuds it will slice your ears up worse than Freddy Krueger screeching his bladed fingers across a chalkboard (reference to Freddy's Dead, for anyone wondering). Momentum True Wireless 2 projects it with both force and airiness intact. That is to say, as much airiness as you can expect over a Bluetooth connection. Because, no, neither aptX nor AAC, which these earbuds have, give true uncompressed sound quality.
The closest you get to full sound quality is aptX HD or – even better – Sony's LDAC codec. None of these can be found in Momentum True Wireless 2 – you need to switch to the Sony WF-1000XM3 to get that.
The Sony earbuds, which are among our favourites sound-wise, are somewhat more moderated and balanced in the bass; while the Sennheisers have a little extra energy in the treble to bring out the details, Sony hasn't bothered with this. The Sonys are simply even more linear. But I think Sennheiser bring out the dynamics of the music better, sound more lively, and whereas the Sonys tend toward brief dropouts in the form of crackling, this is totally absent on Momentum True Wireless 2.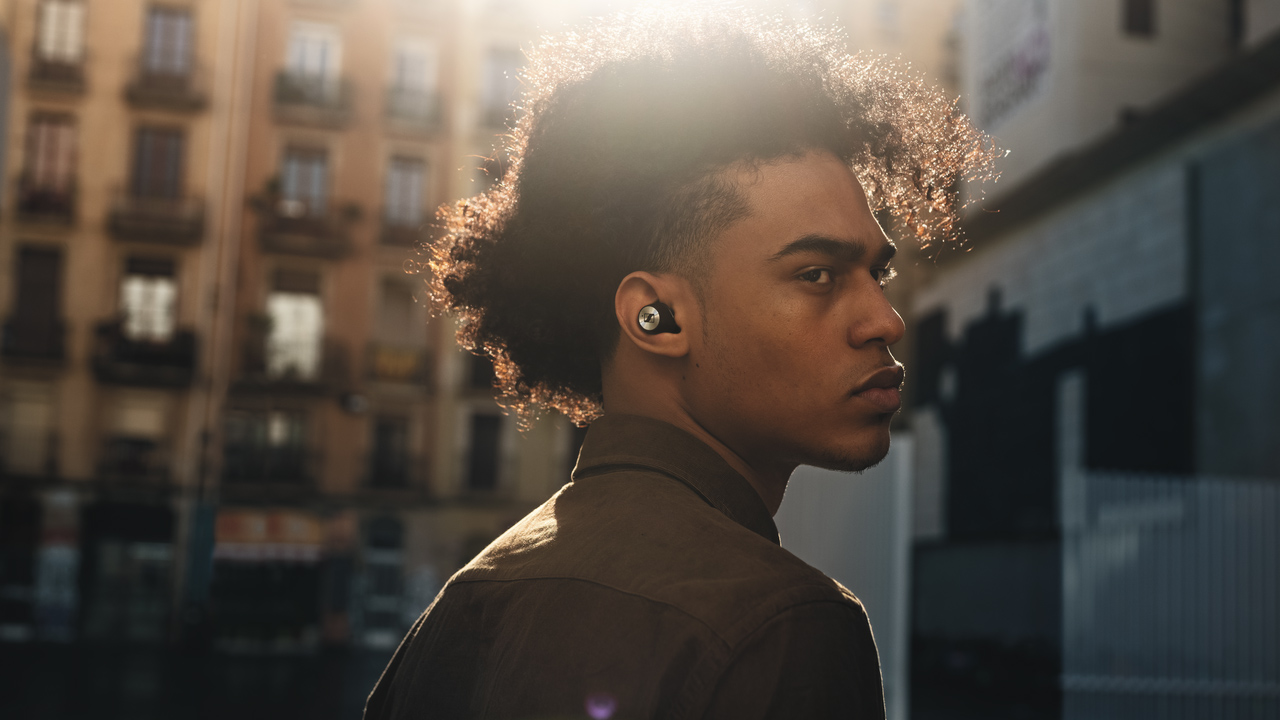 Momentum True Wireless 2: Conclusion
The Sennheiser Momentum True Wireless 2 are just as good as their predecessors sound-wise and also in how well they sit in the ear. Both are brilliant and we understand perfectly why they haven't changed a winning formula.
Instead, other things have improved. The most important change is battery life, which has increased from 4 to 7 hours in the earbuds themselves, and from 8 to 21 hours in the charging case! With a combined total of 28 hours, you can safely leave the charger at home when you go on vacation. Which will probably be sometime in 2021 …
Another improvement is active noise cancellation, which attenuates the low frequencies that the earbuds themselves can't manage. This isn't hyper effective, but it works okay.
If you already own the first True Wireless earbuds, you should probably only change to these if the shorter battery life bothers you. For everyone else, it's well worth paying the extra cash for True Wireless 2, rather than buying the 1st generation as a special offer.
This is our new benchmark for competitors to beat in the future!
Measurements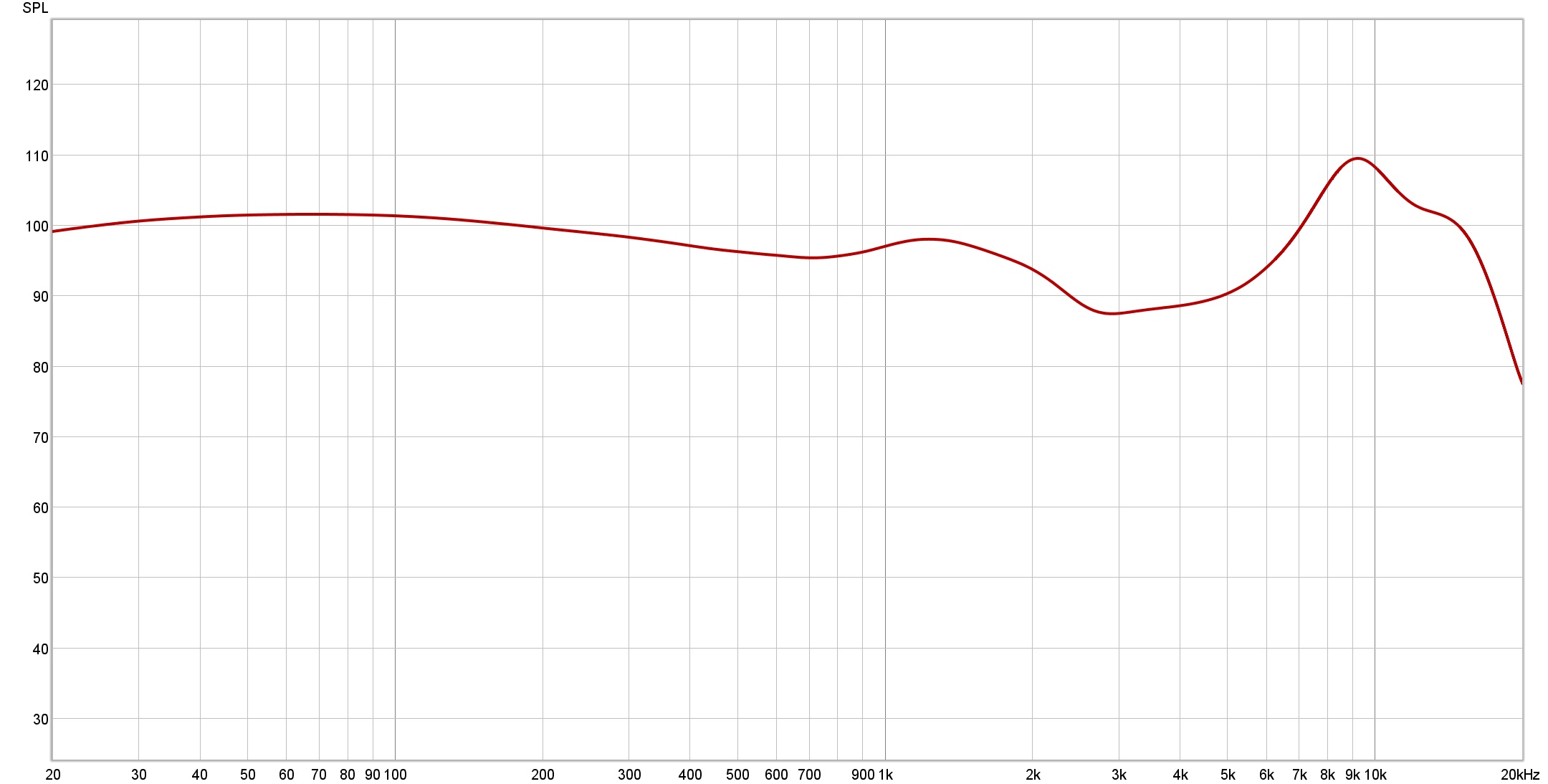 The frequency curve of the Sennheiser Momentum True Wireless 2 looks pretty good, apart from a slightly powerful amplification above 6 kHz. You might think this would give the impression of an overly powerful treble, but, purely subjectively, the earbuds are perceived as well balanced. The frequency response is identical to that of its predecessor.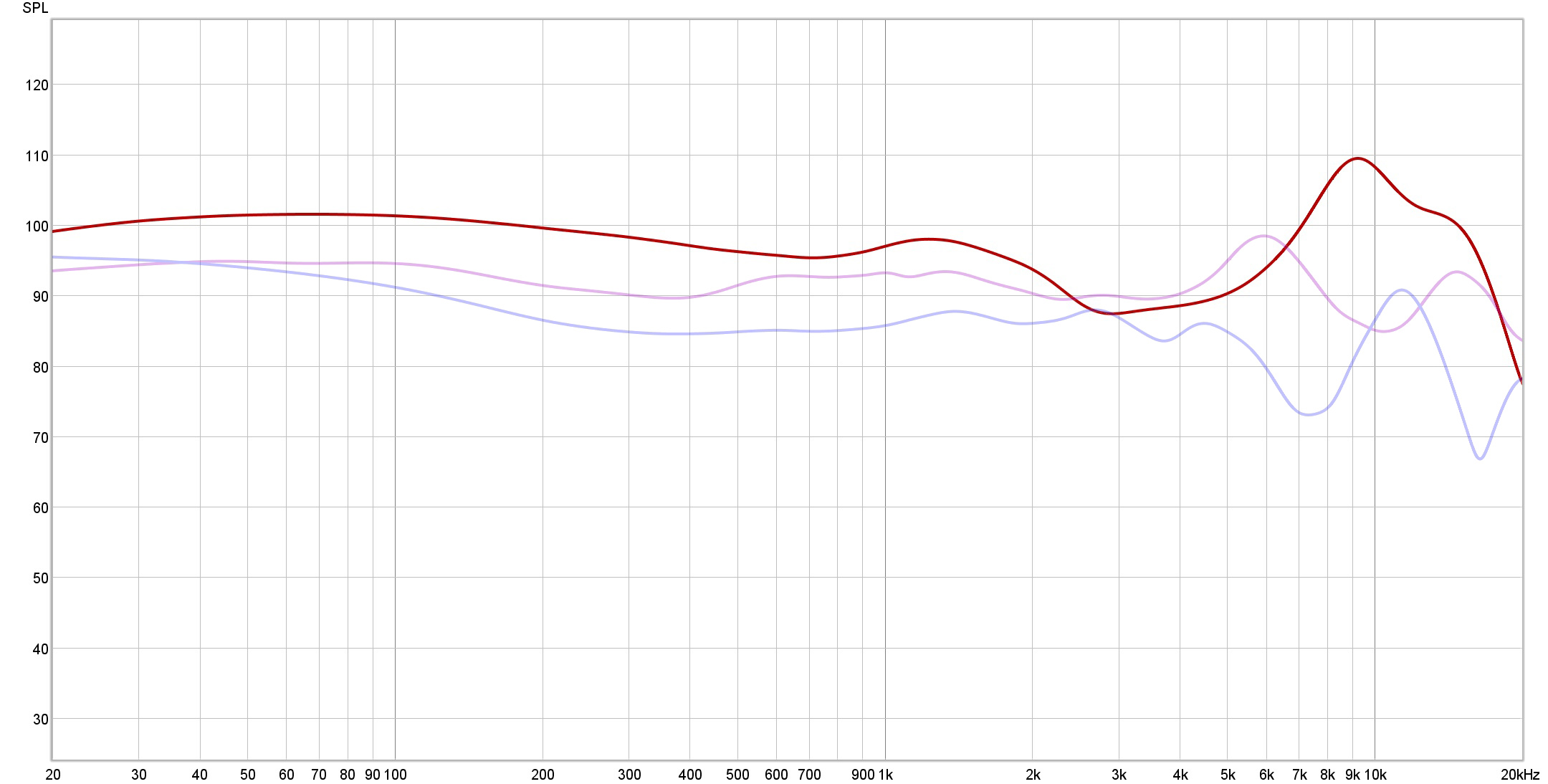 When it comes to Powerbeats Pro, it has a dip at both 7 kHz and 15 kHz, which gives it a slightly "monotone" but distinct treble reproduction around 10 kHz. This reviewer prefers the Sennheiser. The Sonys actually have a smoother frequency response than either of the other two. More natural in the bass than Sennheiser, but Sennheiser is perceived as more dynamic and engaging overall.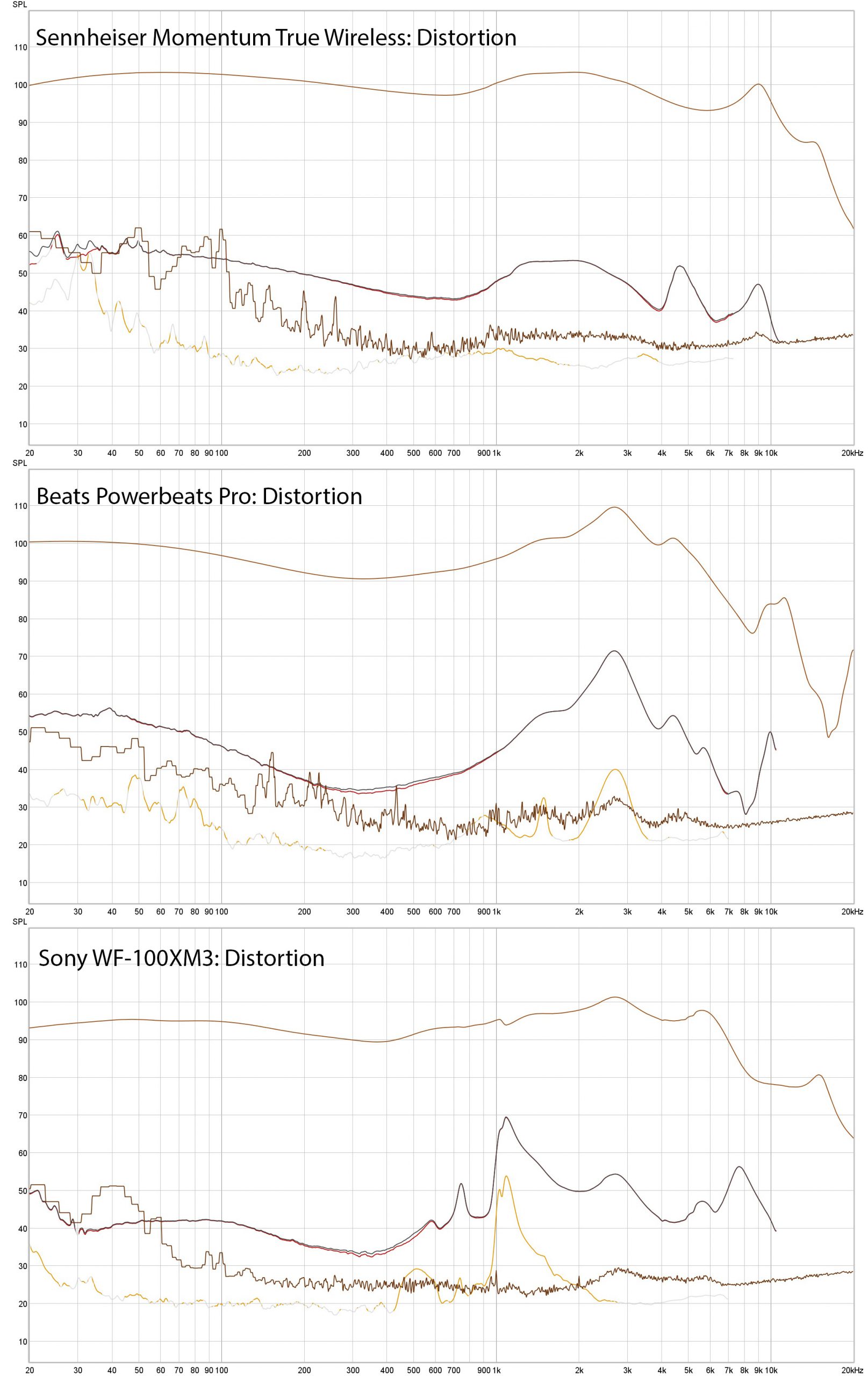 Some of the explanation of the, subjectively speaking, great sound reproduction of Momentum True Wireless 2 may have to do with distortion. But don't confer too much scientific accuracy on this – we can't guarantee the precision of the miniDSP EARS rig. But it can provide an indication.
The basic tone is the curve you see furthest up. The serrated brown curve at the bottom is the noise floor.
Above this you can see two curves on top of each other, these are 2nd order harmonic distortion and total harmonic distortion, which corresponds well with the fact that 2nd order harmonic distortion constitutes almost all the harmonic distortion. This curve almost hugs the noise floor all the way, and even when it nudges over it, it doesn't look bad at all. The very bottom, mustard-yellow curve is 3rd order harmonic distortion. This is located well below the noise floor virtually all the way.
Competitors distort more
With Powerbeats Pro, we see that they have more distortion than Sennheiser. Especially in the easily audible register around 2-3 kHz. Here, too, the ugly 3rd order harmonic distortion peeps slightly up through the noise floor.
The Sony WF-1000XM3 has a great deal of distortion around 1 kHz and also a large portion of 3rd order harmonic distortion, which protrudes well above the noise floor.
This may provide some of the explanation as to why Sennheiser Momentum True Wireless 2 is perceived overall as a better music mediator. Note: All were measured using aptX and AAC. Sony would probably look different with LDAC, but this didn't support the Windows PC used for the measurements.