Ever since we first started seeing gaming headphones with Dolby Atmos and DTS Headphone:X, I have felt the need for a pair of proper headphones for home theater use. With a real feeling of proper surround sound.
Imagine. There you sit alone late at night, and all you want is to crank up the sound on the home theater system. But you are hindered by sleeping family members or neighbors next door. Thus you sit there, with the subwoofer disconnected and the sound system at the level type of mouse silent. And will try to immerse you in the latest Avengers movie. Yeah, right.
If you then had a pair of headphones with proper home theater sound right in your ears, you could set the sound as loud as you wanted, without bothering anyone. But still with the feeling of being surrounded by convincing surround sound. Around – and from above.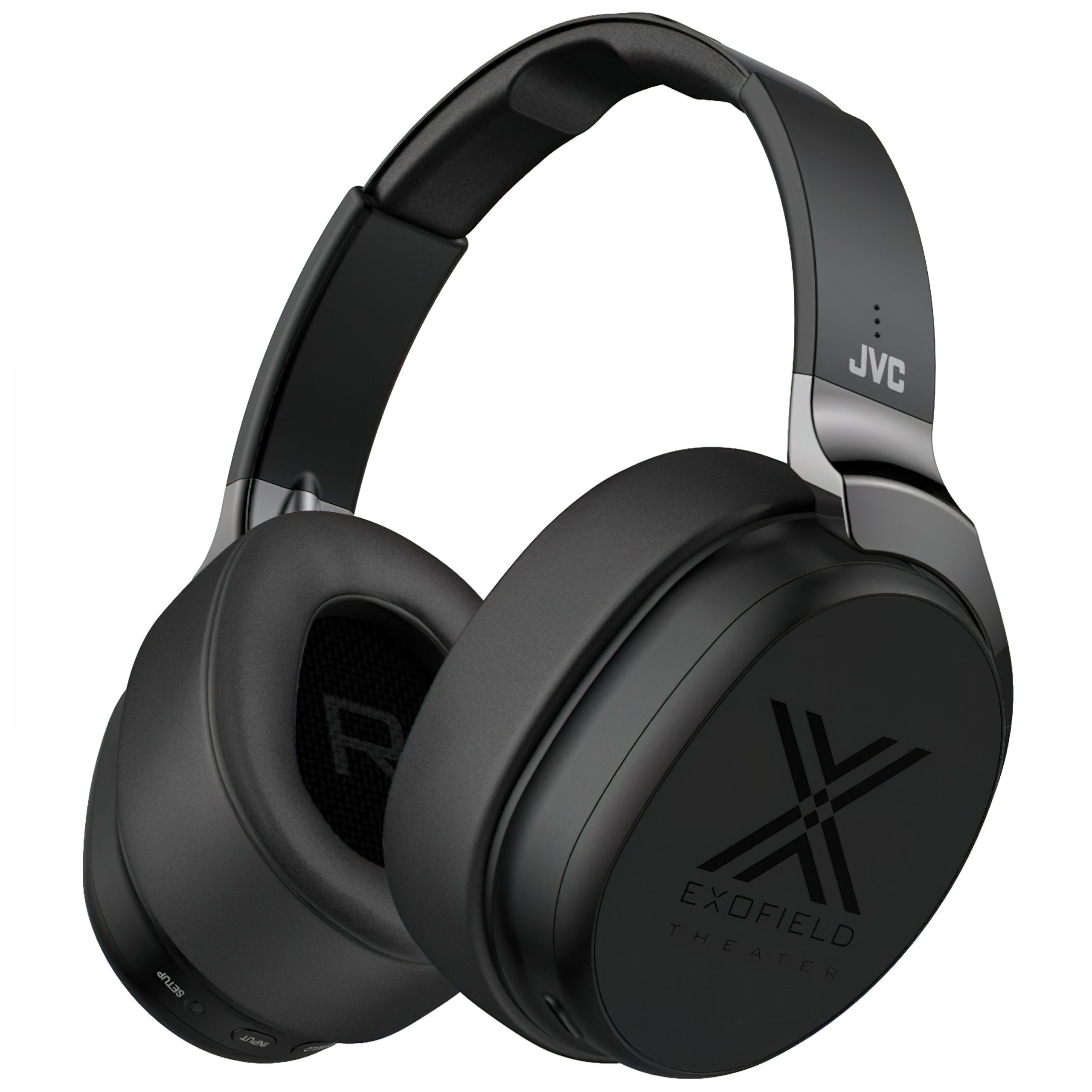 JVC has obviously thought the same as I do, because their XP-EXT1 checks all the home theater boxes. The headphones are connected wirelessly to an external processor, which has both HDMI inputs and an output with extended audio return channel (eARC). This supports high-definition sound from the TV, and means that most people will not need the inputs at all. Which all support 4K 60 Hz, and HDR – but not Dolby Vision. In addition, there is an optical digital input and analog stereo input. But since these are headphones for home cinema, and which support both Dolby Atmos and DTS:X with simulated 7.1.4 surround sound, it is mainly HDMI that applies here.
The sound is transmitted losslessly, wirelessly from the processor to the headphones. They are of the closed type, so that no one is bothered by your film watching, and you even get good damping from the vacuum cleaner and dishwasher in the background.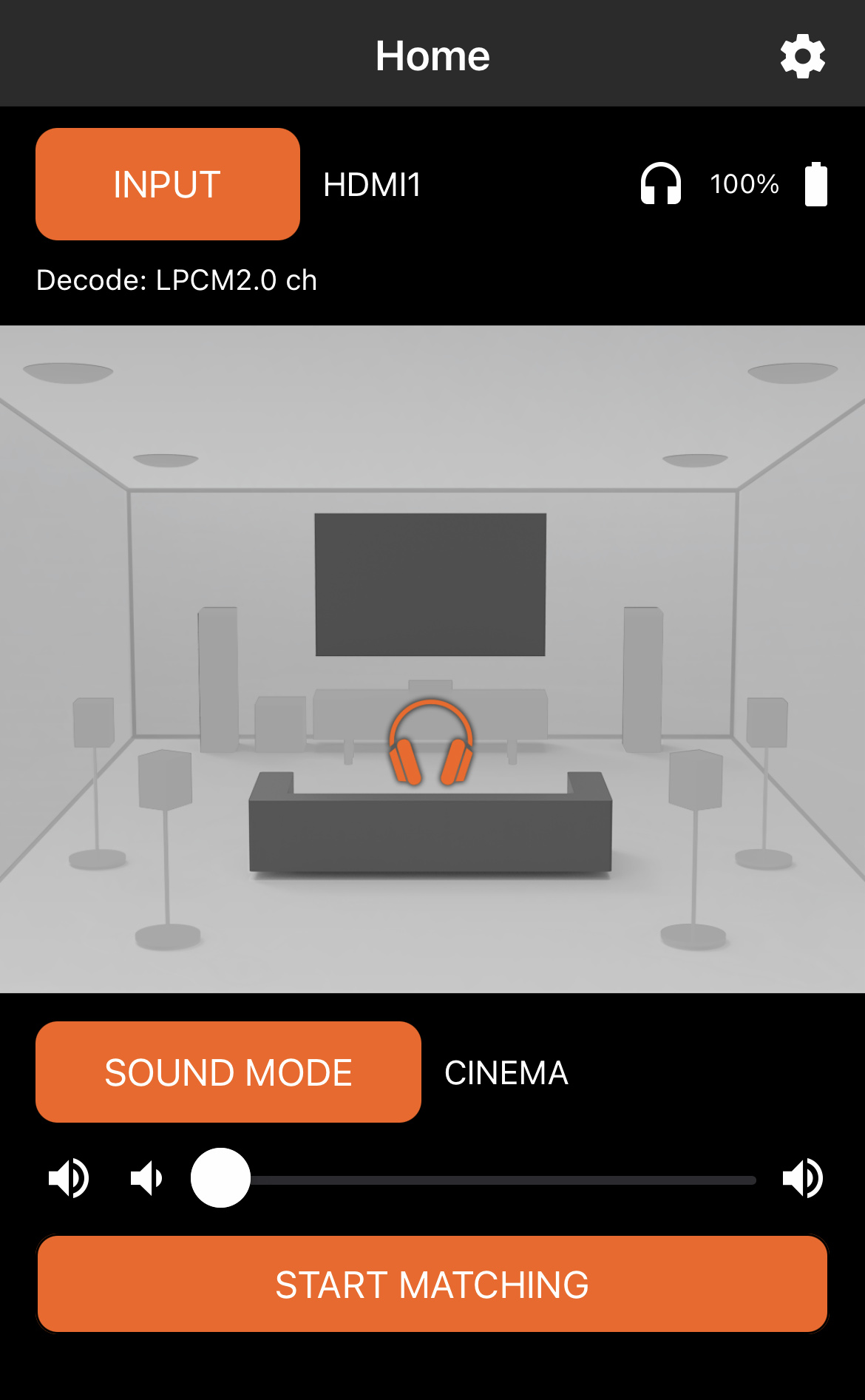 First time setup
Before using the headphones for the first time, you need to download the JVC Exofield Theater app, and from here you will find the headphones and connect. You may be prompted to perform a firmware update before proceeding. Then the headphones should be calibrated against your ears. Thread them on, start calibration, which can be stored in one of two memories. Thus, two users can have them optimized for their head.
Once this is done, you can choose between stereo mode and Exofield Theater – as the surround sound is called. I would almost always choose the latter, but you may want to just listen to music, and then stereo is fine. But, as we shall find out, music in stereo is not XP-EXT1's best card.
Sound modes
There are different sound modes. It is first and foremost the bass response that is different, and I myself prefer Movie in everything that is of surround sound – also music. For music in stereo, there will be too much bass with most things, Flat will be the best here. If you then can not stand to screw a little yourself. Select Custom and open the equalizer. Mute the bass slightly at 80 and 400 Hz, and feel free to pull up a few notches at 1 kHz to get better clarity in voices. A small notch up at 4 kHz can also be considered, but here it becomes nasal if you exaggerate.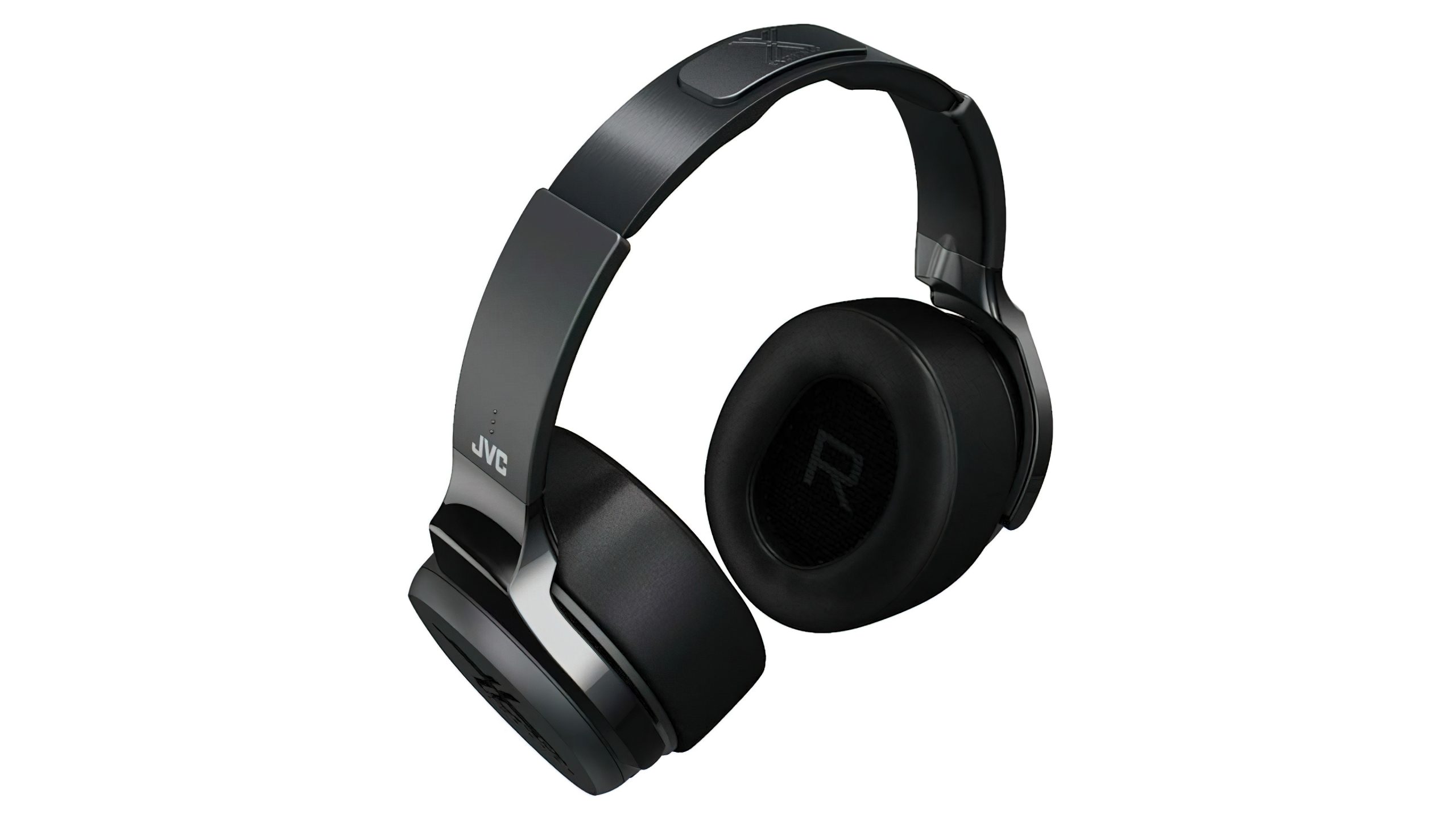 Hefty surround feeling
With both separate components and good soundbars fresh in my mind, I'm a little excited about what the JVC headphones can provide in terms of movie experience. How much can a pair of fairly ordinary headphones – with one driver for each ear – accomplish in terms of home theater magic?
I am immediately impressed. The soundscape of Annihilation on Netflix is large and all-encompassing. A thriller, but where the soundscape is more characterized by silence than anything else. You hear the air spreading around your head, it's actually like being in the middle of the soundscape.
Dialogues close by
With one exception. The dialogues are not suspended in the air in front of me as I am used to with the best sound systems and soundbars. Instead, they are focused in the of the head. Or perhaps just slightly in front of it, with a bit of  goodwill. But the sound really seems to get around me, and with good placement of various elements in the soundscape.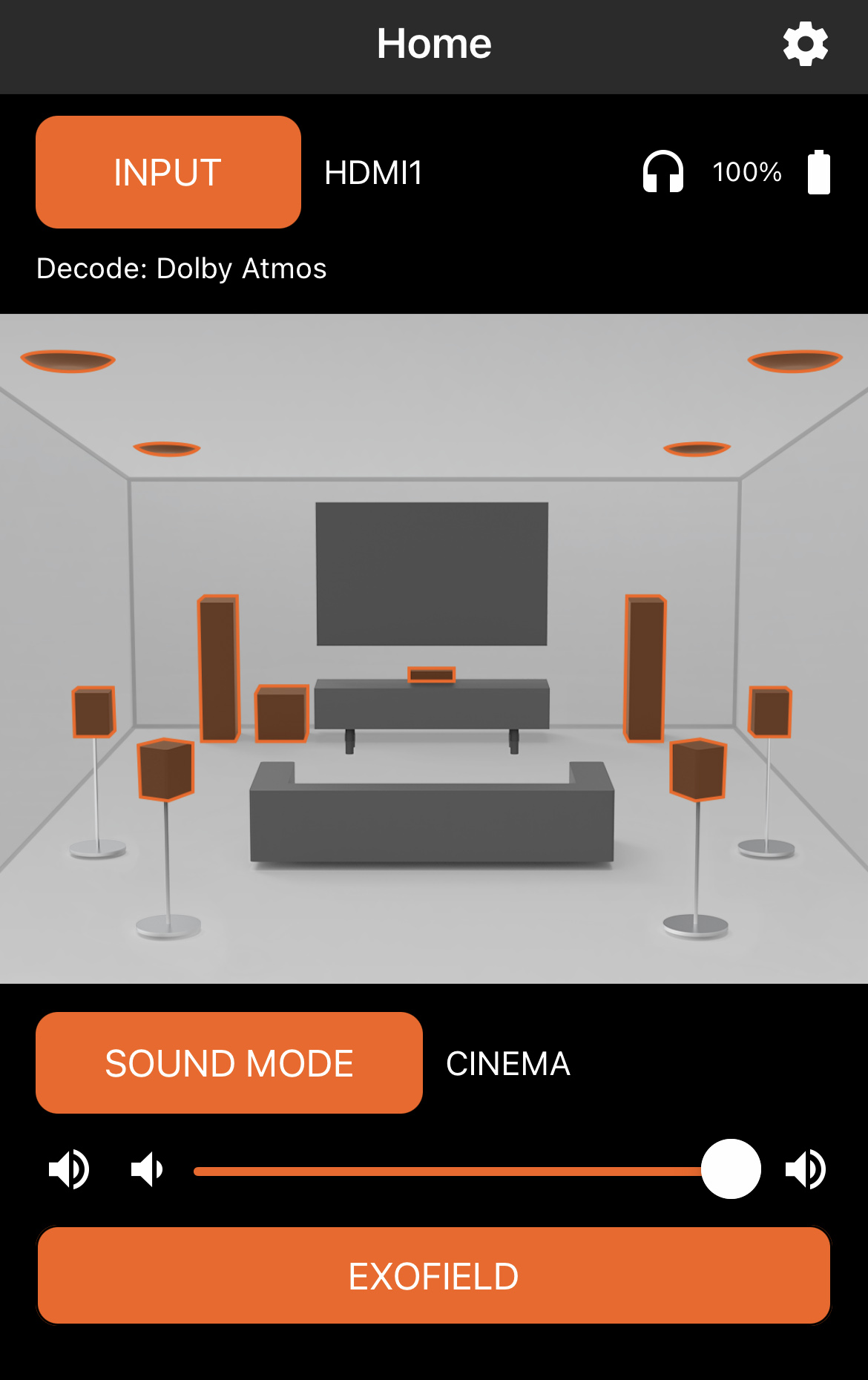 Atmos sound
Black Panther also has a very good soundtrack, and this is also in Dolby Atmos. Here the blue Atmos light on the processor is switched on, and it is also shown in the app that the signal is Atmos. You then also get an extra dimension, where you feel that sound is coming from above. You are simply enveloped in sound.
It is – of course – not quite as convincing as a real home theater system with speakers located in front, behind, and above. But I would argue the headphones can compete against the best soundbars that try for the same effect.
Good sound quality
The actual sound quality is also good. The dialogues sound clear and distinct, there is air in the soundscape, and the bass is natural and physical. It can't measure up against a hefty subwoofer, but that's not the point either. As headphones, the XP-EXT1 works very well on surround movies. Music, especially classical music encoded with Dolby Atmos, also works well. But I would think that most people will use these to watch movies in the evening, and less for music.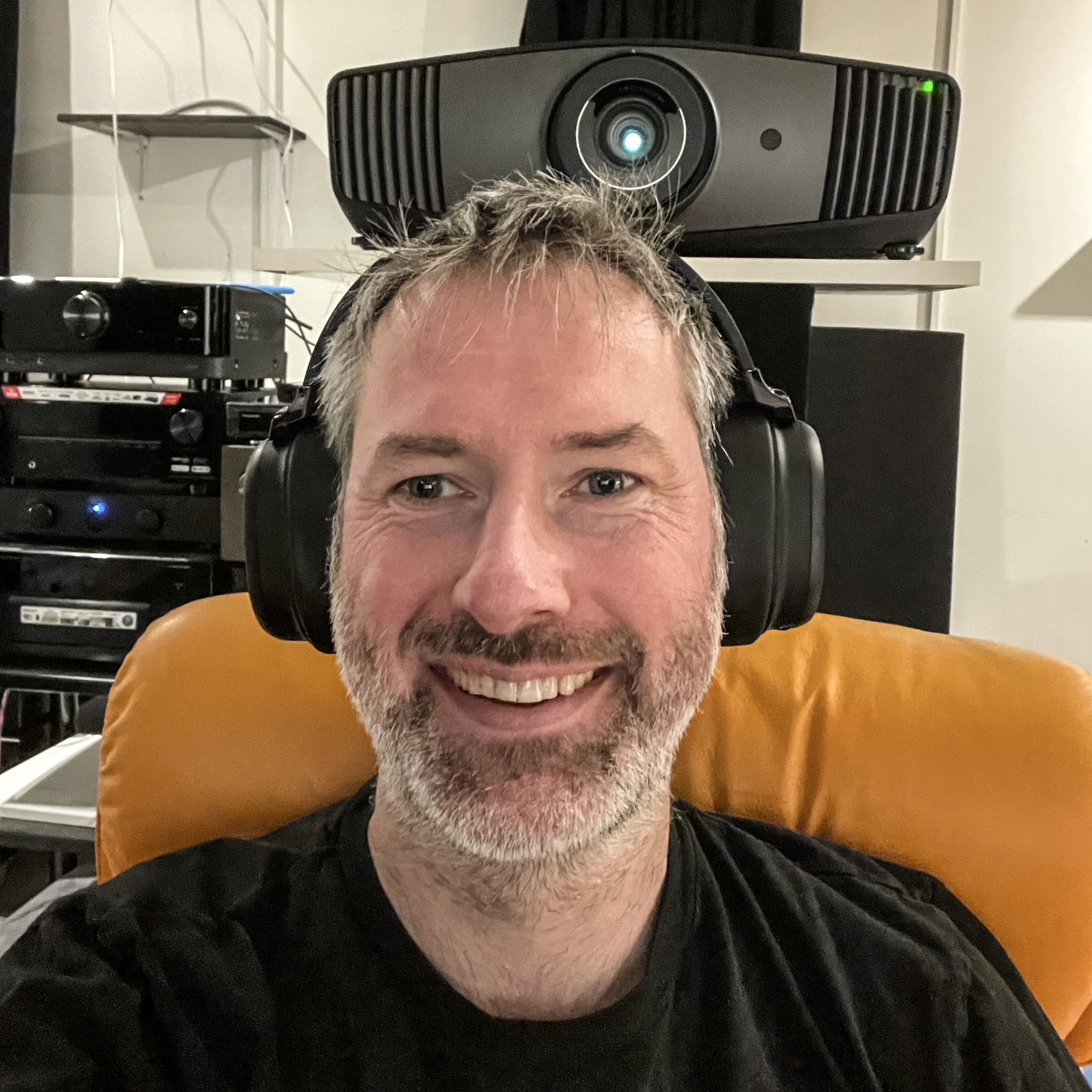 Should have been louder
The only thing I miss is the ability to play louder. When you want to enjoy a movie, you want it well up to the reference level. So cinema level. You can not do that with these. I do not think the problem lies in limited amplifier power, because when you switch to stereo it gets really loud. It is probably more the case that the simulated surround sound uses phase manipulation to achieve the desired effect, and it also means that some energy is canceled out. JVC should compensate for this by increasing the sound level accordingly in surround mode. I could well wish for both 3, 6 and maybe even 10 dB higher maximum level, so that I could choose to really indulge in cinematic goodness in my own head!
Bloated stereo
Stereo sound does not have this problem. Because here it gets really loud. So loud that I can't bear to listen at maximum sound level for a long time at a time. Especially not if I do not pull down the bass as described earlier.
The sound of music in stereo is a bit dense and not very nuanced, where bass instruments are a bit bloated without complex harmonic structures. Female voices do not shine exactly as I would like, the magic of acoustic instruments does not emerge. But there is good drive in rhythms, and the headphones sound very physical. Here you can really get your ear canal massaged with bass rhythms, if that's what you want.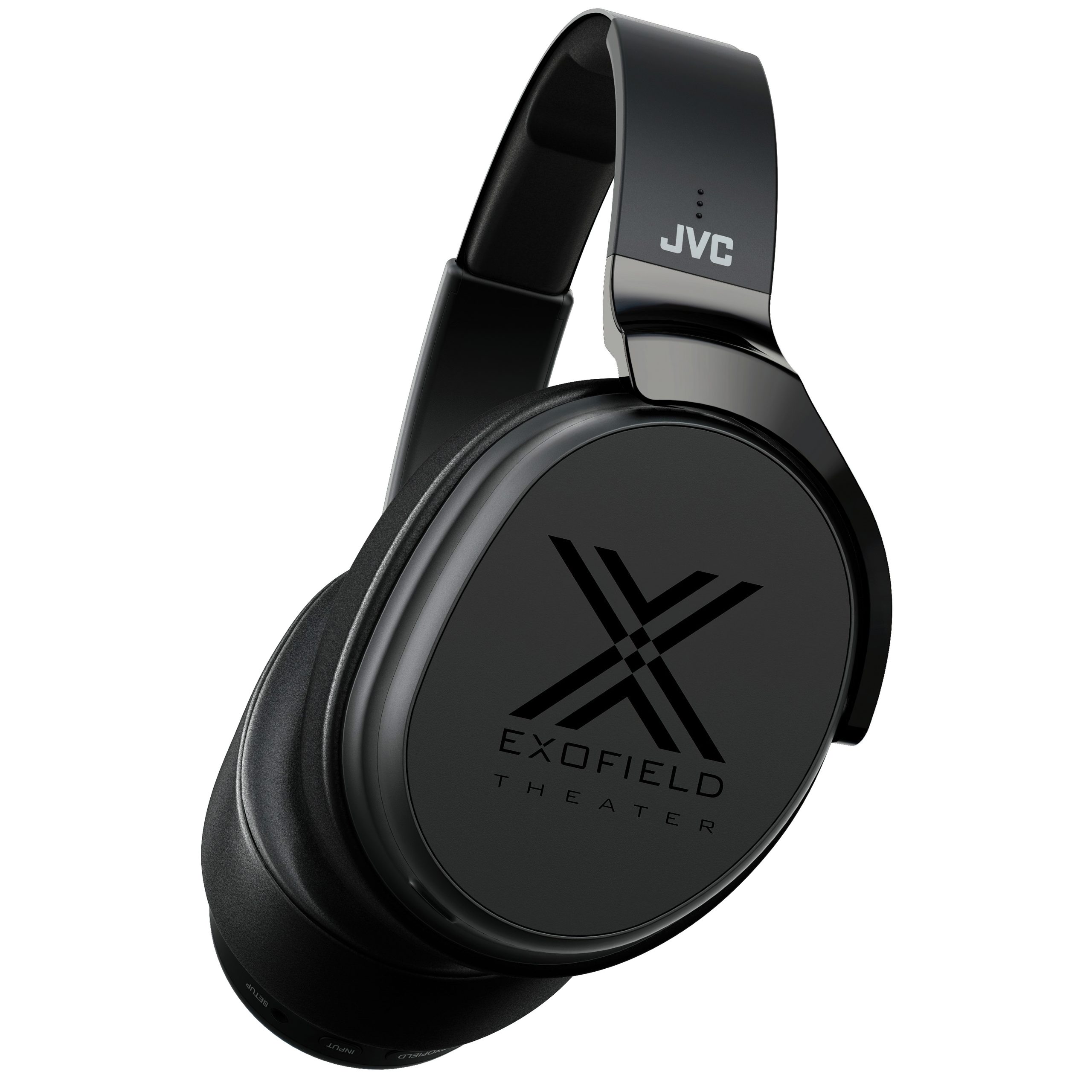 Sounds
Finally, I must mention that I had some problems. Firstly, the HDMI input does not support Dolby Vision, and since services such as Netflix is ​​packed with titles in this HDR format, you have to use the audio return channel on the HDMI output, and connect the TV to the processor through it. It's also the easiest and for many the best way to connect, and then you can also play with PS5 and Xbox Series X up to 120 Hz (the HDMI inputs on the JVC device support a maximum of 60 Hz and 8-bit color space).
But I myself had problems with the sound return channel, in that the Atmos light never turned on. Even though I had set my 77-inch Sony AG9 OLED TV to activate eARC. Which works smoothly with the Sonos Arc soundboard I normally have in the TV room, and I have not had any problems with any of the surround receivers I have tested there. But JVC XP-EXT1 tells me I have 5.1 Dolby Digital Plus.
I still suspect that I actually get Atmos out, because when I switch from eARC to regular ARC, the sound image collapses and I no longer get an impression of height. The same is still in the app: 5.1 Dolby Digital Plus. Let's hope this is a bug that is fixed in a future update.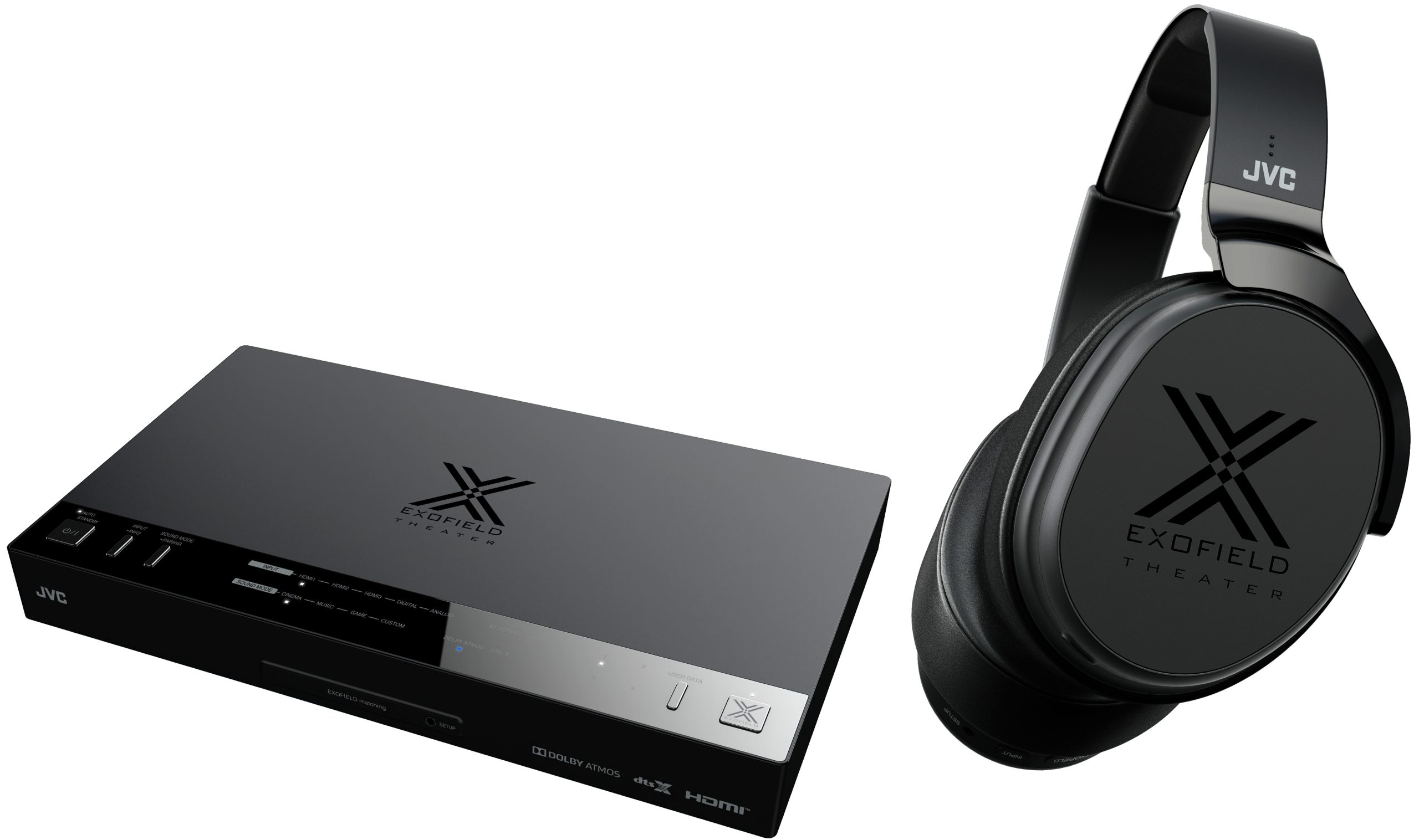 JVC XP-EXT1: Conclusion
The JVC XP-EXT1 is a pair of very exciting headphones, and as far as I know the only ones of their kind. These are a pair of wireless headphones for home theater use, with decoding of surround sound – including Dolby Atmos and DTS: X.
And it works. The sound is ambient, and you are placed in the middle of the action. This is a good alternative for those who sit up late at night and do not want to wake sleeping people with loud home theater. Far better than watching movies with the low-level TV speakers.
The sound in surround is not quite as powerful as I would like – a few more decibels could have been desirable. There were also some problems with Atmos over eARC during the test period.
Sound in stereo sounds very energetic, especially in the bass. Almost a little too much. At the same time, there is a lack of air and finesse in the tones. For serious music listening, something else is preferred. In other words, this should not be your only pair of headphones.
All in all, a pair of successful headphones, which may be a little expensive, but which for many will be worth it if you have a proper home theater but do not want to bother others in the evening.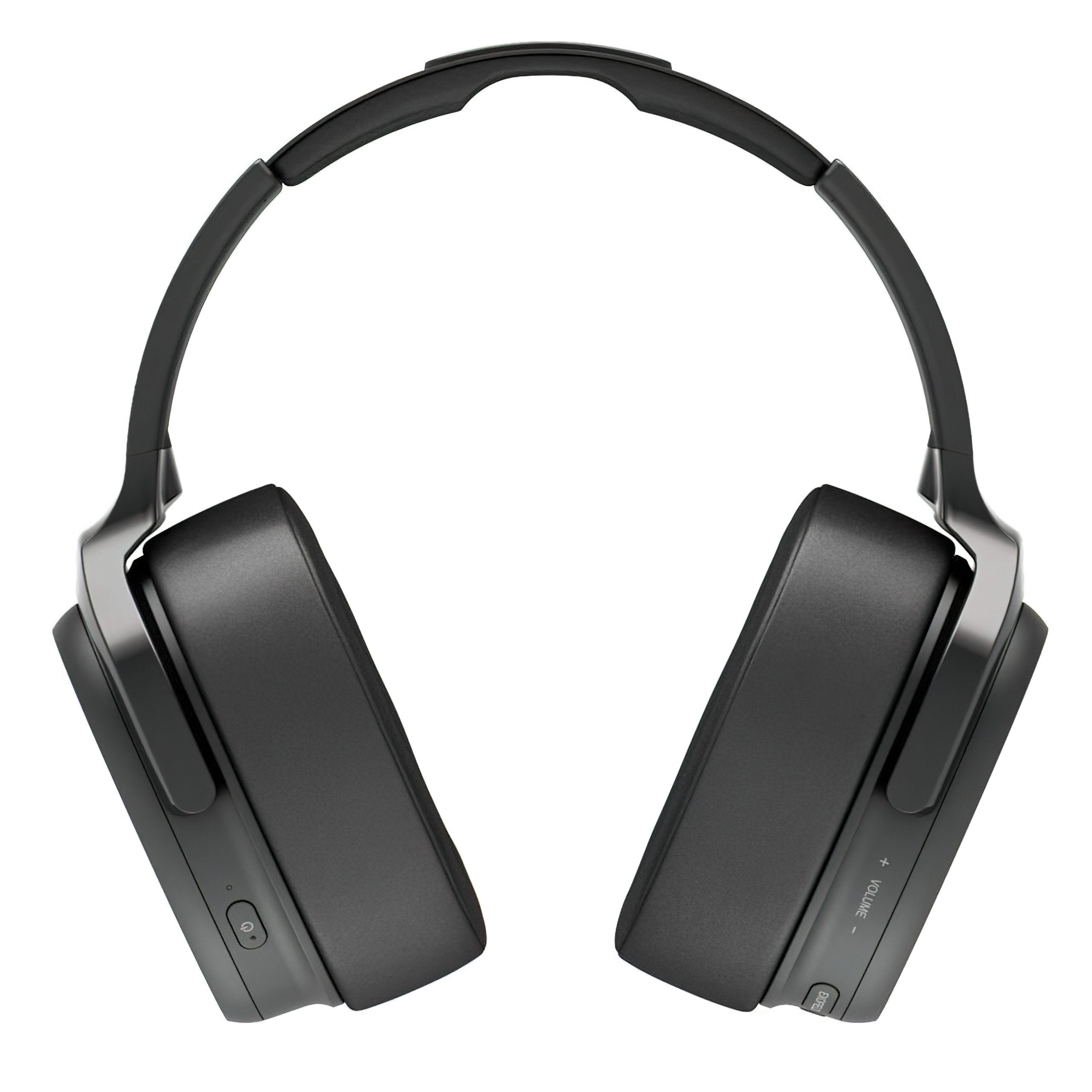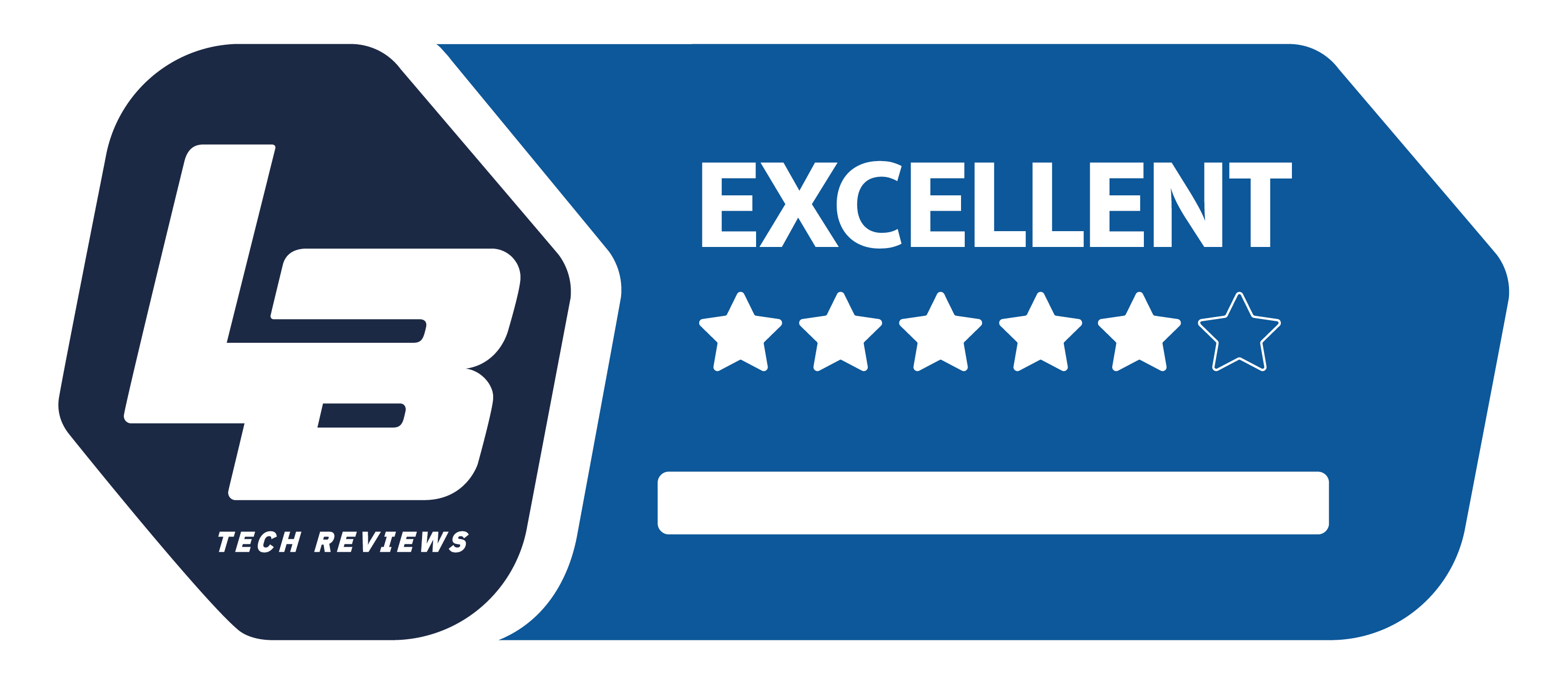 High End
We think
Huge soundstage, good impression of surround sound. Good sound on film, and engaging sound in stereo.
Big difference in sound level between stereo and surround, where surround sound is too low. We want 3-6 dB higher maximum level in surround mode. eARC is not without flaws. HDMI in does not support Dolby Vision.