Geir Nordby
Published

2020-10-01 - 10:17 am
Excellent sound quality, improved operation, great fit and - finally - long playing time! Active noise reduction comes in handy in some situations.
Outgoing call sound is a bit more confined than with its predecessor. Sound delay a bit big for action games and movies.
Specifications
Type: completely wireless earplugs
Bluetooth: 5.1
Waterproof: IPX4
Coder: aptX, AAC, SBC
Battery: 7 h + 21 h from case
Weight: 12 g
Charging cable: USB C
Web: sennheiser.com
The new Sennheiser Momentum True Wireless 2 is almost identical to the previous model, but now active noise cancellation is finally in place. In addition, the battery life is greatly improved, up from 4 to 7 hours in the plugs themselves, and with an additional 21 hours from the case. A total of 28 hours of playing time more than doubles the total capacity of its predecessor.
With active noise reduction, more microphones are required on the inside than its predecessor. This also benefits the speech quality, when you are in noisy environments. Like a cafe. The actual noise reduction works in the low-frequency register, while the ear pads effectively dampen the harmonic range. The noise reduction here is moderate, not deleted as efficiently as with the Panasonic RZ-S500W or Technics EAH-AZ70W, but it helps a bit.
The earplugs can be operated directly with finger tapping if desired. You have various functions on the right and left, for example, the left finger controls songs back and forth, as well as pause and answer calls.
An audio delay of 2-300 ms is unfortunately very common, and also applies to Sennheiser. With movies, things are generally going well, since most movie and TV apps can lip-sync-correct. But with games, it's worse. Every shot in war games and gear changes in car games comes with delayed sound compared to picture. Here, Powerbeats Pro is significantly better.
The Smart Control app works fine, but I do not understand the EQ function. It's not very intuitive, and when the sound changes differently for the left and right ear if you go to the right and left, I just get confused.
The sound of Sennheiser True Wireless 2
Fortunately, it sounds great in neutral mode. The sound is actually identical to its predecessor, so if you already have it, it may not be particularly tempting to buy the new one. If you then are not sold on battery life.
The bass is full and cash, which makes it fun to listen to both pop and hip hop. However, it is not dominant, as it tends to be in several others. Singing voices sound beautiful, there is plenty of air and nice body size in guitar and piano. It has a better resolution than the Bang & Olufsen Beoplay H8 3rd Gen, and also more pronounced dynamics and fun than with the Technics AZ70. The midrange reproduction is full and natural with Sennheiser, while female vowels have the necessary air, at the same time as there is a good grip on the power from the chest sound.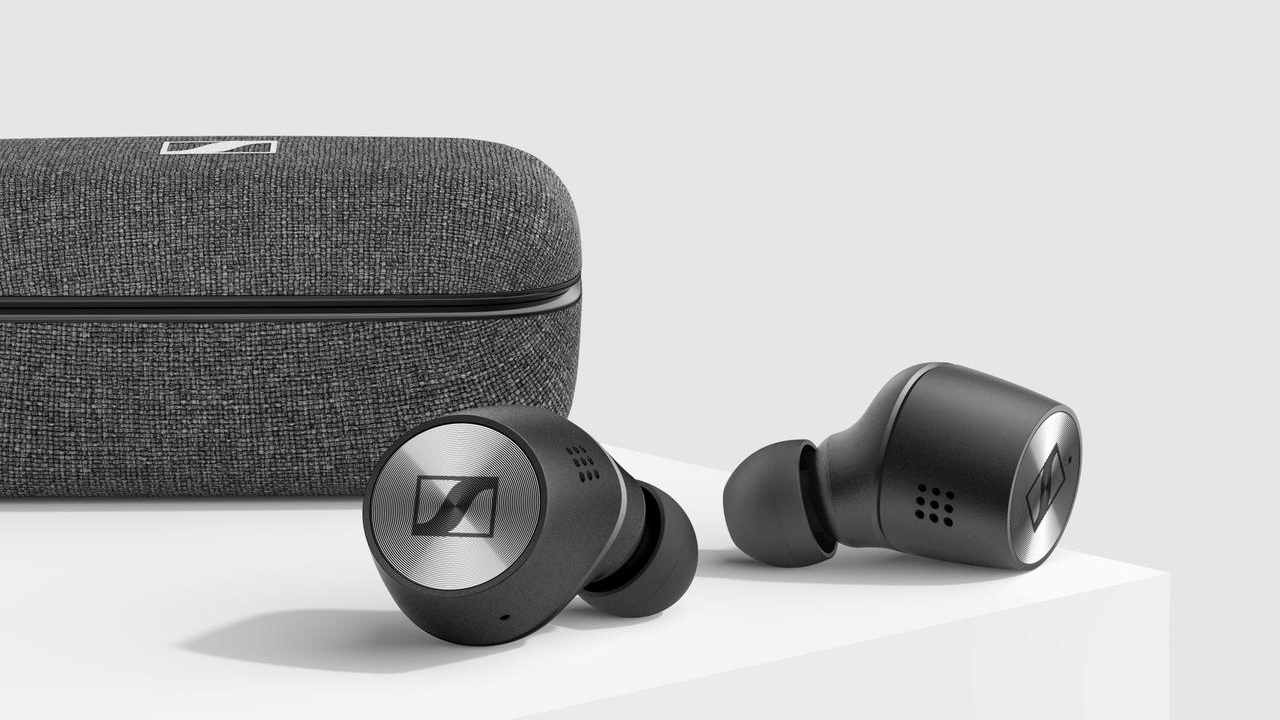 Conclusion
Sennheiser Momentum True Wireless 2 is just as good as its predecessors both in terms of sound and fit. Both are excellent, and we fully understand that they have not changed a winning recipe!
Instead, one has improved on other things. The most important thing is the battery life, which has increased from 4 to 7 hours in the plugs themselves, and from 8 to 21 hours extra in the travel case! With a total of 28 hours, you can safely leave the charger at home when you go on holiday.
Another improvement is active noise reduction, which attenuates the low frequencies that the plugs themselves cannot handle. It is not super efficient, but works that way fit.
After finally testing Momentum True Wireless 2 directly against other competitors in a group test, it is even clearer that Sennheiser has found the winning recipe!
Also in this test
Technics EAH-AZ70W
The icing on the technological cake
Technics EAH-AZ70W has everything you could want from technology in a pair of earbuds, and also excellent sound with great resolution.
Good noise cancellation, neutral and resolved sound
We want more punch
Beoplay E8 3.0
Luxury that finally sits
Bang & Olufsen have tried and failed sometimes with their completely wireless Beoplay E8. Beoplay E8 3.0 is the best so far.
Nice sound with lots of details. Ambient sound that is let through sounds very natural. Wireless range is finally good, and support for wireless charging is fine.
The sound could well have been louder. Touch features are quite knotty, and the Bluetooth connection could have been more intuitive. Not NFC.
Klipsch T5 True Wireless
I really want these earplugs to be good!
Klipsch likes it best when the music is thrown into the listener's face. It also happens here, but we have to make some reservations.
Energetic midrange, lots of dynamics. Fantastically satisfactory charging case.
Coarse-grained and fairly sharp sound.
Skullcandy Sesh Evo
Do what it's supposed to
Skullcandy's cheapest completely wireless earbuds Skullcandy Sesh Evo have rhythmically enough bass, and sound pretty good. When set correctly.
Energetic bass, works for training. Movie sound mode sounds pretty good.
Missing details, especially in the overtones. Default setting sounds woolly. Poor call quality.
Beats Powerbeats Pro
Still among our favorites
Top-class wireless range, fully-fitted fit - Beats Powerbeats Pro delivers a very engaging sound.
Very engaging sound, and a fit that never falls off. Seamless integration with Siri. Class-leading wireless range.
There are earplugs with better resolution at the very top. Missing some of the features of AirPods Pro.
Audio-Technica ATH-CK3TW
Affordable and good from Audio-Technica
Audio-Technica has finally come up with some completely wireless plugs that fit well in the ears.
Full bass, clear overtones, good call quality. Better fit than previous plugs from the same manufacturer.
The midrange range is too restrained, instruments and vocals lack emphasis here.
Jaybird Vista
Sports earbuds with an impact
Jaybird Vista is stable, and with lots of bass energy! But here, too, some weird choices have been made.
Wireless connection is very stable. The user can customize sound and features.
Dark tone, bass-focused and a fairly sharp midrange reproduction. Only the Sub Band Codec (SBC) limits the sound quality.
Creative Outlier Gold
Good idea, poorly executed
Creative Outlier Gold has some smart stuff in it, but the sound can not be approved.
Full-bodied and rhythmic bass, interesting Super X-Fi function for holographic sound. Fantastic battery life!
Sharp treble, too little midrange. Very "hammock" sound! EQ function does not work outside the app.
Jabra Elite Active 75t
Superior training earbuds
The Jabra Elite Active 75t is perhaps the best wireless training earbuds you can buy.
Effective "passive" noise cancellation, excellent and solid sound and excellent battery life. They are waterproof and firmly attached to the ears, and are therefore also perfect for training.
The effective noise cancellation can create a kind of cheese bell feeling. Operation directly via the plugs is a bit difficult.
Panasonic RZ-S500W
Packed with technology
Panasonic RZ-S500W serves the best noise cancellation found in a pair of earbuds is combined with good speech sound and a neutral music reproduction. Why is it not enough?
Good noise cancellation, neutral sound
Lacks dynamics, sounds flat and tame.