Geir Nordby
Published

2020-10-01 - 8:23 am
Full-bodied and rhythmic bass, interesting Super X-Fi function for holographic sound. Fantastic battery life!
Sharp treble, too little midrange. Very "hammock" sound! EQ function does not work outside the app.
Specifications
Type: completely wireless earplugs
Bluetooth: 5.0
Waterproof: IPX5
Coder: AptX, AAC, SBC
Battery: 14 h + 25 h from case
App: SXFI
Weight: 2 x 5 g + 54 g
Charging cable: USB C
Number of ear cushions in the box: 4
Web: creative.com
Among the two completely wireless earplug models in Creative's arsenal, Outlier Gold is the most expensive, with a speaker element clad in graphene. The earplugs are still not expensive, with a price tag of only 1300 kroner.
Creative Outlier Gold is water-repellent with IPX5 certification, which means that they can withstand both sweat and heavy rain, even though they are not primarily marketed as training plugs.
The biggest selling point for Creative is the battery capacity, which is an impressive 14 hours in the plugs, while the charging case provides an additional 25 hours. You hardly need to think about the charging cable, unless you are going to be more than a long weekend away from home.
The other thing that sets Outlier Gold apart from other earplugs is Creative's Super X-Fi technology. This is a holographic way to reproduce music so that it is outside and around you instead of living inside your head as with other earplugs. For it to work extra well, the app uses the mobile camera to scan your ear, to make more correct manipulation of the audio signal based on your unique ear shape.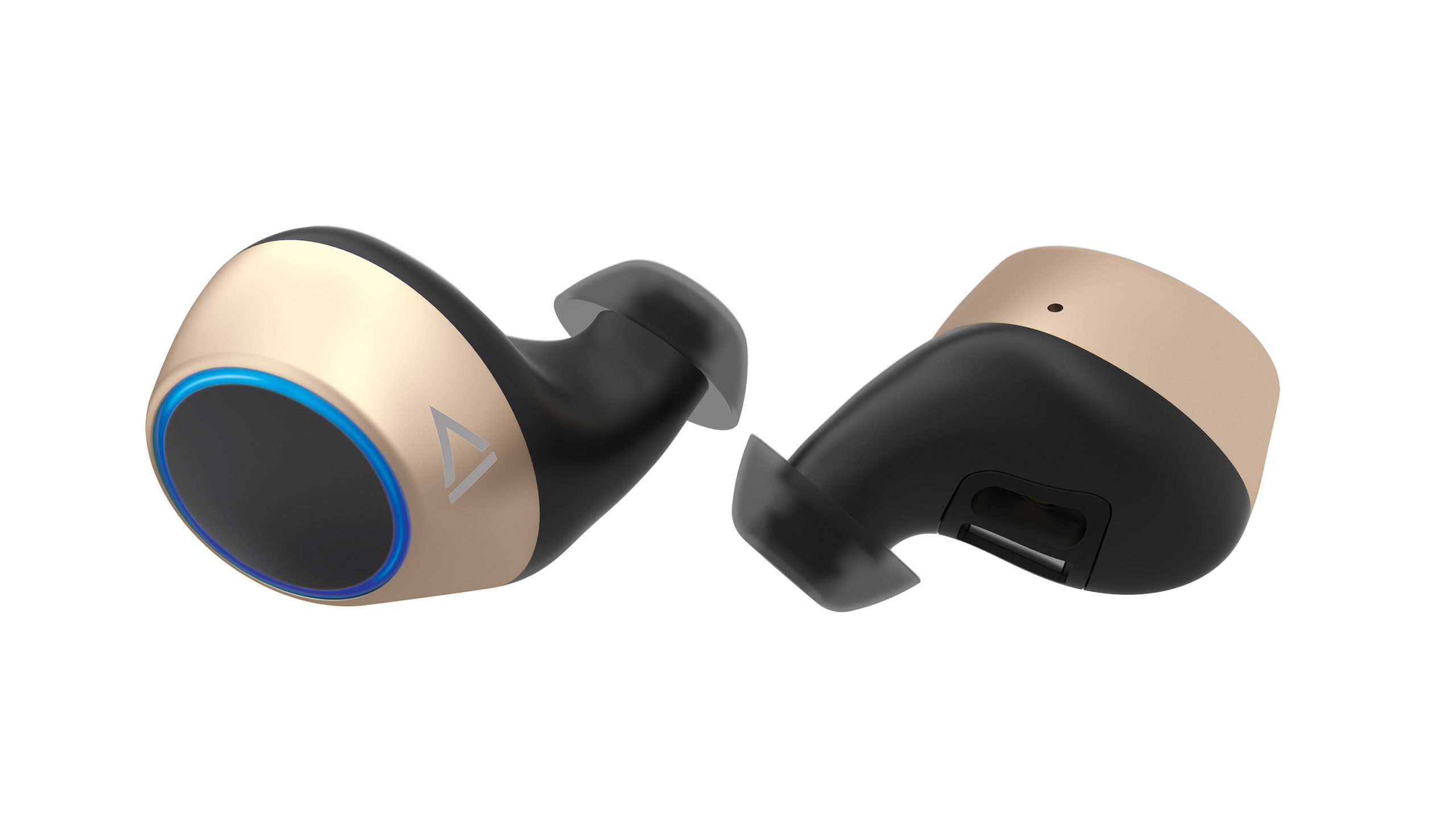 Photo: CreativeIt works quite well, the music gets a bigger room to frolic in. But it is not without artifacts, and I do not feel it is a very natural way to listen to music. But the worst thing is that the function does not work outside the app. This means that the app will be your future music player, where you can play music that is both already there, and you will also have access to the music stored on your phone. But no power services.
You cannot plant the sound inside the DSP of the earplugs, and the same applies to the sound settings (EQ). Where others use the app as a remote control for the plugins, where you can make settings that are also remembered when the plugins are connected to another player, Creative does not allow you to do anything outside the app. In other words, you can forget to mute the sound when listening to Spotify, Tidal or other streaming services. Tabbe.
The sound of Creative Outlier Gold
And here comes the problem. The Creative plugs do not sound particularly good. Lady Gaga's voice cuts into the ears of Sour Candy, it does not help much that Outlier Gold supports the aptX codec, because the sound is no less sharp on Android phones than on the iPhone.
The Röyksopp song Oblique Thrills (Lost Tapes) will hit the bass, and you will feel like playing loud. And there are things that speak in Outlier Gold's favor, such as the energetic bass and the crisp details of synth and percussion. But the midrange register is jam-thin, so bass and treble do not bind together very well. And again, these would mean that you have to spend for these processes. Dolly Parton's cover version of Brandi Carlile's The Story sounds too thin, with sharp ss, and the snare drum is the thinnest I've heard in a while.
The call quality is quite decent, but it sounds a bit hollow dropouts can occur. But Creative sounds better than Skullcandy here.
Conclusion
Fantastic battery life and an interesting sound effect with Super X-Fi notwithstanding, Creative Outlier Gold does not meet our sonic requirements. The bass is full enough, but the midrange is too thin and the treble too sharp. Even though it is crisp and clear enough in the top register, it sounds unnatural.
If Creative had an EQ function that could adjust the earplugs themselves and not just when using the app, it could save a lot. But until that happens, there are many other models we would rather recommend.
Also in this test
Technics EAH-AZ70W
The icing on the technological cake
Technics EAH-AZ70W has everything you could want from technology in a pair of earbuds, and also excellent sound with great resolution.
Good noise cancellation, neutral and resolved sound
We want more punch
Beoplay E8 3.0
Luxury that finally sits
Bang & Olufsen have tried and failed sometimes with their completely wireless Beoplay E8. Beoplay E8 3.0 is the best so far.
Nice sound with lots of details. Ambient sound that is let through sounds very natural. Wireless range is finally good, and support for wireless charging is fine.
The sound could well have been louder. Touch features are quite knotty, and the Bluetooth connection could have been more intuitive. Not NFC.
Klipsch T5 True Wireless
I really want these earplugs to be good!
Klipsch likes it best when the music is thrown into the listener's face. It also happens here, but we have to make some reservations.
Energetic midrange, lots of dynamics. Fantastically satisfactory charging case.
Coarse-grained and fairly sharp sound.
Skullcandy Sesh Evo
Do what it's supposed to
Skullcandy's cheapest completely wireless earbuds Skullcandy Sesh Evo have rhythmically enough bass, and sound pretty good. When set correctly.
Energetic bass, works for training. Movie sound mode sounds pretty good.
Missing details, especially in the overtones. Default setting sounds woolly. Poor call quality.
Sennheiser Momentum True Wireless 2
Our new favorite
Review: Sennheiser Momentum True Wireless 2 - Sennheiser reaches the top with its latest edition of Momentum True Wireless.
Excellent sound quality, improved operation, great fit and - finally - long playing time! Active noise reduction comes in handy in some situations.
Outgoing call sound is a bit more confined than with its predecessor. Sound delay a bit big for action games and movies.
Beats Powerbeats Pro
Still among our favorites
Top-class wireless range, fully-fitted fit - Beats Powerbeats Pro delivers a very engaging sound.
Very engaging sound, and a fit that never falls off. Seamless integration with Siri. Class-leading wireless range.
There are earplugs with better resolution at the very top. Missing some of the features of AirPods Pro.
Audio-Technica ATH-CK3TW
Affordable and good from Audio-Technica
Audio-Technica has finally come up with some completely wireless plugs that fit well in the ears.
Full bass, clear overtones, good call quality. Better fit than previous plugs from the same manufacturer.
The midrange range is too restrained, instruments and vocals lack emphasis here.
Jaybird Vista
Sports earbuds with an impact
Jaybird Vista is stable, and with lots of bass energy! But here, too, some weird choices have been made.
Wireless connection is very stable. The user can customize sound and features.
Dark tone, bass-focused and a fairly sharp midrange reproduction. Only the Sub Band Codec (SBC) limits the sound quality.
Jabra Elite Active 75t
Superior training earbuds
The Jabra Elite Active 75t is perhaps the best wireless training earbuds you can buy.
Effective "passive" noise cancellation, excellent and solid sound and excellent battery life. They are waterproof and firmly attached to the ears, and are therefore also perfect for training.
The effective noise cancellation can create a kind of cheese bell feeling. Operation directly via the plugs is a bit difficult.
Panasonic RZ-S500W
Packed with technology
Panasonic RZ-S500W serves the best noise cancellation found in a pair of earbuds is combined with good speech sound and a neutral music reproduction. Why is it not enough?
Good noise cancellation, neutral sound
Lacks dynamics, sounds flat and tame.