Mikael Hansen
Published

2018-08-18 - 1:35 pm
They look fantastic, are comfortable to wear over long periods of time, and play amazingly.
The price is high, and can probably seem discouraging.
Specifications
Type: closed, wireless
Connection: 3.5 mm, Bluetooth 4.2 with aptX and AAC
Active noise reduction: Yes
Control: touch screen
Microphone: Yes
Drivers: Electro dynamic driver, 40 mm diameter
Battery: up to 14 hours
Weight: 295 grams
B&O Play has previously been out to challenge Bose and its position as the uncrowned king of active noise cancellation. This was with the model H8, which came at in beginning of 2015. At the end of 2016, Beoplay H9 ended up in stores. Are they able to bump Bose from the throne?
At first glance, H9 is very reminiscent of the slightly older H8. However, there are a few significant differences. While H8 was an on-ear model, H9 is an over-ear model. This refers to the size of the two ear pads. H9 has inherited its size from the Beoplay H7, covering the entire ear, rather than just hang on the outside, as was the case with the H8. The difference in practice means that H9 is more comfortable to wear over longer periods, since there is no constant pressure on the ears. Also, a passive noise cancellation is achieved by avoiding too much sound from slipping out from the side.
Luxury materials
As with the other headphones in the Beoplay series, H9 is made from the best and most luxurious materials. It has genuine leather on the hoop made of aluminium as well as genuine leather on the pads. In addition to giving a burst of luxury, this also has a practical purpose. Unlike leatherette, which is utilised by Bose, the natural products hold up better in the long run and feel incredibly comfortable against the skin. I have been a great consumer of NC-headphones for a number of years and experienced how pairs of headphones from Sennheiser and Bose with time start to crumble from the pads. It is simply aggravating since we are talking about such expensive products. This will not occur with the H9. It must be noted, of course, that genuine leather is more expensive than leatherette,and this difference is reflected in the price. But having first experienced ear pads that crumble, you should perhaps consider paying a little more.
Outstanding Sound
The sound is of course most important, and the H9 does not let us down. If you have already listened to one of the former Beoplay headphones, they will seem familiar, but even better. They play fantastically well. The soundscape is incredibly wide and airy. There is both bass and bottom without seeming exagerrated. You hear all the details clearly. If one wants more bass it is a matter of taste, and I'm usually the type who likes a good punch in the ear canal. In this area, Bose is especially capable with its QC35, which we have previously been very enthusiastic about and still are. With Bose, the sound feels more closed and heavy. It is by no means bad, just different.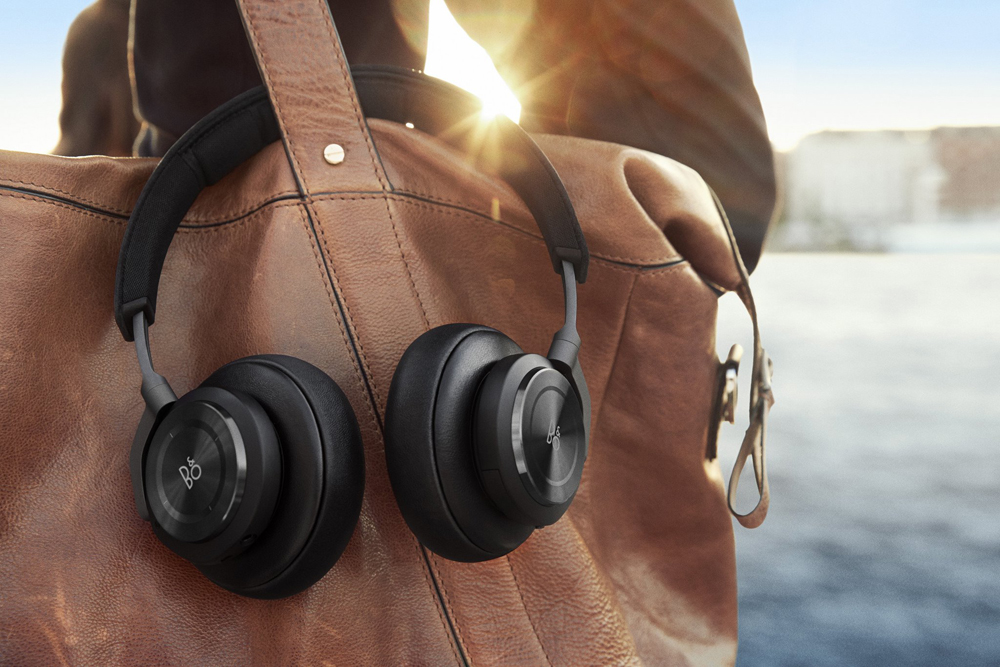 However, a heavy bass in a pair of headphones can be used in some cases to disguise an otherwise mediocre sound. You get a better picture of the headphone's true qualities when you turn it down. This can be compared to turning off all digital image processing on a flat screen. B&O has managed to master this with the H9, which projects a very well-balanced and dynamic sound. The bass is perfectly measured. The treble and midrange are clearly audible. The result is an honest and fair soundscape.
Studio quality
Especially music that is recorded in multiple layers demonstrates how well H9 plays. In cheaper headphones, this type of music often results in a woolly soundscape. With headphones of high quality like the H9, you can always distinguish the instruments and vocals from one other. Take a track like Queen's Bohemian Rhapsody as an example. The song is slowly built up in layers, and with H9 you can clearly hear and distinguish them from each other, a bit like when a symphony orchestra builds the music up by adding more instruments. The sound surrounds you, and you feel like you're sitting in the middle of a studio or a concert hall. Moreover, a track like Hotel California by the Eagles, from the live album Hell Freezes Over, is brought to life to the degree that you get goosebumps. It can be said very easily: H9 plays so well that you'll want to hear your entire music collection over again.
Active Noise Cancelling
Besides the great sound, the H9 has built-in noise cancellation too as mentioned earlier. This is primarily smart if you travel a lot, and would like to avoid the noise around you in the airplane or on the train. It's hard to gauge just how effective this feature is, but I can only determine that B&O Play is not totally on par with the Bose QC35, which right now is the best at quelling noise. With Bose you are completely isolated from the world around you. Here a little keeps slipping through. However, in a subtle and subdued way. It is a matter of taste if you prefer the one rather than the other. You cannot say that the one is necessarily better than the other. If the goal is complete silence, Bose remains superior despite H9's effective noise cancellation. Another distinct difference between the two is that you can hear a faint whizzing sound in the H9 when the ANC is turned on and there is no music playing. When the music plays, you can't hear it. It must also be noted that the sound becomes a touch lighter and less heavy in the bottom when the ANC is turned on. However, this is quite normal and is due to the counter signal that removes the noise.
Touch-sensitive cup
Just as the design is also a way to control the H9, it is reused from the H8. Instead of physical buttons, the right cup is touch sensitive. You run your finger in a circular motion to control the volume, or swipe to the right and left to jump back and forth in the playlist. It works but requires getting use to. The battery is set to last for 14 hours, which should be plenty for most people. If the battery dies, you can always use the accompanying cord. Here the touch function stops working, and it is a shame that the remote control has been removed from the cord. Another thing I would have liked is a friendly female voice that notifies me when the wireless connection is established like in Bose. However, these are minor details that in no way are enough to detract from the overall impression.
Conclusion
Beoplay H9 is not the new king of noise cancellation, whatever that means. Nevertheless, it's one of the most well-playing pair of wireless headphones I've ever worn, and that is why they still get my warmest recommendations. Beoplay H9 plays amazingly. They are comfortable to wear over long periods of time and can still remove a sufficient amount of noise to allow you to listen in peace while on the move. They are made of gorgeous and luxurious materials, which means that they will last for many years. They is expensive, but you are paying for quality. If there is a choice between Bose QC35 and Beoplay H9, I still prefer B&O Play despite the extra cost.