Despite the price, RHA MA650 feels luxurious thanks to the nice aluminium details. They feel solid, and the impression is amplified by the dust and water protection, according to IPX4. The electronics sit at the ends of the neck band, and the generous battery life provides a long listening time. Thanks to the USB-C connector, they charge fairly quickly. Their weight keeps the hoop in place, and the slip resistant material ensures that they do not move about. Not only is a practical cloth bag included, you also get a whopping seven pairs of pads of different sizes, finishes and material.
It is therefore easy to get the perfect fit and a good seal. The earbuds are quite small and light, but they do not sit as securely as the MA750 Wireless, which has a hoop placed over the ear. It would certainly have helped if they had an angle that follows the ear canal instead of being perfectly straight.
MA650 does not sound as neutral as MA750, but has the same lovely, open clarity. You can easily hear the light detail that tends to drown in the mix on less refined earbuds. It is therefore a pleasure to listen to acoustic music and jazz. RHA has lifted up the high mid range, which can make voices stand out, but sounds slightly harsh. Due to this, the ears  can get a little tired during prolonged listening. The bass goes deep down and also makes rougher music compelling.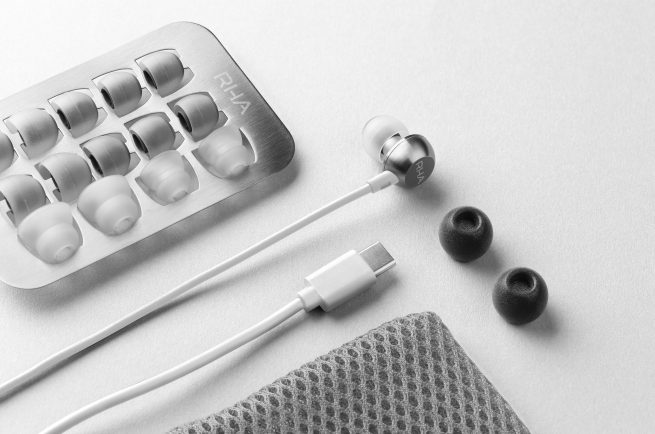 Conclusion
RHA MA650 Wireless is not only a pair of very neat earbuds, they are also more robust than you might think. Because the weight is well distributed and the neckband is slip resistant, they sit securely in place. An unusually generous selection of ear tips allows you to easily find a perfect fit. They have long battery life and charge fast with USB-C. The sound is appealing and works great with everything from acoustic music to rock. However, we experience that the sound can be a little harsh.