OnePlus' first wireless earbuds have a design similar to BeatsX. Not a bad idea, as they are very practical. There is even a similar silicone carry case for transport. The box also includes three pairs of silicone pads, as well as three "wings" of different sizes. Thanks to this, the earbuds sit securely in the ears without being uncomfortable. The earbuds are angled, which makes the sealing easier, providing a better bass rendition.
By setting the battery and the electronics at the bottom of the collar, it is automatically balanced and no load is placed on the earbuds. Everything is covered with silicone, providing a skid-free exterior and fine protection. The earbuds are said to be "weather resistant", but such an official IP code does not exist.
Considering that they are not a sound company, OnePlus has surprisingly succeeded well with its construction. A dampening ring behind the driver removes unwanted reflections, and provides a wonderfully clean sound. It is open, has a good separation and positioning of the instruments, and picks up details that completely disappear among many of the competitors in the test. Despite that, they have a nice bass rendition that makes music engaging. The only negative is that if you yank up the volume enough, the sound becomes a bit intrusive and tiring over time.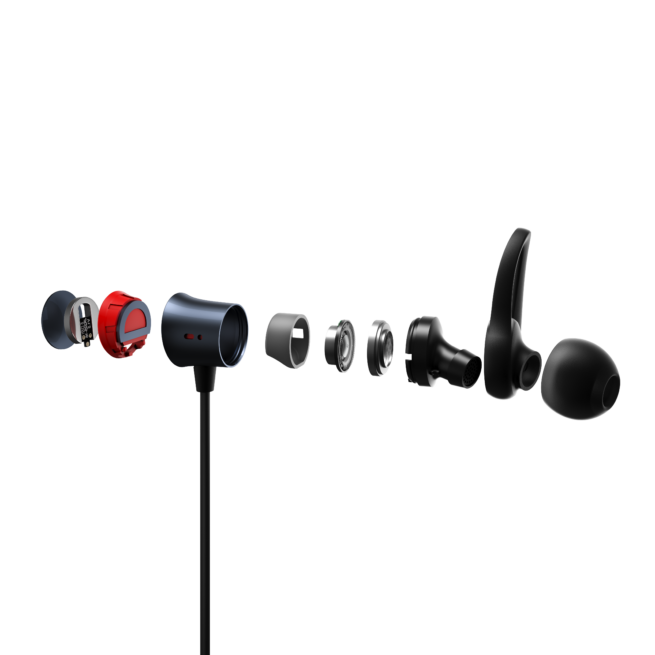 Conclusion
OnePlus has worked on its first wireless earbuds for two years, and the end result shows it. Quick charging is very practical. The design is smart, with the electronics placed at the end of the collar. You will hardly notice the electronics, and at the same time it keeps the collar in place without burdening the earbuds. Thanks to the "wings", Bullet Wireless sits comfortably, but at the same time securely in the ears. But above all, the sound quality is very good and engaging.
Basic
We think
USB-C rapid charge. A certain water robustness. Engaging sound with few errors.
The sound becomes slightly strained at high volume.