Tor Aavatsmark
Published

2020-09-14 - 9:40 am
Most of us have once or twice woken up, drenched in sweat, a dark and insidious night, plagued by a terrible nightmare about Sister Ratched?
The legacy of "One Flew Over the Cuckoo's Nest"
No? No bells ringing you say? Sister Ratched is one of the most iconic characters in film history. The icy, cynical and highly sadistic nurse did everything she could to acidify the lives of petty R.P. McMurphy (legendary Jack Nicholson) in Milos Formans One Flew Over the Cuckoos Nest.
McMurphy declared himself mentally disturbed to escape the cage, but had little idea what awaited him behind the barren walls of San Francisco where Mildred Ratched sat in the driver's seat.
The new Netflix series Ratched gives us the background story of "Sister Hell". Ryan Murphy (American Horror Story) and Ian Brennan are behind the series that tells us about Sister Ratched before she arrives at the mental hospital in San Francisco.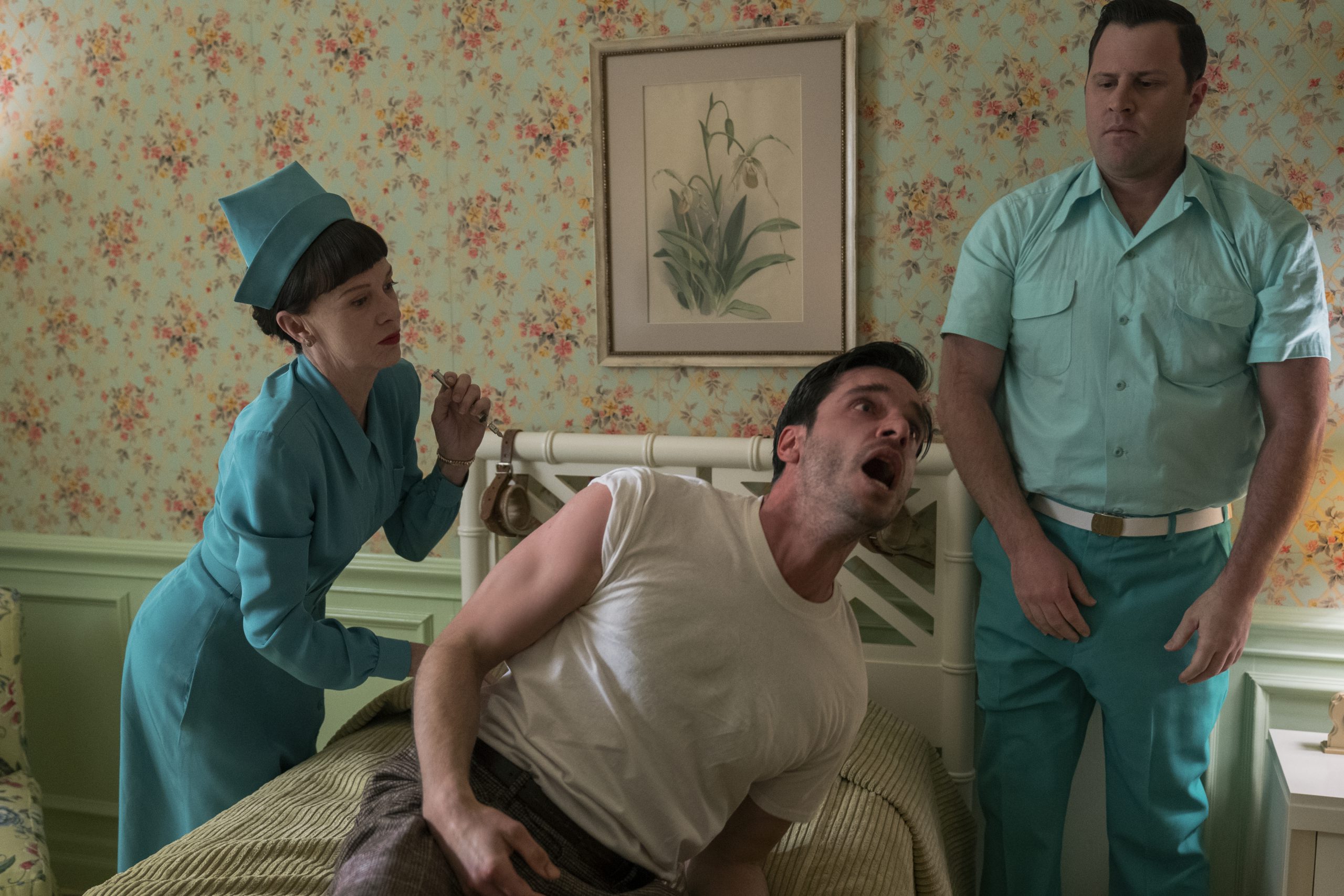 Welcome to your treatment!
Set just after the war (1947), we follow Mildred Ratched (Sarah Paulson) as she applies for a job at a psychiatric treatment institution in northern California. The sanatorium is run by the highly committed Dr. Hanover (Jon J. Briones) – a man with a motley past.
Partly funded by the state, Hanover and its dedicated staff engage in groundbreaking work in psychiatric treatment, including the treatment of homosexuality. Hanover is turning its back on the governor, Wilburn (Vincent D'Onofrio), who is running for re-election.
The groundbreaking treatment methods they use, including human experimentation and lobotomization on locally anesthetized people, are (fortunately!) Not something you find in today's healthcare system.
In the basement, they have imprisoned a serial killer for observation, and the manipulator Ratched has her very private reasons for applying for a job at the establishment – she certainly does not go out of her way to ensure that all funds sanctify the goal of getting the job, and almost control over the institution.
Ruined childhood
With elegance, cunning intelligence, a sexy female figure and a smile on her face, Ratched manages to manipulate Hanover – and immediately ends up in conflict with the strict head nurse, Betsy (Judy Davis).
Mildred Ratched is a very private person, but worldly enough to charm herself up and forward in life. In her mental baggage, she carries on a childhood with water management, mental and physical abuse – something that has shaped and hurt her.
Her ironed and pretentious appearance hides a completely different, and dark, personality. Outwardly she appears as a strong woman, with full control and driving good speaking ability, but alone in the night darkness come the demons.
When her own position or the people she cares about are threatened, she is willing, with icy cynicism and a total lack of empathy, to do what is required.
Creepy atmosphere
The technically completely superb series has a creepy, consistently eerie vibe.
The series exemplifies the 1940s United States. The richness of detail and props is spot on, while the social order is characterized by the power of the whites and a view of values ​​that the elite look down on everything and everyone who is "different".
The lively post-war American era, with cheerful pop music, bright colors, large, gleaming cars and women in fresh dresses with bright red lipstick, stands in sharp contrast to the bizarre action.
On the surface, most of it is rosy, with lovely pastel colors like the 1940s and '50s, but the environment and the characters all have a hidden agenda and a past that they try to hide to the best of their ability. This is how we sit tripping with our toes, while we wait for it all to explode.
Still, it is not free of liberating squints and (occasionally macabre) black humor, interspersed with understatements. The side story focuses on the glamorous diva Leonore Osgood (Sharon Stone in top form) who has a hen or two to pick with Hanover.
Osgood is über-rich, living in a horribly gaudy, eccentric estate, with a large staff of servants and a handicapped son. For reasons we are not going to reveal, the Diva, who is not used to being contradicted, hires Wainwright (Corey "House of Cards" Stoll) to whack Hanover.
At the same time, a newly in love couple creates some unforgettable scenes in an episode that almost relives the magic, and the erotically charged atmosphere, from Bonnie & Clyde.
Star team
The star cast of actors (which in addition to Paulson consists of Cynthia "Sex and the City" Nixon, Finn Wittrock, Charlie Carver, adorable femme fatale Alice Englert, Amanda Plummer and Rosanna Arquette) is consistently outstanding, the gorgeous set design taken straight from a Stanley Kubrick film and the creepy atmosphere are to touch and feel.
Vincent D'Onfrio is wonderful as a male chauvinistic, sexist governor. A shameless politician willing to propose every conceivable measure to secure re-election, and win the favor of the "people"; all while "lovingly" patting a woman on the butt. We assume his character is roasted inspired by Trump.
Sharon Stone does her best role since Casino, and is a joy to witness. But, this is Sarah Paulson's series. She makes the complex character Ratched into a human being of flesh and blood, one you can not hate, but can both feel disgust and sympathy for. And she makes it all so playfully easy and with great finesse that it is possible to take off your hat.
The series is exceptionally well made, beautifully filmed and cut and balances excellently between the mix of sadism, creeping suspense, "crazy" scientists and a strong personal, human drama, set in our relatively recent history. A series you can not help but binge.
Ratched: Conclusion
Ratched is definitely sailing up to be one of the best, most exciting, intelligent and interesting series of the year. 6 sunny stars for this unique drama. We are already looking forward to the 10 announced episodes in season 2 (2021).
The review is based on all (8) episodes from the first season. The entire season 1 is available for streaming from Netflix from September 18.
Netflix
Release: September 18, 2020
Directed by Ryan Murphy
With: Sarah Paulson, Judy Davis, Jon J. Briones, Finn Wittrock, Alice Englert, Sharon Stone, Charlie Carver, Rosanna Arquette, Vincent D'Onofrio, Corey Stoll
Genre: Drama
Country: USA
Year: 2020
Time: 9:10 p.m.
Rating: 6
IMDB Rating
[imdb style="transparent"]tt7423538[/imdb]