test :
Sony KD-65AF8 OLED TV
Outstanding in picture and sound
Sony follows up last year's OLED triumph with a nice high-end model. But does Bravia AF8 have what it takes to seize the TV throne this year as well?
Positive
Bravia AF8 has a superior black level and formidable depth perspective. Combined with sharpness and smooth movements, one is assured of a photo experience in the high-end class.
Negative
The Sony screen lacks slight brightness compared with the strongest OLED screens.
Sony KD-65AF8 OLED TV
2017 marked Sony's debut in the OLED race and we did not hold back on the superlatives when we tested the top model KD-65A1. With groundbreaking picture and sound, the debutant deserved title of "Best TV of the year" in the high-end class. But development never stands still, and many have probably been anxious to see what Sony would pull out of the hat this year!
When we fast forward to 2018, Sony has chosen to keep the A1 in the assortment for a while longer. It will be joined by an alternative model, with similar image and sound — but with a different design: New Bravia AF8.
Bravia AF8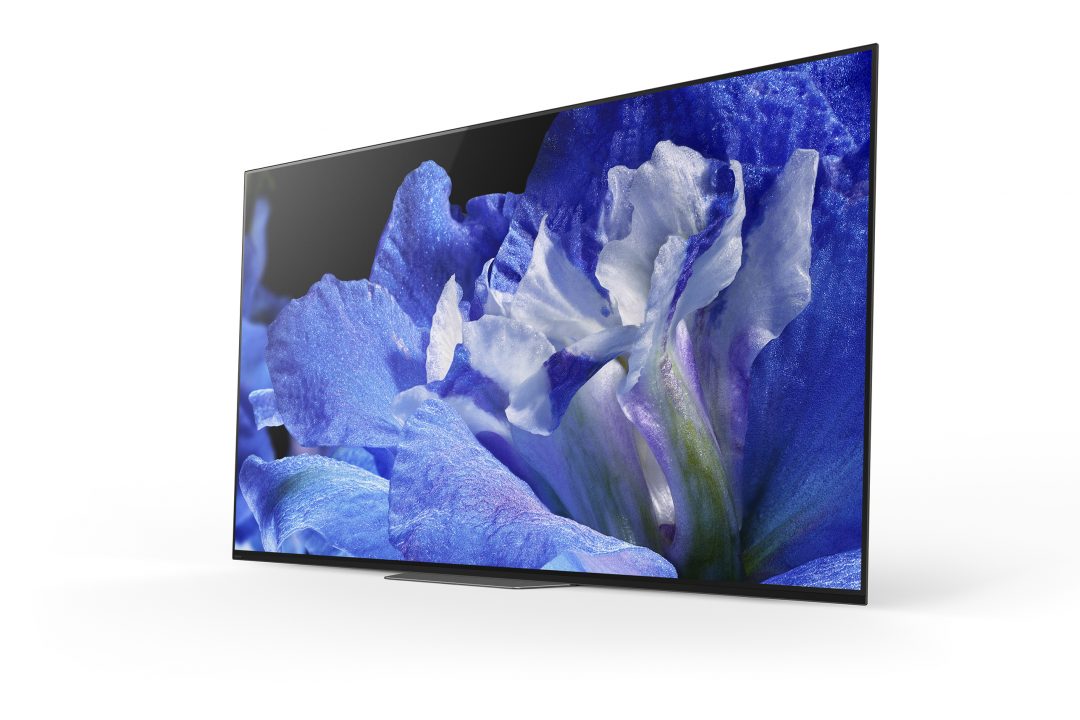 The main differences of the last year's A1 model and the new KD 65AF8 are in the look. While the A1 has a slanted recumbent easel design, AF8 is straight up and down like a normal TV. The back is slimmer and better equipped for wall mounting so that the AF8 can be hung up without sticking out too much. Alternatively, one can use the included tabletop stand, which only raises the screen a few millimetres above the table top.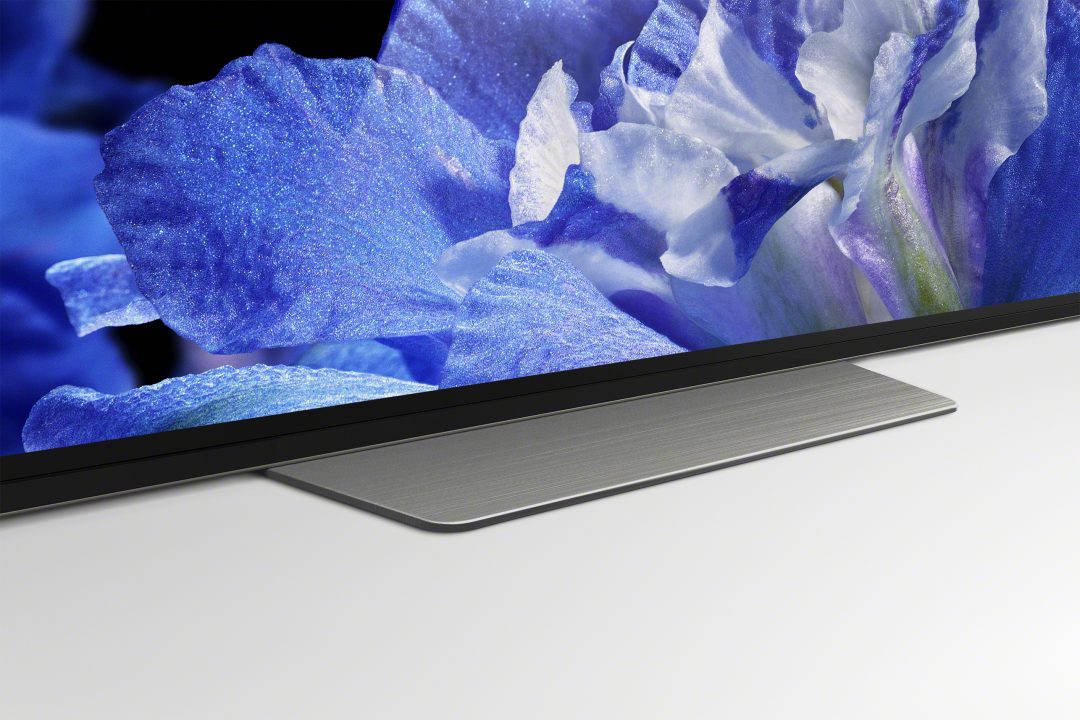 The barely visible pedestal allows the Bravia AF8 to float only a few millimetres above the table top.
The lower part of the TV is slightly thicker than the rest, as it contains connections, the power supply and bass speakers. Sony has moreover continued the advanced "Acoustic Surface" technology, which allows the screen surface to function as a loudspeaker membrane.
This combination is helping to make AF8 more ordinary in appearance, but also more flexible in our opinion. If you choose to hang it on the wall and enjoy the built-in sound, you get a very sleek and discreet installation.
Ease of use and features
Not much has happen on the smart front since last time. Bravia 65AF8 runs the same Android 7.0 platform like a number of other competitors, and likewise with them is waiting for updates from Google. One of the most anticipated features is the option of voice command via services such as Google Assistant.
Sony has also not seen any need to update the remote control, which in our opinion is starting to lag a little over the years. There are a lot of buttons that you'll rarely use, and it doesn't always seem logical as to which menu button one must press to get to where you want to be. This is an IR based remote control that must be pointed directly to the TV, where the sensor is mounted at the bottom. It often occurred during the test that we had to press repeatedly since the TV did not respond at the first command.
Incidentally: As is right and proper, the Playstation manufacturer has provided its own game mode for those who are avid gamers and want the lowest possible delay. We measured the Bravia AF8 to about 30 milliseconds (1080p) with our Leo Bodnar lag tester. It is satisfactory but far from the record speed of today's market. Input lag in 4K mode should supposedly be somewhat faster, but we didn't get to measure it, unfortunately.
Picture Quality
Those who are looking at TVs at the high-end class, probably do so mostly for the picture quality. Here comes 65AF8, well-packed with a high-grade OLED panel from LG Display, coupled with Sony's up to now most awesome image processor "X1 Extreme". But since AF8 is based on the exact same technical platform as A1, we are dealing with last year's panel and processor as opposed to something that is brand new and groundbreaking.
Bravia AF8 delivers – as expected – an picture quality that is virtually identical to the Bravia A1. The Sony screen has first of all, absolutely stunning black levels, and can be black as night when required. A dark and mysterious Netflix series such as Stranger Things has been created to be viewed on an OLED screen! Sony shows how the whole thing should be done. The sense of depth and dynamism is absolutely superb – even when compared against potent LCD competitors such as the Samsung's flagship QE65Q9FN, or Sony's own 65XF9005 LCD with LED backlight. Even when we consider the Sony OLED in a completely blacked out room, it is impossible to see any signs of "backlight bleeding" from the panel. It feels as if the action on the screen materializes before us in real life!
The OLED panel should of course have a lot of the credit for the impressive contrast, but Sony's own image processing also has a hand. Bravia AF8 manages to bring forth details in dark areas, which are lost with a number of competitors. The colours are very precise and the sharpness is sublime – even during movement.
With the FIFA World Cup just around the corner, it's natural to look at how AF8 handles ball games, and it simply has no lag. Sony's screen has no problem with following the ball, and panning over the field without any fracturing, stutter, or noise. In addition, it has like most OLED screens a very wide viewing angle. Absolutely one of the best screens to watch football on!
How about HDR?
When it comes to brightness, it is obvious that Sony has chosen a slightly different image philosophy than LG. Next to the AF8, we had for the occasion lined up a brand new LG OLED65C8, and there is no doubt that the LG screen has noticeably more punch and glow in bright sections. This appears well in scenes with plenty of sunshine, lanterns, flames and similar "highlight" effects. The Sony screen also cannot measure up with the most powerful LED screens when it comes to brightness.
Bravia AF8 recently received a long-awaited update with support for the popular Dolby Vision HDR format. The Dolby format allows for a slightly larger and more varied dynamic range if the content supports it. Initially, only built-in apps like Netflix will enjoy Dolby — peripherals such as Blu-ray or Apple TV require a special update. The picture quality gets a noticeably boost with Dolby enabled, but we don't get the same "wow" effect from the Sony display the way LG OLED C8 is capable of.
Temporary burn-in?
Burn-in on OLED displays has been a topic recently. Like the plasma screens a few years ago, light static objects such as channel logos, menus, or subtitles may be left behind as a visible outline or shade on the screen. It is mainly a temporary burn-in that will disappear after a short period of time. We experienced during the test of the Bravia AF8 that certain types of content (especially the measurement window used for calibration) remained visible for a while thereafter. However, this went away when we restarted the TV, and did not seem particularly annoying – but is worth bringing up. We have not experienced similar tendencies with LCD-LED displays.
Calibrating Sony KD 65AF8
Calibrating the KD 65AF8 is a relatively simple affair, since the Sony display does not have any advanced calibration system/CMS – only ten point white balance. Thus, we did not correct the relatively small deviations of the colour balance (especially a bit in magenta). However, the Sony display has a good colour decoder, with good measurement results as it comes from the factory. The colour points are where they should be without greater deviation.
The X1 Extreme image processor delivers possibly the best image processing in the industry. When we write "possibly" it's because new competitors may appear since this was reviewed. In addition, Sony has even hinted that an upcoming "X1 Ultimate" image processor that is likely to be found in a new flagship model sooner or later.
As with its predecessor A1, KD 65AF8 does not have the most impressive brightness. Where the competitor from LG can deliver up to 800 nits at full power, the Sony display must be close to around 650 nits, and a little less pep in the brightest nuances.
Sound quality
In the case of Sony KD 65AF8, the actual TV screen functions as a speaker. Sony uses small "activators" to vibrate the image panel in response to the audio signal, combined with an ordinary bass speaker at the back. This solution also has the advantage of having sound and image come from the exact same point, and allowing better pairing and "sync" between what you see and hear. It sounds surprisingly good. The sound is rich, crisp and distinct – good enough without a separate soundbar.
Conclusion
The Sony KD-65AF8 is very close to the critically acclaimed A1 OLED, and is most of all a complement to the popular high-end model. With its super-slim construction and invisible speakers, AF8 is a great option for those who want the same high performance in picture and sound, but prefer a more sleek design. 65AF8 has perhaps the best sound system within the class, and the picture quality it serves is at times rather extreme! However, it does seem a bit too similar to last year's A1 model for it to become an obvious favourite, but it is certainly worth a recommendation. We're still excited as to whether or not Sony will pull an "AF9" or a similar reference TV out of the hat during the season …
2017 marked Sony's debut in the OLED race and we did not hold back on the superlatives when we tested the top model KD-65A1. With groundbreaking picture and sound, the debutant deserved title of "Best TV of the year" in the high-end class. But development never stands still, and many have probably been anxious to see what Sony would pull out of the hat this year!
When we fast forward to 2018, Sony has chosen to keep the A1 in the assortment for a while longer. It will be joined by an alternative model, with similar image and sound — but with a different design: New Bravia AF8.
Bravia AF8
Sony Bravia KD-65AF8. (Photo: Sony)
The main differences of the last year's A1 model and the new KD 65AF8 are in the look. While the A1 has a slanted recumbent easel design, AF8 is straight up and down like a normal TV. The back is slimmer and better equipped for wall mounting so that the AF8 can be hung up without sticking out too much. Alternatively, one can use the included tabletop stand, which only raises the screen a few millimetres above the table top.
The barely visible pedestal allows the Bravia AF8 to float only a few millimetres above the table top.
The lower part of the TV is slightly thicker than the rest, as it contains connections, the power supply and bass speakers. Sony has moreover continued the advanced "Acoustic Surface" technology, which allows the screen surface to function as a loudspeaker membrane.
This combination is helping to make AF8 more ordinary in appearance, but also more flexible in our opinion. If you choose to hang it on the wall and enjoy the built-in sound, you get a very sleek and discreet installation.
Ease of use and features
Not much has happen on the smart front since last time. Bravia 65AF8 runs the same Android 7.0 platform like a number of other competitors, and likewise with them is waiting for updates from Google. One of the most anticipated features is the option of voice command via services such as Google Assistant.
Sony has also not seen any need to update the remote control, which in our opinion is starting to lag a little over the years. There are a lot of buttons that you'll rarely use, and it doesn't always seem logical as to which menu button one must press to get to where you want to be. This is an IR based remote control that must be pointed directly to the TV, where the sensor is mounted at the bottom. It often occurred during the test that we had to press repeatedly since the TV did not respond at the first command.
Incidentally: As is right and proper, the Playstation manufacturer has provided its own game mode for those who are avid gamers and want the lowest possible delay. We measured the Bravia AF8 to about 30 milliseconds (1080p) with our Leo Bodnar lag tester. It is satisfactory but far from the record speed of today's market. Input lag in 4K mode should supposedly be somewhat faster, but we didn't get to measure it, unfortunately.
Picture Quality
Those who are looking at TVs at the high-end class, probably do so mostly for the picture quality. Here comes 65AF8, well-packed with a high-grade OLED panel from LG Display, coupled with Sony's up to now most awesome image processor "X1 Extreme". But since AF8 is based on the exact same technical platform as A1, we are dealing with last year's panel and processor as opposed to something that is brand new and groundbreaking.
Bravia AF8 delivers – as expected – an picture quality that is virtually identical to the Bravia A1. The Sony screen has first of all, absolutely stunning black levels, and can be black as night when required. A dark and mysterious Netflix series such as Stranger Things has been created to be viewed on an OLED screen! Sony shows how the whole thing should be done. The sense of depth and dynamism is absolutely superb – even when compared against potent LCD competitors such as the Samsung's flagship QE65Q9FN, or Sony's own 65XF9005 LCD with LED backlight. Even when we consider the Sony OLED in a completely blacked out room, it is impossible to see any signs of "backlight bleeding" from the panel. It feels as if the action on the screen materializes before us in real life!
The OLED panel should of course have a lot of the credit for the impressive contrast, but Sony's own image processing also has a hand. Bravia AF8 manages to bring forth details in dark areas, which are lost with a number of competitors. The colours are very precise and the sharpness is sublime – even during movement.
With the FIFA World Cup just around the corner, it's natural to look at how AF8 handles ball games, and it simply has no lag. Sony's screen has no problem with following the ball, and panning over the field without any fracturing, stutter, or noise. In addition, it has like most OLED screens a very wide viewing angle. Absolutely one of the best screens to watch football on!
How about HDR?
When it comes to brightness, it is obvious that Sony has chosen a slightly different image philosophy than LG. Next to the AF8, we had for the occasion lined up a brand new LG OLED65C8, and there is no doubt that the LG screen has noticeably more punch and glow in bright sections. This appears well in scenes with plenty of sunshine, lanterns, flames and similar "highlight" effects. The Sony screen also cannot measure up with the most powerful LED screens when it comes to brightness.
Bravia AF8 recently received a long-awaited update with support for the popular Dolby Vision HDR format. The Dolby format allows for a slightly larger and more varied dynamic range if the content supports it. Initially, only built-in apps like Netflix will enjoy Dolby — peripherals such as Blu-ray or Apple TV require a special update. The picture quality gets a noticeably boost with Dolby enabled, but we don't get the same "wow" effect from the Sony display the way LG OLED C8 is capable of.
Temporary burn-in?
Burn-in on OLED displays has been a topic recently. Like the plasma screens a few years ago, light static objects such as channel logos, menus, or subtitles may be left behind as a visible outline or shade on the screen. It is mainly a temporary burn-in that will disappear after a short period of time. We experienced during the test of the Bravia AF8 that certain types of content (especially the measurement window used for calibration) remained visible for a while thereafter. However, this went away when we restarted the TV, and did not seem particularly annoying – but is worth bringing up. We have not experienced similar tendencies with LCD-LED displays.
Calibrating Sony KD 65AF8
Calibrating the KD 65AF8 is a relatively simple affair, since the Sony display does not have any advanced calibration system/CMS – only ten point white balance. Thus, we did not correct the relatively small deviations of the colour balance (especially a bit in magenta). However, the Sony display has a good colour decoder, with good measurement results as it comes from the factory. The colour points are where they should be without greater deviation.
The X1 Extreme image processor delivers possibly the best image processing in the industry. When we write "possibly" it's because new competitors may appear since this was reviewed. In addition, Sony has even hinted that an upcoming "X1 Ultimate" image processor that is likely to be found in a new flagship model sooner or later.
As with its predecessor A1, KD 65AF8 does not have the most impressive brightness. Where the competitor from LG can deliver up to 800 nits at full power, the Sony display must be close to around 650 nits, and a little less pep in the brightest nuances.
Sound quality
In the case of Sony KD 65AF8, the actual TV screen functions as a speaker. Sony uses small "activators" to vibrate the image panel in response to the audio signal, combined with an ordinary bass speaker at the back. This solution also has the advantage of having sound and image come from the exact same point, and allowing better pairing and "sync" between what you see and hear. It sounds surprisingly good. The sound is rich, crisp and distinct – good enough without a separate soundbar.
Conclusion
The Sony KD-65AF8 is very close to the critically acclaimed A1 OLED, and is most of all a complement to the popular high-end model. With its super-slim construction and invisible speakers, AF8 is a great option for those who want the same high performance in picture and sound, but prefer a more sleek design. 65AF8 has perhaps the best sound system within the class, and the picture quality it serves is at times rather extreme! However, it does seem a bit too similar to last year's A1 model for it to become an obvious favourite, but it is certainly worth a recommendation. We're still excited as to whether or not Sony will pull an "AF9" or a similar reference TV out of the hat during the season …
Size/Type: 65" 4K OLED
Resolution: 3840×2160 (4K Ultra HD)
Operating system: Android 7.0
Inputs: 4 HDMI, 3 USB
Outputs: Optical digital audio output
HDR: HDR10, Dolby Vision (coming)
Other:
Website: sony.no
Pris: 38000